Get a true taste of paradise when you visit the islands of Koh Nang Yuan and Koh Tao on this full-day snorkeling tour from beautiful Koh Samui. Enjoy a thrilling speedboat ride to these remote islands where you'll have the chance to explore stunning coral reefs and swim in crystal blue waters surrounded by colorful tropical fish. Enjoy a beachside lunch on white sandy shores as you look out on the Gulf of Thailand. This all day excursion with round-trip transport from your hotel offers up the best of land and sea.
Highlights
Full-day snorkeling tour from Koh Samui
Ride a speedboat to two island destinations, led by an expert guide
Don snorkel gear and explore the island paradise of Koh Nang Yuan
Enjoy lunch and beachside swimming at Koh Tao
Hotel pickup and drop-off included
What You Can Expect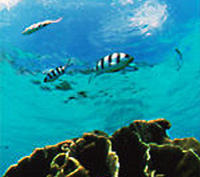 Your full-day Koh Samui snorkeling tour kicks off with pick up from your Koh Samui hotel. You'll travel by thrilling speedboat to the remote island of Koh Nang Yuan—a set of three islands linked by a picturesque sandbank. You'll soak up the sun on the white sandy beach and dip below the surface on a snorkeling adventure that puts you up close to sea turtles, tropical fish and other underwater wonders.
Once you've had your fill of Koh Nang Yuan, travel to beautiful Koh Tao—one of Thailand's top snorkeling and diving destinations. Enjoy lunch on the shore before heading out to the crystal blue waters where you'll find more coral reefs and marine life. Your guide may take you to Aow Leuk or Leam Tien beaches—weather and water conditions permitting—where you'll have the opportunity for more snorkeling and sun bathing.
After a day spent on sea and sand you'll head back to shore in the late afternoon and make your way in air-conditioned comfort to you Koh Samui hotel for drop off.
May 2015
January 2012
The trip out was very rough, which meant fun for some people and using the bag for others. We went to some nice snorkeling places, and the view from the beach restaurant was great.
December 2011
Very enjoyable day. Would definitely do again.
January 2013
I thoroughly recommend visiting Koh Tao but do not use this tour company. On our boat only two out of three engines worked, and we were over taken by many other speed boats as we were so slow, spending about 4 hours in a very overcrowded speedboat. Also, don't expect flippers for snorkelling :(
July 2015
I have been several times in those kind of snorkelling tours in Phuket and without any doubt I can tell that this Koh Samui tour was the 'biggest torture' I have ever seen. First of all there were more than 25 people in the speed boat.We were sitting very uncomfortable due to the crowd also all got wet nonstop because of the waves during 3 hours of travel in total in a very rough sea. Seem like refugees
Net snorkelling time was around only 2 hours.
The only good thing that I have to mention is the transfer shuttle and its kind driver between hotel and the tour point.Overall this experience was a huge disappointment for me and as a result that was the first and the last time of my viator booking.
Advertisement
Advertisement