Brace yourself for a full day of adventure on this thrilling Koh Samui 4WD Jeep Jungle Tour. Roll through rivers, valleys, thick forests and rugged trails on this epic journey that takes you off the island's more well-beaten paths. Enjoy the excitement of riding atop an open-air 4WD jeep to hidden waterfalls and savor traditional Thai fare during lunch at a remote mountain restaurant. This off-road tour is perfect for adrenaline junkies or travelers looking to experience the jungle in a new and exciting way!
Highlights
Brace yourself for a full day of adventure, roughing it across rivers, hidden valleys and forest in an open top jeep
Experience the Koh Samui hinterland like the Leyland brothers and seek out forgotten waterfalls and jungle secrets
Enjoy lunch in a remote mountain restaurant
Travel to the highest point on Koh Samui Island - only the adventurist traveler can get there...
Local guide

Hotel pickup and drop off

Recent Photos of This Tour
Koh Samui 4WD Jeep Jungle Tour
What You Can Expect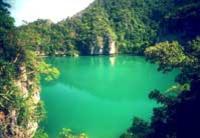 Your friendly local guide will collect you from your Koh Samui hotel for this incredible, thrilling open-air 4WD off-road tour. Experience the thrill of cruising through thick tropical jungle foliage, over rushing rivers and through lush valleys on the back of one of these all-terrain vehicles. You'll roll past hidden waterfalls, enjoy a traditional lunch at a secluded mountain restaurant and take in epic views from a scenic lookout at the island's highest point. Your guide will return you to your hotel after an exciting day of jungle exploring so you can relax for the evening or spend the night out on the town.

April 2016
This tour was so much fun. Our guide and drivers were fantastic. The guide spoke English, German and Thai. This tour is a must, you get to see some of the tourist places at the start but then you get to go up into the middle of the island which is amazing.
March 2016
We had so much fun on this tour. We started off with some typical tourist destinations but the guide was so informative that even those seemed special. The trip up the mountain was a blast and it felt like a private tour. We were the only jeep around. The driver was very experianced and the guide gave us wonderful information about Thai people and culture. We had an amazing day.
February 2016
What an amazing way to see the interior beauty of Samui! This tour was truly unbelievable. Riding in the back of the Jeep gave you an amazing view of every part of the island. The waterfalls were great, all the temples were beautiful, and riding up into the jungle was an adventure all of its own. We had lunch in a tree house in the middle of the jungle and it was unreal! There was only one other couple and the two tour guides, and we all had a great time! I've never seen more breathtaking views. We spent the whole day all over the island and it was one of our best days of our trip! HIGHLY RECOMMEND.
December 2013
If you don't mind being thrown about in a safari jeep you will defiantly have a great day, there was people of all ages on our trips and everyone enjoyed it. The drivers who run the trip were great, the banter they had between each other made for great entertainment. Excellent trip if only all our trips in Thailand was as good as this!
February 2011
This tour was amazing . I would recommend this one over and over thanks.
Bronwyn R Australia
August 2008
This was absolutely the highlight of our trip. Certainly not for the faint-hearted. All done very professionally, with huge amounts of fun and some hefty doses of adrenalin! Remarkably cheap, as the tour lasted pretty much the whole day. A great way to see the jungles around Koh Samui and a side of Thailand not seen from the resorts. Highly recommended.
Moira D United Kingdom
August 2008
Do not miss this. Excellent value for the money with an excellent guide.

August 2013
I was disappointed at the start of the tour because it was a different tour company and you had to pay extra for the elephant trekking which was included on the last tour company used.
After I go over the disappointment of it not being the same as last time I really enjoyed the trip and lunch was of a lot better standard than before
Well done boys my Dad and i had a great time..
Peter D Australia
December 2012
excellent day, great fun, great lunch, great views, well worth it.
March 2012
shame the mountain tracks have been replaced by roads. but still a good day out
Advertisement
Advertisement