Head out into the clear blue waters of the picturesque Gulf of Thailand and make your way to Koh Phangan on this six-hour cruise from Ko Sumai. Set sail on a beautiful, spacious yacht with your fellow travelers and have every need tended to by your friendly, professional crew. Explore hidden beaches on the unspoiled island of Koh Phangan and soak up the sun or unwind in the shade of a coconut tree. Snorkel the crystal waters to shallow sandbars and enjoy a brunch buffet filled with tasty Thai dishes.
Highlights
6-hour Koh Phangan brunch cruise from Koh Samui
Sail over the Gulf of Thailand aboard a traditional yacht — the Red Baron
Go snorkeling around the hidden coves of Koh Phangan
Dine on a brunch buffet with onboard barbecue
Enjoy a welcome drink and unlimited nonalcoholic beverages
Hotel pickup and drop-off included
Recent Photos of This Tour
Koh Samui Brunch and Snorkeling Cruise
What You Can Expect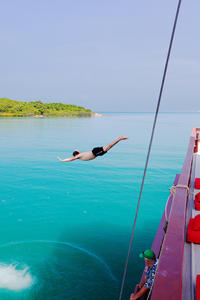 Set sail on the scenic Gulf of Thailand after your friendly driver collects you from your Koh Samui hotel. You'll head out on a 99-foot (30-meter) long yacht for this brunch and snorkeling cruise, which kicks off with a complimentary cocktail.
You'll enjoy an endless brunch buffet as you cruise along in this iconic ship with Thai-style sails. Soak up the sun on the open-air deck and enjoy whiskey, wine and a selection of cigars (at own expense) in the covered saloon.
Make your way to Koh Phangan, where you'll disembark from the boat and make your way through the crystal clear waters for a truly memorable snorkeling experience. Swim through scores of brightly colored tropical fish and check out the beautiful coral reefs.
Relax in the shade of a towering coconut tree or soak up the sun on the beach's white sandy shores. Between April and September you'll also have the option to hike to a secluded waterfall located in the Thailand rainforest on a real-life jungle adventure.
Enjoy unlimited soft drinks throughout the day and enjoy the ease and comfort of round-trip hotel transportation as part of this Koh Samui brunch and snorkeling cruise.
Itinerary
Sample Brunch Buffet Menu:
Spring rolls
Fried rice with vegetables
Massaman curry with chicken
Stir-fried vegetables with oyster sauce
Fried shrimp with garlic and pepper
Papaya salad
Fresh fruit
May 2016
Lovely relaxing day,visiting a couple of near deserted beaches. Superb food, plenty of soft drinks to hand, and alcoholic also at an extra cost. Good comentry from the captain and good music played throughout the day. Very enjoyable
April 2016
Unfortunately the weather for our trip was windy we missed out on going to most of the nice spots and snorkelling wasn and #39;t worth it. The business cannot control the weather. Boat was spacious and there weren and #39;t many on the boat. Food was delish! Our kids loved it and staff were amazing with the kids :)
September 2015
Fantastic crew, hospitality, unique and comfortable boat. Great food and friendly atmosphere.

July 2015
Absolutely amazing! Best crew who were so kind and helpful all day long. Welcome drinks upon arrival, snacks all day long, lovely lunch and phenomenal scenery. Cannot recommend more!
December 2014
The most amazing trip for honeymooners...the crew it's just amazing and the food incredible. It's a must in ko samui
October 2014
Brilliant boat, given story of how it was made. Captain is a fantastic man. Food is good and plentiful.x
August 2014
Would be one of the best boat trips you are going to get.Captain and crew brilliant nothing was an effort, food was 1st class and plenty of it. We went on the brunch tour sunshing birds sing don't get much better than that
August 2014
The Red Baron is a beautiful, comfortable boat. Very spacious and luxurious. Our cruise only had a handful of people on it, which meant we all had an entire section of the boat to ourselves. If you want plenty of sun and a great view, the top deck has some beanbags and beds (that also stack up into couches). When the sail is down there isn't a lot of shade, but you can find that at the back of the bottom deck or inside where the bar is. The crew on the Red Baron look after you exceptionally well. The food is also good. We hopped off the boat twice on this trip - once to go swimming and snorkeling and another time to visit a waterfall. This cruise is ideal if you want to enjoy the beauty of the islands in a relaxing way - not do too much and not feel rushed or cramped.
August 2014
This boat is amazing and the crew was very attentive. The food was cooked on board while we played in the water and on an island. It was delicious! We were very happy with the excursion. The Skipper even let us take over the music and have a dance party at the front of the boat!
August 2014
Snorkeling in Koh Samui is not great, but the skipper, ship, and destinations are amazing. The trip takes its passengers to a couple of secluded beaches (a nice change from the business of the main island). The Skipper is highly knowledgeable of the island and the boat is beautiful. Trip offers great opportunity to test gravity from the top deck before lunch is served. Stiff drinks make the ride home seem way too quick.
Lunch was definitely a surprise. You wouldn't expect that level of cooking on a boat but somehow they pull it off. The waterfall trip can be skipped - spending time on the beach is probably the more fun option. While passengers can get to the waterfall/beach excursion via dingy, its faster just to swim to shore.
Definitely was the highlight of my Koh Samui experience.
Advertisement
Advertisement