Experience the culture and traditions of rural Thai life during this half-day Koh Samui Island Safari and Elephant ride. You'll get a bird's eye view from atop one of these giant Asian mammals as you explore thick island jungles on a 30-minute elephant ride. Take a trip in an old-school ox-cart through quiet village and enjoy a tasty local meal with other travelers and your friendly guide.
Highlights
Enjoy a 30-minute elephant ride and see Koh Samui's natural wilderness from a different perspective
Get a feel of the rural country life on an Ox-Cart Adventure
See a traditional thai cooking and rubber tapping demonstration
Enjoy a delicious lunch or dinner (depending on option chosen)
What You Can Expect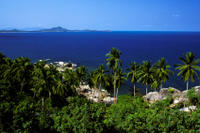 Spend the day experiencing typical island life on this Koh Samui nature and wildlife safari that includes an exciting elephant ride. You'll follow your guide into the Thai jungle and climb atop a friendly elephant for a 30-minute ride through thick forests filled with indigenous flora, monkeys and other wildlife. Continue the excitement with a traditional ox-cart ride through a rural village and learn about local life as your explore the place with fellow travelers. You'll learn how to tap rubber trees from Thai farmers and have the chance to walk through more scenic jungle to a stunning waterfall where you'll take a dip or relax near rushing waters. All the excitement is followed by a cooking
demonstration by a professional chef and a savory meal of Thai cuisine served up to you, your guide and your fellow travelers.
November 2015
March 2015
A lot of different activities throughout the day, all enjoyable especially the elephants. Very fun and hardworking guide on the day.
Tyra United Kingdom
December 2014
Amazing tour with local guides. Highlight of Koh Samui
March 2014
This was the best tour we arranged through Viator. Guide was very efficient and took us to many places other tours did not. Took us to one of the best restaurants we visited in our 2 weeks abroad. Elephant Park was clean, very friendly and was a blast!!

Mark Z Australia
May 2013
Awesome experience!!! Got more than I was expecting, including mid morning fruit, refreshment and lunch. Visitors are encouraged to touch and pat the elephants and monkeys. They encourage tipping to buy fruit for the animals which you can feed them, which also helps ensure the animals eat well. The guide was excellent and was responsible for the small group for the entire day, spoke clearly and was very friendly and happy to provide comphrehensive insights into the animals, sights and answer your questions. The animal experience was amazing. We even stopped to see tigers. Take some extra baht for photos, tips, tigers. Overall, excellent value.
Tony D United Kingdom
September 2011
March 2011
fantastic !!
February 2011
This tour was great fun. I would recommend to a family. Thanks
November 2015
The price was very good and we really enjoyed the activities on the tour. You get up close and personal with monkeys, elephants, and we had the chance to hold a baby tiger and take pictures with it for an additional charge. The only downside of the tour was that there was a thunderstorm with heavy rain for about an hour and we got soaked riding in the back of the vehicle. It has a tarp covering it but the sides have no covering so we got hit by rain from the side and splashes from the road.

November 2015
Great guide, great activities, friendly people. The only negative experience we had was the weather which is realy not the tours fault and the looooong drive back to the Hotel /-40 minutes in the cold and rain at the back of the car, all the way around the island.
Advertisement
Advertisement