Travelers in search of a true Thai experience will find exactly what they're looking for on this Koh Samui Island Tour including Lunch and Thai Massage. Your friendly local guide will take you on a tour of some of the island's major highlights, like picturesque beaches, giant Buddha statues and even the breathtaking NaMuang Waterfall. After your tour tuck into a tasty lunch at Peak Eye Restaurant and then select a massage before relaxing in a steam bath or Jacuzzi to end this perfect day.
Highlights
Big Buddha - Koh Samui's largest Buddha sitting 15 meters tall on the north coast of the island
Grandpa and Grandma Rocks will raise a chuckle and an eyebrow for those who go to see them
NaMuang Waterfall - One of Thailand's natural wonders that is a must see
Enjoy lunch at Peak Eye Restaurant and take a visit to the Magic Gardens - A celestial experience
Choose from a Thai or Swedish Massage with a steam bath and jacuzzi to end a truly perfect day
Includes hotel pickup and drop off

Friendly and informative guide

What You Can Expect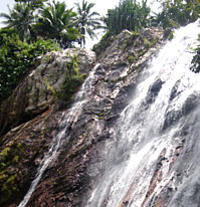 This Koh Samui city tour includes lunch and Thai massage—making it the perfect all-sensory experience for travelers in search of a true Thailand experience. Your professional guide and friendly driver will collect you from your local hotel for a look at some of the island's top attractions. You'll visit Big Buddha, the 15-meters-tall statue situated on the island's north coast, and make a stop at the iconic Grandma and Grandpa Rocks. Check out the picturesque NaMuang Waterfall and enjoy a savory lunch at Peak Eye Restaurant before paying a visit to the Magic Gardens, where celestial-inspired statues decorate the grounds. Once you've taken in the sites, head to a local spa where
you'll enjoy a steam bath with access to a bubbling Jacuzzi, plus a choice of Swedish or Thai massages before heading back to your hotel.
March 2015

January 2014
If you just have 1 day in Koh Samui. This is the tour to book!
January 2014
This was a great tour. The guide spoke English pretty well. We saw the best attractions of the island and ended the tour with a great massage. It was a great experience.
December 2013
Great way to start a holiday. I gifted one of these to a friend. Was takn around by a delightful driver who knew Thailand, the island and history, spoke good English and ahd great sense of humour! I felt sorry for the other tour groups taken around on mass when we could just take out time. The masssage and spa was suberb and we liked it so much we booked another one for our last day.
December 2013
This tour is simply perfect. The massage was stellar and so was the lunch. The tour guide Mr. Tok was informative and very accommodating to requests of visiting other tourist sites beyond that of the itinerary. You won't regret it. Give your tour guide a tip if he has done a great job! ;)
rainerice Singapore
May 2013
A pretty good trip, had a big new van all to ourselves and got to see the whole island. On the plus side of things was that it was a pretty thorough tour and you get to see most of the highlights of Koh Samui. On the downside was the lunch, pretty old food but it's the slow season now, so everything was pretty empty. The tour guide didn't know too much about the sites we were at but he was friendly and helpful. The massage was really great and we were back to our hotel by 4pm. A bit over priced but nice to not have to worry about anything.
Advertisement
Advertisement