Pre-book your private arrival transfer from Koh Sumai Airport to your hotel and insure your trip starts hassle free. Meet your friendly local driver upon arrival and travel in the air-conditioned comfort of your own private vehicle to your accommodation of choice.
What You Can Expect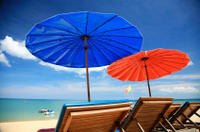 Enjoy professional, reliable and friendly service using this private arrival transfer from Koh Sumai Airport to your Koh Sumai hotel. Meet your driver upon arrival and travel in air-conditioned comfort to your accommodations. Chauffeurs are carefully selected for their local knowledge and are sure to provide hassle-free service to travelers.
Book in advance and travel with ease, knowing you'll be met upon arrival. Share your flight and hotel information when booking and provide your driver with the travel voucher.
Price is per person and based on three to six adults per vehicle.
Roberto S United Kingdom
June 2010
This takes all the hassle out of getting to your hotel. No need to worry about having the right change as it is all prepaid.
June 2015
Everything was ok. We can recomend
August 2012
Picked up early giving us plenty of time to reach Airport before it became v. crowded.
Met by rep. Cases put on trolley for us . Well worth the price.
Margaret S Australia
June 2010
Great service.
Neilsnz New Zealand
May 2016
Provided the service eventually. Our plane was late and we were near the back of the customs queue. So when we got out, our van was not waiting. It took probably 20 minutes for a car to arrive, and then another 10 for a van.
But service was friendly and they had well organised all tours that we were doing with them. So overall OK, as it was not their fault our plane was so late!
October 2012
It is OK transfer but super expensive. You are better off contacting hotel to have a cab meet you. They do that for 400Bhat ($1 = 30Bt) right now!
Sidney R USA
February 2012
Representative was not waiting for me upon arrival. It took 15 minutes to find them. Ride to hotel was okay. Nothing special.
December 2011
I was disapointed your advert shows a smart car and that was what we expected .Our transport was not waiting for us we had to wait about ten to fifteen minutes,only to be shown to a transit van .This is not good value for money .
Advertisement
Advertisement