Skip the headache of public transportation and make the most of your Indian holiday with this pre-booked Kolkata Private Arrival Transfer. Meet your local driver at Netaji Subhas Chandra Bose International Airport (CCU) and make your way to your accommodation of choice in air-conditioned comfort.
Highlights
One-way private arrival transfer from the Netaji Subhas Chandra Bose International Airport to your Kolkata hotel
Enjoy an efficient and comfortable transportation when you arrive in Kolkata
Avoid the hassle of long airport taxi lines!
Friendly and professional driver and air-conditioned transport
Available 24 hours a day, seven days a week
What You Can Expect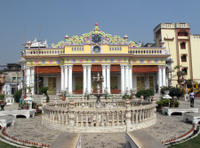 Your friendly local driver will meet you upon arrival at Netaji Subhas Chandra Bose International Airport (CCU) and transport you to your Kolkata Hotel. Whether you're traveling alone or with a group, this Kolkata airport arrival and ground transfer has you covered.
Share you flight and hotel details when booking to insure an easy transition from air to land. You will receive a travel voucher to present your driver after instantaneous confirmation of the transfer. Reconfirmation of pickup time and place is required 24-48 hours before arrival in Kolkata. Contact information will be provided on your voucher.
Costs are incurred per person and 3 to 6 adults may travel per vehicle.
January 2016
Excellent. I won't lie, I was concerned before travel that I hadn't received a confirmation message from the taxi complany picking me up, however, they were waiting on arrival as arranged and provided dependable and trustworthy service for the duration of my stay in Kolkata. No hesitation recommending them.
November 2015
My private arrival transfer from Kolkata airport to my hotel went without a hitch. Before I flew out I had emailed the company to ask for a confirmation that a pickup was arranged. Driver was pleasant and helpful. I will use this service again.
February 2014
It was great getting into Kolkata airport at 7PM after traveling 25 hours, and having someone waiting for us to take us to our hotel. Some others had taxis that got lost! Very professional. He even stopped for us at an ATM to get Indian money. Would recommend this service.
Cinnamon USA
December 2012
Our transfer from the airport to the hotel in Kolkata went without a hitch. It was reassuring to see our names on a sign as we left the airport during the dark (7:15 PM). It's the only way to do it.
December 2015
October 2014
Got a phone call on arrival before leaving the arrivals hall. Pick up was just as expected. Comfortable air conditioned car. Got money's worth
December 2013
The car was waiting for me as arranged and the driver polite and helpful. He even helped with a little translation when he dropped me off at my hotel which I was extremely grateful for.
Booking online was simple and straightforward and although compared with an ordinary taxi the price was rather expensive it was good to have peace of mind on my first trip to India. I would recommend and use Viator again
January 2015
It was satisfactory, it took a while for us to find the driver at the airport but sure enough after much hustle and bustle we found him. He greeted us and we headed for Sudder St area, after giving you the hotel we expected to arrive in no time, though we stopped many times to asked for directions.
September 2013
The driver was late arriving, and we had no way of finding out the problem; an airport employee was prepared to have us arrange for other transportation to our hotel, but finally the Viator driver arrived.
There were some anxious moments, because once you have left the airport in Kolkata, you are not allowed back in; thus we were regarded rather suspiciously by airport security personnel.
Advertisement
Advertisement