Uncover Kolkata's spiritual heart on this private full-day tour of the city's temples and places of worship, including lunch, hotel pick-up and entrance fees. Cruise along the Hooghly River to the Dakshineswar Kali Temple; visit Mother Teresa's tomb at the Mother House; and admire the striking Kalighat Kali and Jain temples. Finally, discover Kolkata's multi-faith heritage with a visit to the Nakhoda Mosque and the British-built Victoria Memorial and St Paul's Cathedral.
Highlights
Full-day tour of Kolkata's places of worship with a private guide
Learn how the architecture of Belur Math celebrates the diversity of Indian religions
Enjoy a boat cruise along the Hooghly River to the Dakshineswar Kali Temple
Pay homage to the charitable works of Mother Teresa by visiting Mother Teresa's Mission and Mother House
Visit impressive structures including the Kalighat Kali Temple, Dakshineswar Kali Temple, Jain Temple and Nakhoda Mosque
Hear about Europe's widespread influence in India as you tour the Victoria Memorial, St John's Church and St Paul's Cathedral
Lunch and private transportation between sites included

Private guide ensures an enlightening and personalized experience
What You Can Expect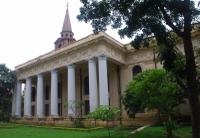 After pickup from your hotel in Kolkata, embark on your private tour of places of worship in Kolkata. Head to Belur Math, an architectural beauty that houses the volunteer organization Ramakrishna Math and Mission. Walk around and be in awe of the intricate architecture that fuses Hindu, Christian and Islamic motifs as a symbol of the unity of all religions.
Then, enjoy a 20- to 30-minute boat cruise on the Hooghly River to the Dakshineswar Kali Temple, a beautiful Hindu temple built in the traditional nava-ratna, or nine-spires, style of Bengal architecture. Next, drive to the Kalighat Kali Temple, where several pilgrims often go to pay their respects to Kali. Walk inside the temple with your guide and learn about how the temple's image of the goddess differs from how she is depicted elsewhere.
Afterward, you'll be driven to the Jain Temple, where you'll find beautiful interior decor such as pillars inlaid with mirrors and intricate stained-glass windows. Stop at a popular restaurant carefully chosen by your guide for a traditional Indian meal.
Then head to the Nakhoda Mosque, the principal Islamic mosque of the city that rises impressively in the midst of a bustling commercial district.
The rest of the day will show you England's extensive influence on this region. At the Victoria Memorial, a memorial complex dedicated to Queen Victoria, marvel at the structure's architectural style, which fuses both Islamic and European architecture. Inside the hall, see paintings and memorials depicting the queen's reign.
Visit St John's Church, a neoclassical structure featuring a distinctive tall stone spire with a giant clock. Walk along the church's blue-gray marble floors up to the altar. Then, visit at St Paul's Cathedral, a beautiful Anglican church built in Gothic Revival style. While the exterior's design is exquisite, the tranquil interior will leave you even more impressed, with its beautifully carved wooden pews, striking stained-glass windows and marvelous Florentine frescoes.
Finally, visit Mother Teresa's Mission and Mother House, or simply Mother House, where Mother Teresa's large tomb is located. Here, experience the serenity of the place and learn about Mother Teresa's important religious work throughout the 20th century. Relax in your air-conditioned vehicle on the ride back to your hotel in the early evening.
December 2014
November 2012
Very nice City and interesting places. Our guide Parometer was just great. Would be nice to have her again next time. Thank you very much and see you again.
Wanderer Malaysia
October 2015
We had a very good guide, Krishnandun. He was knowledgeable and spoke good English. Enjoyed the visit to the Khali Temples and also the boat ride on the Hooghly.
April 2015
Seeing the famous temples of Kolkata was fantastic. This tour was adequately clear and comfortable and friendly.
Charlene USA
January 2015
This tour was very informative and provided a wide vie of Calcutta and the changes due to the British colonization.
Advertisement
Advertisement