Scale the mighty peak of Mount Kinabalu, a UNESCO World Heritage site and Malaysia's highest mountain, on this challenging 3-day hike from Kota Kinabalu. Spend the first day exploring the Kinabalu National Park, then embark on a 7-mile (12km) round-trip hike to the mountaintop. Finally, watch the magnificent sunrise from the 13,451-foot (4,100-meter) summit of Low's Peak. This all-inclusive tour includes accommodation, meals and hotel transfers.
Highlights
3-day hiking adventure on Mt Kinabalu in Sabah
Experience UNESCO World Heritage-listed Mt Kinabalu, a very popular climbing spot

Follow your guide on two challenging yet rewarding hikes on the mountain and admire incredible views

Stay overnight at the Laban Rata rest house, nestled halfway up the mountain with gorgeous views

Watch a beautiful sunrise at Low's Peak

No experience necessary!

All meals, accommodation and hotel transportation are included

What You Can Expect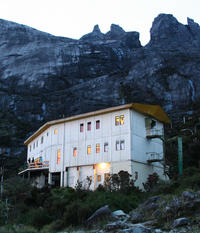 All meals, entrance fees and accommodation are included. You'll hike approximately 7 miles (12 km) round-trip and your guide will always be available for assistance and support. There will be plenty of breaks along the way to rest, take in the scenery and refill your water bottles.
Itinerary
Day 1: Kota Kinabalu -- Kinabalu National Park (L,D)
You'll be picked up at your Kota Kinabalu hotel in the morning and taken to Kinabalu National Park. Follow your guide on a nature walk through the trails to learn about the park's abundant flora and fauna. Or, if you prefer, have free time to explore the park on your own.

Head to your hotel for check-in and then have lunch at a nearby restaurant. In the afternoon, visit the Mountain Garden with your guide to learn more about the park's plant diversity.

In the evening, enjoy another great meal at the same restaurant before heading back to your hotel.

Overnight: Kinabalu Park Hill Lodge/Liwagu Suite, Perkasa Hotel or Pine Resort in Kinabalu National Park

Day 2: Kinabalu National Park -- Mt Kinabalu (B,L,D)
Have breakfast at Balsam Restaurant, where you will also collect your boxed lunch of a sandwich, piece of chicken, fruit and water. Then, head to the park headquarters to meet your guide for a drive to Timpohon Gate.

When you arrive, receive a safety briefing and training on what to expect during your hike. Then, embark on a moderate 4-mile (6-km) hike with your guide. Depending on the group's ability level, the hike will take between 6 and 8 hours.

Along a rainforest trail, you'll see a beautiful waterfall. Stop at various huts along the way to rest and fill up your water bottle, and break for lunch in Layang Layang before continuing the second half of your hike, where you'll enter a whole new landscape of forests, rocks and inclines.

Emerge onto a rocky plateau as you approach Laban Rata, a hotel on Mt Kinabalu. Upon check-in, freshen up for a buffet dinner at the dining hall at your desired time. Indulge in both Malaysian and Western dishes to refuel for your next day. Be sure to get to bed early, as tomorrow's hike will be very early!

Overnight: Laban Rata on Mt Kinabalu

Day 3: Mt Kinabalu -- Kota Kinabalu (B, L)
Gear up for today's hike around 2:30am. Follow your guide to the summit at Low's Peak, a 2-mile (3-km) hike for a total of 3 or 4 hours. Navigate rock faces and take in views of the forest and valley during this exhilarating experience.

Your guide will be available for assistance and point out the best ways to approach tricky portions of the climb.

It'll be around 6am when you reach the top of Low's Peak, giving you incredible views in all directions of St John's Peak to the west, Donkey's Ears to the east and the distinctive South Peak. You'll be rewarded with a breathtaking sunrise at 13,451 feet (4,100 meters) – a truly unforgettable experience.

After enjoying the sunrise, return back to Laban Rata for a hearty breakfast and check-out. Make your way back down to Timpohon Gate on a 2- to 4-hour hike. Relax over lunch at Balsam Restaurant before being driven comfortably to your Kota Kinabalu hotel.
December 2013
The tour itself was great, and the individual providers were wonderful. However, the coordination
and communication left something to be desired. Viator subcontracted the tour, but I didn't know
who the subcontractor was until I arrived. Partly as a result, I expected to be picked up at 6:30 the
first morning, and my ride didn't arrive until 8:00. Between that time, I had no idea who to call. It seemed
at every handoff, there was some question as to who who arrive next and at what time. Further, there
was no predatory information for the hike, such as a recommended gear list, or information about
the availability of water on the trail. This led me to carry more gear and water than I needed. While part of this is my fault, when I pay to have someone do the preparation and thinking for me, I expect a bit more.
Still the services, accommodations and staff I interacted with was great, and the hike was wonderful.
Advertisement
Advertisement