Venture into the UNESCO World Heritage-listed Mt Kinabaly and hike across Kinabalu Park in this incredible full-day tour that includes hot springs, rolling hills, epic scenery and birds-eye-views from atop forest canopies. Your expert local guide will take you through some of Malaysia's most picturesque countryside and point out indigenous flora and fauna along the way. Enjoy a savory local lunch and a relaxing dip in the Poring Hot Springs on this memorable day trip.
Highlights
Visit the World Heritage Site of Kinabalu Park and it's diverse climates and hot springs on this tour from Kota Kinabalu
Enjoy a canopy walk up 30-meters in the treetops
Excellent views from the canopy walkway of the waterfalls and streams
Enjoy a fresh dip in sulphurous waters channeled from the Poring Hot Springs
Hotel pickup and drop off
Recent Photos of This Tour
Kinabalu Park Canopy Walkway and Poring Hot Springs Full-Day Tour from Kota Kinabalu
What You Can Expect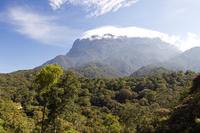 Your Kinabalu Park canopy walkway and Poring Hot Springs full-day tour from Kota Kinabalu kicks off with hotel pick up and a scenic drive through the picturesque Cocker Mountain Range. You'll travel past rolling hills, lush forests and Mt Kinabalu as you take in the sight of one of the world's most biologically diverse ecosystems.
Once you arrive in Kinabalu Park, you'll follow your guide on a hike through one of the numerous trails in this UNESCO World-Heritage-listed site. Get an up-close look at wildlife as you make your way to the 100-feet-high canopy walkway, where you'll have the chance to stroll high above the Borneo rainforest.
This incredible outdoor experience is followed by a delicious local lunch of traditional Malaysian delicacies. Then, with full bellies, you'll head to the Poring Hot Springs, where you'll enjoy time at your leisure to relax and unwind in the natural hot springs. Your tour ends with hotel drop off in Kota Kinabalu.
Itinerary
August 2013
Highly knowledgeable guide, excellent sights and a chance to see rural Malaysia. We were also fortunate enough to see a Rafflesia blooming.
This was one of the best parts of our 8 night stay.

April 2013

August 2012
What a great experience! Our guide Herman was wonderful, so knowledgeable and considerate, well worth it!!
Megan, Australia
Frank B USA
November 2008
We visited the park and botanical garden, had lunch, and then drove to Poring Hot Springs. On the way to the Springs, we were very fortunate to see the Raffalisia flower in bloom. This was one of the highlights of our 10 day trip to Borneo!! The 12-story high canopy walk-way. was another feature of this trip. I have seen other canopy walk-ways but this one is the most "rustic"--being only a plank inside a net--very exciting.
May 2011
The park is quite a long way from KK itself but the scenery to be seen on the drive itself makes it all worth it. During the day we made several stops to go into the rain forest to see the indigenous plants and flowers including the Rafflesia. Also visited the hot springs and the butterfly park.

TT Australia
August 2010
Worth doing, but not with this tour company. The guide kept telling us it was not his usual tour, and that he wasn't really interested in these type of tours. Felt like he wanted to go home ASAP.
Narcisa U Philippines
October 2008
A good experience. We had a friendly and well-informed guide.
Geoffrey F Australia
October 2008
We had a great time on this tour. The view of Mt Kinabalu is fantastic. The canopy is a little tough as it is so hot and humid. It is worth the experience.
June 2016
The local agent pick up was great and contacted me a day earlier for pick up arrangement. Canopy Walkway was pretty good and fun and had a v lucky dry day with nice temperature. Poring hot spring was disappointed as it was all enclosed in concrete blocks with tap. The waterfall nearby was good.
September 2014
My wife and I went to KK for our wedding anniversary and took the canopy walkway and Poring Hot Springs and it was OK. But the real highlight was tasting the best durian and the best "marang" along the way. Our guide, Alfred, did a splendid job. He also brought us to a blooming Rafflesia flower.
Advertisement
Advertisement