Discover the rich history and heritage of Kota Kinabalu on this comprehensive 3-hour city tour, including hotel pick-up. Visit landmarks like Wisma Tun Mustapha (Sabah Foundation Building) and the City Mosque; pay a visit to the prestigious University of Sabah and tour the fascinating Sabah Museum. Finally, soak up views of Kota Kinabalu and the Likas Bay lagoon from the summit of Signal Hill.
Highlights
Half-day tour of Kota Kinabalu's most recognized sites
Discover works of architectural art like the Wisma Tun Mustapha and the City Mosque
Explore Sabah Museum and discover historical and cultural aspects of the indigenous people
Feast your eyes on a beautiful panoramic view of the city and surrounding islands from Signal Hill
Visit the University of Sabah to learn about this important educational facility
Gain a deeper knowledge of Sabah's history, heritage and culture from your guide's informative commentary
Hotel pickup and drop-off included
What You Can Expect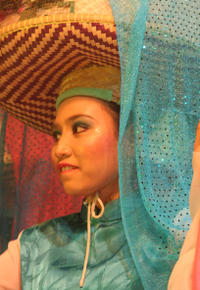 After pickup from your Kota Kinabalu hotel, you will be taken on a half-day tour of some of Kota Kinabalu's most interesting landmarks. Stop first at the Wisma Tun Mustapha (Sabah Foundation Building), a circular tower of steel that stands at 30-storeys high and one of the city's most important icons. Then, be taken to the University of Sabah, one of Malaysia's top universities to learn about the various schools, faculties and research that this university contributes.
Afterward, head to the Kota Kinabalu City Mosque and admire this exemplary model of Islamic architecture. Built right on the site of the Likas Bay, this gorgeous and dramatic structure looks like it is floating right on the man-made lagoon.
Finally, explore Sabah Museum with your guide and learn about Sabah's history, culture and social and natural history. See the different exhibits that display this region's various archaeological, historical, art, zoological and various other collections.
Before heading back to your hotel, make a brief stop at Signal Hill, where you will be greeted with a beautiful bird's eye view of the city skyline and nearby islands. Time permitting, your guide will stop at a local handicraft market for you to peruse unique local handmade works of art.
Somjate K Thailand
August 2008
It is OK.
September 2014
The city tour was OK but the real charm of KK lies in how the city was built (or rebuilt after WWII), while preserving and maintaining nature, enhancing and sustaining the environment. One of our most memorable experiences was doing our morning jog along the boardwalk. KK is Clean and Green, Blue Skies and Green Seas, Cool Breeze and Calm Locals, Great Food (Laksa and Bak Ku Teh) at Great Prices. Just before enplaning for Singapore we were able to take a quick trip to the zoo and see the famous Proboscis Monkey, another wonder of God's creation. When I asked the local guide why does the monkey have a long portrusion for a nose, he rightfully replied "Berkat Tuhan!" -- "Because of God!"
"KEEP KALM and KOME TO KOTA KINABALU".

July 2014
This tour was OK as an orientation to Kota Kinabalu. However I was disappointed that we did not go inside the mosque, we simply pulled over in the van to look at it from the roadside. I think the description of the tour should state that this is the case with the mosque and the state admin building.
Advertisement
Advertisement