Journey into the jungles of Borneo on this incredible tour of the Sandakan Sepilok Rehabilitation Center. Learn about conservation efforts being made to protect wild orangutans and watch a dedicated team of naturalists teach these orphaned primates the survival skills necessary to exist once they are released back into the wild.
Highlights
Visit Sandakan and the Sepilok Orang Utan Rehabilitation Center on this trip from Kota Kinabalu
see the friendly orphaned orangutans at the Sepilok Rehabilitation Center
Visit the hilltop Puh Jih Shih Buddhist Temple
Breathtaking views over Sandakan Bay for amazing photo opportunities
Professional and fun guide will ensure a memorable and informative experience
Hotel pickup and drop-off and transport by air-conditioned vehicle included
Recent Photos of This Tour
Sandakan Sepilok Orang Utan Rehabilitation Center Full-Day Trip from Kota Kinabalu
What You Can Expect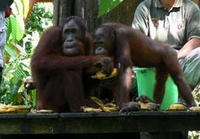 Venture into the jungle on this Sandakan Sepilok Orangutan Rehabilitation Center full-day trip from Kota Kinabalu. Enjoy the convenience of hotel pick up in the city and choose from ground transportation to the center or airport transfer (flight surcharge subject to change).
Upon arrival at the center, follow your guide into the largest and oldest orangutan conservation center on the planet and learn how dedicated professionals work to protect orphan primates and prepare them for return to their natural habitat—the jungles or Borneo.
This tour includes a walk along a tall wooden walkway where you'll have a bird's-eye view of bright orange orangutans emerging from the foliage for feedings. At 10 a.m. and 3 p.m. Although these primates roam freely in the jungle, travelers should be advised that wildlife sightings are not guaranteed.
After exploring the grounds and getting up close to the animals, you'll head to a local restaurant for a satisfying Malaysian meal. Spend the afternoon touring Sandakan, where local markets filled with produce and handicrafts offer the perfect option for collecting souvenirs. Your guide will point out Chinese architecture and other traditional influences when you visit Puh Jih Shih Buddhist Temple. Wander the grounds and then take in the incredible views of Sandakan Bay from its hilltop location.
Your tour ends with a transfer back to Sandakan airport for your flight or coach transport to your hotel in Kota Knabalu.


May 2016
The entire day was wonderful. Our tour guide was very knowledgeable, not just about the orang utan rehabilitation center, but also about the culture, heritage, and other activities.
May 2016
Very good organised,every thing was perfect and a good guide and driver .we are satisfide
March 2014
Absolutely loved it, even though we had to start at 4.45 am to get our flight, but we were at the other end of the island. Once we arrived we didnt expect to get a good viewing as a US cruise ship had docked, so there were a lot of people, nevertheless we had a good viewing and were able to stay for long time. We seen a total, of siz orangutans. While a couple just stayed on the platform eating, otheres entertained us with their antics. We then went across the centre for a viewing of the snow bears. On returning to the centre, we were privileged to have the company of Sen, a young orangutan who has been rehabilitated, came out of the rain forest and entertained us for ages, just wandering and swinging about. He even came and sat on the benches with us and took hold of my husbands hand. I was also even able able to stroke him, although this is not permitted. I think it was this that made it so enjoyable. You have to really want to see the orangutans to warrant the cost if you have to take a plane ride. We later went to an English tearoom for lunch which was very nice.
October 2013
It was a great last minute tour up to see the orangutan. We were very lucky to see quite a few and there was plenty of photo opportunities. We were also very lucky to be take to the sandakan war memorial as well.
June 2013
Fantastic, our guide and driver were absolutely great. Nordin and Reward. Very informative and attentive and accommodating. The Rehab centre does such a wonderful job for these amazing creatures. We had a wonderful, although tiring and long, day. Our resort, Shangra-La provided us with breakfast as we had a 5am start for the day. At the risk of repeating myself, it was a great day.

John H A United Kingdom
October 2012
an excellent day trip for which we were provided with a driver and personal guide who was very knowledgable.. we saw orangutans as soon as we arrived at the rehabilitation centre and also on the feeding platform. te bhuddist temple was very well decorated internally and has a superb view of the town. we finished with the Sandakan Memorial Park which was very moving when reading about the treatment of the prisoners of the war in Japanese hands. all in all a very worthwhile trip and one that me and my wife thoroughly enjoyed
July 2011
Brilliant trip. Not to be missed. Very informative with clear instructions at the sanctuary. Fantastic to see these beautiful animals in their own environment.
May 2011
Awesome. A great way to get up close and personal with the Orangutan's whilst also knowing that you are contributing to their rehabilitation. I went at feeding time and it was not in any way crowded. The logistics of getting to and from Sandakan and Sepilok were well organized. As a single traveler I had to pay a 100% supplement to be able to complete this tour. Expensive (for me) but well worth it, a great experience.
Wayne K Australia
June 2010
The tour to the Orang Utan sanctuary was really well organised, efficient & a great excursion. We were lucky to be able to stand on the boardwalk with an Orang Utan playfully rolling near our feet. Watching the feeding session was entertaining & the information session about the sanctuary was very informative. We asked to see the Sandakan Memorial instead of visiting the Buddist temple & this was easily & efficiently organised. The excursion was well worth the cost & highly recommended.
Michael P United Kingdom
August 2008
Early start to fly over to Sandakan and the Sepilok Centre but well worth it. Very, very hot and humid throughout the feeding time so make sure you take water. There are plenty of orangutans on view but also plenty of people. You need a good camera to be able to take good shots and preferably a tripod although when we went two of the orangutan actually got onto the viewing platform!! Brilliant experience.
Advertisement
Advertisement