Drive out into the old palm oil and rubber plantations and see the hot stream and the emerald pool right in the heart of the rain forest. Explore the amazing scenery, and cool down with a swim in a natural pool.
Highlights
Full-day tour of Krabi rainforests

Watch how rubber is tapped from a tree

Swim in hot thermal pools

Enjoy a jungle walk in the forest

See the amazing view of Krabi from the Tiger Temple

What You Can Expect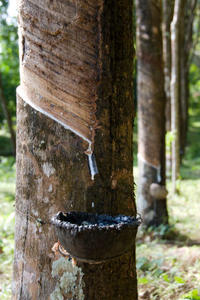 Enjoy getting back to nature as you enjoy at day out in Khao Nor Chur Chi National Park. Start with a visit to the thermal spring pools nestled in the rainforest and take a dip in the hot pools.

Then travel to a rubber plantation to see how how rubber is tapped from the trees and produced into latex sheets. This age old method stands the test of time as the trunk of the tree is carved to let the sap flow freely into a container. Take a jungle walk in one of the last low land rainforests in Thailand and learn about the biodiversity of the area.

Visit Emerald Pool for another swim in the clear blue waters before ending your day at the Tiger Temple. This unique forest temple has trees that are more than 1,000 years old. From here you will have the best view point looking out over Krabi.

A picnic lunch with drinking water and fruit is included.
May 2015
The tour setup is very good. Tour guide fun and active. Next time if choose we still choose this tour again.
February 2013
The hot stream was fairly busy and smaller than imagined; the Emerald Pool was lovely and busy not over-crowded. Lunch was good and the walk through the forest interesting and beautiful. Tiger Cave temple was slightly 'tacky'; the walk over the rock to see the monks houses etc was well worth the steps!
January 2015
The guide was really nice, but the tour was ok, but not great.
February 2014
Quite an interesting tour but our tour guide was difficult to understand, gave minimal information and unclear directions. He was very different to any other tour guide we had encountered in Thailand.
The hot stream is very crowded and doesn't look as good as this. The 2 km walk to the Emerald Pool was interesting and it was lovely swimming in the pool. (wear your bathers under you clothes). The Tiger Temple was also interesting - walk past the 1227 step climb to the top and go up the next set of steps - 220 steps - apparently good views and things to see. All on our tour missed it as our guide disappeared and his instructions were so poor we all, independently, went to the wrong place.
July 2010
The trip was good, but the guide was not very informative. He just told us where we were, but gave us no information about the places visited.
March 2012
Disapointing Not a 4WD insiight. Instead a minibus with german, danish and thai passengers and a guide whose english was very poor and spoke very little to us. I assume his geman an thai was good
Advertisement
Advertisement