One of the most beautiful pristine islands of Krabi, Koh Hong is pure paradise. Travel by speedboat from Krabi and enjoy the day exploring Koh Hong Island and Pelay Beach. Enjoy a picnic lunch, swimming and snorkeling.
What You Can Expect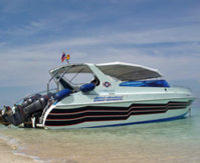 Also known as Room Island, Koh Hong Island is a perfect escape whilst on holidays. Wonderful desert island location renowned for its breathtaking beauty, shallow coral reefs and fine, sandy beaches. In the middle of the half-circled shaped island lies the secret lagoon, where you can find yourself at one with nature.
April 2015
Peter was a fantastic tour guide! He was very informative. Great meal! We could have done without the ox cart ride (the whole thing seemed very staged but children may enjoy this). Lovely day overall!
February 2014
Breathtakingly beautiful. We actually visited 3 different islands and had plenty of time to relax, swim and enjoy them. The guides were very helpful and efficient. The large launch looked like it was brand new. Lunch was good - ate it at tables under the trees with the most magnificent view. Beaches weren't crowded as the can be at more popular destinations. Highly recommend this very well organised tour.
February 2011
Thank you for a wonderful boat trip to Koh Hong Islands. It was a fabulous day, seeing some beautiful coves, beaches, and islands. The crew were so friendly and professional, and the lunch was delicious. Thank you again, for some wonderful memories. Gez and Jorg
Advertisement
Advertisement