Pack your swimsuit for a speedboat ride from Krabi to Koh Phi Phi for a tour of Thailand's most beautiful and well-known islands, and spend the day relaxing at this popular destination. In one hour you're whisked away to the Phi Phi islands so you have more time to relax on some of the finest beaches in the Andaman Sea. This guided day trip takes you to Maya Bay for a beachside lunch plus a secluded spot with plenty of free time for snorkeling and swimming.
Highlights
Krabi to Koh Phi Phi day trip by speedboat
Spend less time on the water and more time at the Phi Phi Islands with a 1-hour boat ride
Enjoy a full day of relaxing, swimming and snorkeling at secluded coves and beaches
Eat a beachside lunch and have the services of a guide
Includes hotel pickup and drop-off from Krabi
Recent Photos of This Tour
Krabi to Phi Phi Islands by Speedboat
What You Can Expect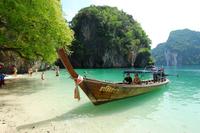 This 8-hour day trip from Krabi to Koh Phi Phi takes you to some of Thailand's favorite tropical islands by speedboat. You'll travel faster than a ferry transfer, ensuring you have more time to spend at your destination — perfect for those with a limited schedule.
After hotel pickup you're driven to the pier to board the speedboat. Expect a bit of a bumpy ride as your high-speed vessel traverses some waves to the Phi Phi islands.
Your guide accompanies you to Maya Bay at Phi Phi Ley, the smaller of the two islands, where the movie The Beach was filmed. Soak up the sun as you relax on the white sand or take shelter under the 328-foot-high (100-meter) cliffs.
Enjoy a beachside lunch before re-boarding the boat for the twin crescent beaches of Phi Phi Don, where you can enjoy free time to swim, sunbathe and snorkel with the provided gear.
Your tour ends with a return speedboat ride to Krabi and drop-off at your hotel.
February 2016
My girlfriend was very sick the whole trip from a separate food poisiong incident the day before, and the crew went out of their way to be kind and help her out anyway they could. The tour itself was great too.

January 2016
We took this tour on our very first day in Thailand. It was really very well organized with friendly guide Micky and all other staff. Beaches visited were really good and very few people were there when we arrived. Natural beauty is beyond imagination. Food provided was good for different nationalities.
March 2015
January 2015
Very busy tour company. Our guide for the day Elena was great, lunch at Phi Phi Island was also very nice. Well worth the trip, plenty of fish snorkelling masks are provided but bring your own flippers if you have them. Phi Phi Lai was the better snorkelling spot, Maya bay is beautiful but packed like all the good tourists spots.
January 2014
Excellent!! Our tour guide was extremely friendly and very helpful! Loved every moment of this!
January 2013
Very good: Boat, Guide, soft drinks, etc.
January 2011
The trip was great. Excellent value for money. The staff were great and we had the time of our life.
Anonymous
March 2009
This is definitely the way to visit Ko Phi Phi and the Andaman Sea on a day trip from Krabi. The speed boat is safe, comfortable and a good way to sightsee. The snorkeling and swimming are excellent. Highly recommended.
Magnolia R. S China
March 2009
This tour was INCREDIBLE!! The tour guide staff were attentive, friendly, funny, professional and very well-prepared. This was probably my favorite day of my entire vacation.
December 2015
Beautiful crystal clear waters and great snorkeling spots. Lunch was served in a beautiful bay at a outside restaurant on the beach. I enjoyed this tour because they give you enough time at each location and you don't feel rushed to the next one. Our guide was great too. He spoke english well and was able to answer all of our questions. The only thing I would have wanted to know before booking this tour is that you still owe Thai Bat for the national park it was cheap only like 6 USD but knowing this before booking would have been nice, or just including it in the price already would be even better. I would definitely take this tour again and recommend it to friends.
Advertisement
Advertisement