Experience a poignant piece of World War II history on a half-day trip to Auschwitz-Birkenau from Krakow. Led by a knowledgeable guide, explore the UNESCO-listed concentration camp complex and preserve the memory of those who perished there. Pass through the crematoriums, old prison blocks and moving memorials, and hear the stories of this dark time in history from your guide in a sensitive manner. Your tour will conclude with transportation back to your original departure point in Krakow.
Highlights
6-hour trip to Auschwitz-Birkenau from Krakow with a local guide
Take a guided tour of the Auschwitz-Birkenau concentration camp and memorials
Explore the UNESCO-listed sites and learn about their terrible past from a knowledgeable guide
View the prison dormitories, gas chambers and exhibitions at Auschwitz I
See what remains of Birkenau's watchtowers, fences, barracks and gas chambers
Trace the stories of individual prisoners and visit the memorials to the camps' victims
Learn the history of WWII's Holocaust and about the liberation of Auschwitz in 1945
Recent Photos of This Tour
Auschwitz-Birkenau Museum Half-Day Trip from Krakow
What You Can Expect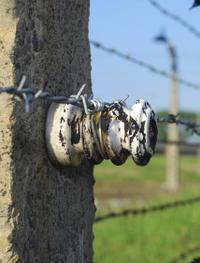 Established in the early 1940s by the Nazis, Auschwitz was originally intended for Polish political prisoners. Later, when it was extended to include the neighboring site of Birkenau, it became a larger concentration camp for primarily European Jews, killing an estimated 1.5 million people.

Begin your trip with pickup at your Krakow hotel or in central Krakow, at your preferred departure time. Accompanied by your guide, travel to the town of Oswiecim while a documentary on WWII and the Nazi Holocaust is shown on board. After roughly 1.5 hours, arrive at the Auschwitz-Birkenau complex, now a UNESCO World Heritage Site.

Enter the gates bearing the inscription Arbeit Macht Frei (Work Sets You Free) and then head inside to learn about how the complex quickly turned from a detention camp to a center for mass murder. Your guide will discuss the camp's history in a sensitive manner as you visit the crematoriums and gas chambers, as well as the watchtowers and fences at Birkenau where the Nazi officers stood guard.

After examining the exhibitions inside the old prison blocks, pay your respects at the camp's somber memorial. Your trip will conclude with drop-off back at your Krakow hotel.

May 2016
amazing tour and tour guide!
May 2016
Great Tour, everything was arranged fine! We also had a very good guide. Highly recommendable
May 2016
All we expected it to be and more. Well organised. Very good tour guide, who gave just enough information.
Others should know before going that there is quite a lot of walking involved, though fine for us.
Unmissable.
DEBORAH R United Kingdom
April 2016
Excellent tour with excellent guides, travel and admission procedures all arranged very well. Exhibits thorough and very informative, very well managed. Obviously some very poignant images and thoughts but these things need to be remembered.
April 2016
April 2016
It was a great days tour and our guide was fantastic, I would rate him alone as 10/10 !
April 2016
Excellent!!!! Learnt things I didn and #39;t know and i am really interested in ww2 history
April 2016
This tour was absolutely fantastic and I could not recommend it more to anyone who wants to visit Auschwitz. Our tour guide, Jack English translation!, was incredibly knowledgable and totally made the trip. He was obviously incredibly passionate about his job which made it even better. This trip was worth every penny.
April 2016
A humbling experience and difficult to take on board everything that we saw and heard. Our guide was amazing - sensitive and knowledgeable, giving us great insight into what went on in the camps. It was a fast-paced walking tour but worth it to see everything we did in the time we were there.
March 2016
An intense experience that was handled quite well by all the guides involved. We had an introductory video on the bus trip from Krakow to Auschwitz that helped give a deeper understanding on which to deepen the experience. A good balance of group time and some individual time.
Advertisement
Advertisement