1152 Reviews
Location:

Krakow, Poland

Duration:

5 to 6 hours
Take a sobering tour of the World War II Auschwitz-Birkenau complex on a 6-hour trip from Krakow. Travel by coach to the UNESCO World Heritage compound and explore the twin concentration camp compounds with a knowledgeable guide as you learn about the Nazi Holocaust and how the camps functioned. Explore the poignant exhibition halls, and see the barracks, gas chambers and other buildings at Auschwitz I. Then, view the watchtowers, crumbled buildings and intensely moving memorials at Auschwitz II-Birkenau. Your guide will explain everything you see with care and sensitivity.
Highlights
6-hour trip to Auschwitz-Birkenau from Krakow with a local guide
Take a guided tour of the Auschwitz-Birkenau concentration camp and memorials
Explore the UNESCO-listed sites and learn about their terrible past from a knowledgeable guide
View the prison dormitories, gas chambers and exhibitions at Auschwitz I
See what remains of Birkenau's watchtowers, fences, barracks and gas chambers
Trace the stories of individual prisoners and visit the memorials to the camps' victims
Learn the history of WWII's Holocaust and about the liberation of Auschwitz in 1945
Recent Photos of This Tour
Auschwitz-Birkenau Museum Half-Day Trip from Krakow
What You Can Expect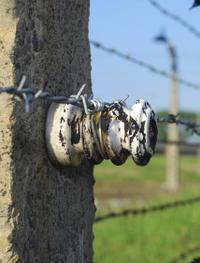 Choose your preferred departure time when you book, and begin your experience with a pickup in central Krakow or from your Krakow hotel.
Board your coach and as you travel, watch an onboard documentary that explains the history of WWII and the Nazi Holocaust. Learn how approximately 1.5 million people — mostly Jewish, Polish and Russian prisoners — were killed at Auschwitz-Birkenau from 1940 onward, until both camps were liberated by the Allies in 1945.
After roughly 1.5 hours on the road, arrive at Auschwitz and set off on a guided tour of both the UNESCO-listed Auschwitz I and Auschwitz II-Birkenau sites. Enter the Auschwitz I compound through the gates inscribed with 'Arbeit macht frei' or 'work sets one free,' and discover how it quickly turned from a detention camp for Polish prisoners into a center for mass murder.
Explore the main buildings — some still intact and some in ruins — and walk around the exhibitions that chart the fates of many of those detained here. View the dormitories and gas chambers, and see the factory areas where prisoners were forced to make munitions and other products for Germany's war efforts. While the facts of what happened here are shocking and distressing, your guide will explain everything in the most sensitive way possible.
After viewing Auschwitz I, take a short break to collect your thoughts and then visit nearby Auschwitz II-Birkenau. Here, see what remains of the watchtowers, fences and barracks as you hear about the appalling conditions endured by those held here. Witness the remnants of the gas chambers and crematoriums that were destroyed by the fleeing Nazis, and then visit the deeply poignant memorials to the victims to spend time in memory of those who suffered and died here.
After approximately three hours, travel back to Krakow where your tour ends at your original start point.

February 2016
Everything we wanted. Harrowing, emotionally draining, and well presented. We thought we knew about what went on but we now know we only knew a fraction of what happened. Without seeing it, the extent of the cruelty and death is unbelievable. No wonder Churchill when told did not believe it until factual and photographic evidence was presented to him.
February 2016
Excellent trip harrowing.everyone should visit once in there life. Cracow tours were excellent lovely coach and very well organised will definitely use this website in the future. so many choices of trips to pick from
January 2016
This was always going to be a difficult experience but the tour operator from krakow was outstanding picking up local to the hotel and taking us quickly to the site.when there the local guide was fantastic amd very knowledgeable. I could not recommended this trip highly enough.
January 2016
The tour escort and tour guide where great and our experience at Auschwitz was an experience and one we will forget.Alan
January 2016
Very interesting, moving, instructing. The tour guide impressed with her knowledge but really helped us understand what we were seeing and hearing by her personal stories. Highly recommended.
January 2016
A brilliant tour, well organised and the guides were excellent. Thanks
December 2015
Well worth it he time and effort!
December 2015
Auschwitz tour is awe inspiring. It's hard to reconcile how such monstrous activities could be carried out with such cold efficiency. Tour guides did a good job of explaining how the Nazis kept it a secret so people went willingly. The tour operator picked us up at our hotel and took us to the Sheraton where passengers switch busses depending on which tour they are taking. They dont actually conduct the tour, they coordinate and provide transportation but the tour guide is someone who works for the Auschwitz museum. Headsets worked well.
December 2015
We were a party of 6 and I speak for us all when I say we found it a very moving experience.
Our guide was excellent and I would highly recommend anyone thinking of visiting Auschwitz - Birkenau to use this service.
December 2015
Amazing tour, definitely a must when visiting Krakow. The bus was on time for pick up. While on the bus you are shown a video to give you some insight before the tour. The tour itself was great albeit emotional. The tour guides were very passionate and provided lots of information that you would likely have missed if you tried doing this without a guide. Plenty of time was given to properly appreciate where you were and the things you were shown and told. Would recommend you take a bottle of water and a quick bite for lunch as the day is quite long but definitely worth every minute. Ladies, if you take a bag make sure it is no larger than an A4 sheet of paper or you wont get it in. I would highly recommend this tour to anyone visiting Krakow.
Advertisement
Advertisement