Experience a poignant piece of World War II history on a half-day trip to Auschwitz-Birkenau from Krakow. Led by a knowledgeable guide, explore the UNESCO-listed concentration camp complex and preserve the memory of those who perished there. Pass through the crematoriums, old prison blocks and moving memorials, and hear the stories of this dark time in history from your guide in a sensitive manner. Your tour will conclude with transportation back to your original departure point in Krakow.
Highlights
6-hour trip to Auschwitz-Birkenau from Krakow with a local guide
Take a guided tour of the Auschwitz-Birkenau concentration camp and memorials
Explore the UNESCO-listed sites and learn about their terrible past from a knowledgeable guide
View the prison dormitories, gas chambers and exhibitions at Auschwitz I
See what remains of Birkenau's watchtowers, fences, barracks and gas chambers
Trace the stories of individual prisoners and visit the memorials to the camps' victims
Learn the history of WWII's Holocaust and about the liberation of Auschwitz in 1945
Recent Photos of This Tour
Auschwitz-Birkenau Museum Half-Day Trip from Krakow
What You Can Expect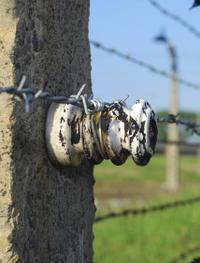 Established in the early 1940s by the Nazis, Auschwitz was originally intended for Polish political prisoners. Later, when it was extended to include the neighboring site of Birkenau, it became a larger concentration camp for primarily European Jews, killing an estimated 1.5 million people.

Begin your trip with pickup at your Krakow hotel or in central Krakow, at your preferred departure time. Accompanied by your guide, travel to the town of Oswiecim while a documentary on WWII and the Nazi Holocaust is shown on board. After roughly 1.5 hours, arrive at the Auschwitz-Birkenau complex, now a UNESCO World Heritage Site.

Enter the gates bearing the inscription Arbeit Macht Frei (Work Sets You Free) and then head inside to learn about how the complex quickly turned from a detention camp to a center for mass murder. Your guide will discuss the camp's history in a sensitive manner as you visit the crematoriums and gas chambers, as well as the watchtowers and fences at Birkenau where the Nazi officers stood guard.

After examining the exhibitions inside the old prison blocks, pay your respects at the camp's somber memorial. Your trip will conclude with drop-off back at your Krakow hotel.

June 2016
Obligated visit. Such an experience of the lack of humanity from that regimen. Logistics and guide were perfect.
June 2016
June 2016
Was amazing. Our guide was very good. If we were to go again we would make sure there isn and #39;t to sunny and hot or rainy. When we went there was very sunny and it kinda took away from the experience.
June 2016
Great tour covering the history of the sites which leaves a lasting impression.
June 2016
Excellent trip with very friendly and helpful organisers. Our guide at the camp was brilliant. If you ever go to Krakow you must visit the Auschwitz-Birkenau Museum. It is an incredibly poignant place.
June 2016
The tour itself is either something you want to do or not, but if you do then this tour provider is recommended. I had contact with three different english speaking guides over the day and all were fantastic. Everything was seamless and there was no waiting around.
June 2016
Truly moving day and everything we wanted to see and do.
May 2016
Truly enriching. Our tour guide added so much depth to what we were being shown.
May 2016
Truly enriching. Our tour guide added so much depth to what we were being shown.
May 2016
The tour is quite worthy to go, and the arrangement pick up, tour guide, etc are also very nice!
Advertisement
Advertisement