Experience the celebrated music of Frederic Chopin, Poland's renowned composer, with a 1-hour concert in Krakow's Chopin Gallery. Settle into your seat at the historic venue inside Bonerowski Palace as talented musicians perform a selection of the master's most beloved works. After an evening in the UNESCO-listed building, step into the Main Market Square for a taste of Krakow's Old Town at night.
Highlights
Enjoy music from composer Frederic Chopin performed by award-winning musicians

Settle into your seat at the historic Chopin Gallery

Hear the famous Polish composer's most celebrated pieces with a 1-hour concert

Explore Old Town Krakow independently after the performance

What You Can Expect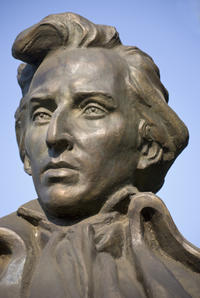 With its many nocturnes, mazurkas and polonaises (based on Polish dance), Chopin's music is marked by a feeling of longing for his homeland, making this musical experience a wonderful way to enter the rich history and culture of Poland.

Begin your evening at the Chopin Gallery, located in the heart of Krakow's Old Town. Take your seat inside the 15th-century building, once inhabited by the huntmaster of the Royal Family.

Award-winning pianists will then take the stage and perform Chopin's most celebrated pieces within the historic venue. After the 1-hour concert concludes, you can continue exploring the restaurants and nightlife in Old Town Krakow, or make your own way to your next destination from the venue's central location.

June 2016
Absolutely first class entertainment with a glass of wine thrown in!
June 2016
All we could say is WOW and a MUST see when you go.
May 2016
Easy to find venue, wonderful recital, highly recommended
April 2016
March 2016
The booking through Viator was easy. Although I only booked a few days before I went to Krakov, the concert venue moved from Bonverski Palace. Viator emailed me to inform me, otherwise I assume I would have turned up at Bonverski and then been redirected to the Chopin Gallery.
We were made very welcome and were offered a glass of wine or water.
The pianist was an extremely accomplished player and the hour of music was brilliant.
Would thoroughly recommend!

March 2016
A very lovely hour. Great pianist. It was odd that the audence of 10 or so never clapped between pieces. I enjoyed myself listening to this wonderful music. Watch out for the steps going up to the recital hall if you have trouble doing steps. It is pretty close to Market Square.
March 2016
The concert was not in the location specified but we were directed to the alternative which was a very intimate setting. The concert itself was superb and not to be missed especially if you are a lover of Chopin or indeed any classical Piano music.
Robert
snowflakes16 Singapore
February 2016
Passionate piano renditions of Chopin's famous works by the pianist Pawel Kubica and a glass of sweet wine in a warm concert room was a wonderful way to spend a cold winter evening in Krakow. Our concert was not held in the Bonerowski Palace on the Friday evening but in the nearby Chopin Concert Hall which was less conspicuous and bit more difficult to find. Thank goodness for the friendly locals who directed us there! The concert organisers were very friendly and helpful people.
February 2016
Very Pleasant concert in Nice surroundings
December 2015
This was a very moving experience. I have never been to a piano concerto before and it touched me. The maestro was brilliant.
Advertisement
Advertisement