Discover Krakow's communist history on a 2.5-hour tour in a Trabant car. Take a ride in the vehicle classic to the era and explore the Nowa Huta district with your guide. Along the way, hop out to wander the neighborhood's streets and learn about the rich history behind them. Upgrade to extend your tour with a visit to a private museum and a communist-era restaurant.
Highlights
Communism tour of Krakow

See the city in a car popular during communism - the Trabant

Visit the Nowa Huta district and other communism-related sites

Upgrade to the 4-hour DELUXE tour

Hotel pickup and drop-off included
Recent Photos of This Tour
Communism Tour in a Genuine Trabant Automobile from Krakow
What You Can Expect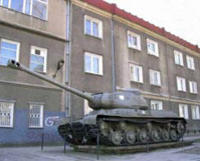 Begin your tour with pickup from your Krakow hotel. Hop in your Trabant with your guide and travel back in time as you cruise through the city in a car manufactured by the Eastern Bloc.

Head to the Nowa Huta district, famously known as the city's communist enclave. Learn the history behind the neighborhood that was Stalin's 'gift' to Krakow, and one of the most pronounced examples of social engineering. Hop out to wander the labyrinth of tenements, designed to be a model communist city. Hear the stories of life behind the Iron Curtain as you explore the epicenter of Poland's resistance movement, a revolution which lead to the eventual overthrow of the communist government.

To upgrade your tour, select the 4-hour deluxe option at time of booking. This extended excursion includes a trip to a communist-era restaurant and a guided visit to a private museum. See a communist apartment, try pickled cucumbers and hop behind the wheel to test out the Trabant on your own.

June 2016
We were so fortunate to have Carolina as our guide. She was full of good information and fun to be with. We were especially interested in learning about Krakow during the Communist era, and this tour did exactly that. We even had a chance to visit an apartment that was furnished as it would have been during that time. The pictures and video added so much, in addition to being able to see how families lived during that time. It was an amazing four hours, and we highly recommend it.
May 2016
What an amazingly fun time! From the moment our guide met us, folks marveled after his lime-green Trabant parked near our hotel at Wawel Castle, and were taking photos. So, it was a heady and unique experience even from the start. Nowa Huta was fascinating on all levels. While we were more interested in politics initially, we also came to learn lots about architecture, food and culture. And also about the Trabant itself. The shag carpet in the back seat was kinda the best thing ever! This tour is an easy and complete mix of fun, adventure and education, with a warmly personable and knowledgeable guide. Most highly recommended.
April 2016
What a great tour, the authentic green Trabant - great! Our tour guide was fantastic, we must thank her for a really enjoyable trip, very knowledgeable, an all round lovely person, and we do hope that she will be able to go on and finish her studies as well. Cannot thank her enough for her insights and anecdotes into both the communist history in general and also how her family lived within the communist system.
Would we do this again - you betcha!
Nigel and Paul Bristol, UK
July 2015
Nice couple of hours in rainy Krakow - funny guide, very relaxed atmosphere and unhurried cruising around in a Trabant, of course! I truly enjoyed this tour and the history of Nowa Huta the guide explained while we two visitors were sipping some Polish beer. Warmly recommended.
March 2015
This tour was great! The tour guide was incredibly knowledgeable and friendly. I had a lot of fun and learned quite a bit. Would recommend this tour to anyone interested in the communist era.
December 2014
A million thanks to Maciej (i think that's the right spelling) for providing the highlight of a fantastic 4 days in Cracow.He was an genuinely knowledgeable,enthusiast with an obvious passion for his polish history.The more we asked questions the more accommodating he was.This introduction to Polish communism is a must,augmented by period car travel.Dont hesitate,get booking!!
Chris and Sandra (December 2014)
December 2014
We were lucky enough to have an authentic Trabant for this trip. The guide was very knowledgeable and put us ease immediately. The meal in the milk bar was certainly different and something I'm glad I experienced. Highly recommended.
July 2014
Excellent tour. The guide was friendly, informative and was very willing to anwser all questions. Would strongly recommend.

June 2014
Was fun riding in a Trabant and enjoyed the milk bar
December 2013
Fantastic. Very unusual. Drivers/guides excellent knowledge and very good English.
Advertisement
Advertisement