27 Reviews
Location:

Krakow, Poland

Duration:

8 hours

(approx.)
Undoubtedly Dunajec River Gorge is one of the Poland's prime tourist attractions and this great day trip from Krakow gives you the chance to admire some amazing scenery as you float down the river, as well as a visit to Niedzica Castle in the Dunajec Valley.
Highlights
Day trip from Krakow to Dunajec River Gorge and Niedzica Castle

Visit 14th-century Niedzica Castle, which overlooks Czorsztyn Lake

Have fun floating down the Dunajec River on a wooden raft

Enjoy the stunning views of limestone cliffs shooting up from the water

Entrance fees included
Recent Photos of This Tour
Dunajec River Gorge and Niedzica Castle from Krakow
What You Can Expect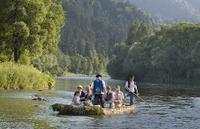 Begin your excursion with a visit to Niedzica Castle (also known as Dunajec Castle), originally built in the 14th century by the Hungarians to protect an important trade route through the Dunajec Valley. The castle towers over a large water reservoir with an impressive dam built in mid 1990s. While visiting the castle you can admire the delightful view over the artificial lake and learn the amazing story of Inca refugees who found shelter here.
After your visit of the castle, continue to Sromowce Nizne to board your wooden raft to drift at a leisurely pace along the Dunajec River. The river runs from northern Slovakia to southern Poland and is at its most picturesque passing through Dunajec River Gorge. Your adventure down the winding Dunajec River offers breathtaking views of mighty limestone cliffs plunging into the water and stunning native flora, you may even spot some rare bird species such as the Black Stork.

Your highly experienced guide ensures you have a smooth ride, pointing out the sights along the way and teaching you the history of the gorge. Your 2 to 3 hour voyage ends 15 kilometers later in Szczawnica. It is advisable to bring suitable rainwear or a sun hat depending on the weather.
September 2015
Andrew was very informative and helpful. There was some confusion as to our pick up point, but Andrew followed up via our hotel and made it all happen seamlessly.
The raft journey was in Polish so needed to read about what we were seeing. Countryside wonderful.
Overall a great experience.
July 2015
Well organized and a fantastic day out! The scenery is beautiful and we even got to see a bear.
September 2014
Our Dunajec River raft trip was wonderful, everything we had hoped. The scenery was beautiful, and our English-speaking guide was great. He was extremely articulate in English, well-informed and educated in general and kept us entertained throughout the ride from Krakow, the raft and castle trips, and the ride back.
We were also pleased with how smoothly the pick-up went at our hotel. We tried to book a Dunajec trip six years ago through a different agency, and it was a disaster. We never got to take the trip at all. So we were very pleased that your pick-up and drop-off worked so well.
June 2014
Unique experience, beautiful nature, outstanding tour guide Agnieshka Bonior.
April 2014
We all enjoyed it o the full. One thing is maybe that on the raft they should have some kind of rag due that it was quite cold.
August 2013
We were fortunate to have our own personal tour guide as there were only 2 of us booked on the trip for that day. Niedzica is a fairytale castle perched on an escarpment with stunning views over the lake and reservoir. The castle is steeped in history with , Jack, our guide having excellent knowledge with facts and figures to hand.
A short drive away through the dramatic countryside, we came to the Dunajec River Gorge "cruise". The transport is unique 5 narrow punts lashed together with ropes and branches and captained by two very colourful locals. The boat holds around 12 people and with around 200 boats is a very popular attraction. The 2 hour + "cruise" unfolds through rolling countryside into steep sided valley cliffs with glimpses of wildlife. We were fortunate to have some very good singers on our boat and were treated to some local folk songs as we meandered down the gorge.Would recommend this tour for the stunning views and history.
July 2013
Excellent tour guide, small group tour, castle tour is quite short but the rafting trip lasts 2 hours, more than making up for it! The scenery is stunning!
April 2013
The trip was excellent. The guide was very good and his English was excellent. The scenery was beautiful. The trip around the castle was very interesting with plenty to see. The best part was the brilliant raft trip down the river. The two Polish boat men were good even though they did not speak a word of English they pointed out anything of interest including a white eagle. The trip down the river was very relaxing and the views of the mountains and gorges were amazing a 5 star day out
August 2012
Our guide Jacek (Jack) really made the day great.
The day started off a bit rainy (drizzling only), and so it turned out we were the only people on the tour, however the tour still went ahead and we had a personalised tour where we were driven out by Jack in a very comfortable car.
What really made the day special though was the opportunity to talk with Jack about Polish politics, history, the amazing history of the families who lived in the castle, modern Polish music, insights on the difference in culture between Krakovians and Zakopane highlanders and all sorts of other interesting topics.
A really great day. The boat ride itself goes into Slovakia (so you can claim you've been to another country).
An easy day trip from Krakow, and certainly worth doing.
July 2012
Andrew was a great guide. His knowledge of the countryside and its' wildlife was incredible. We had a great trip. The rafting trip actually takes you into Slavakia which was a plus for me. As Andrew explained since 1997 the river has changed making it a two country trip.
Advertisement
Advertisement