Discover Poland's top UNESCO-listed sites on this Super Saver, combining two popular Krakow tours at a special value price. First, follow an expert guide on a half-day tour of Auschwitz-Birkenau and explore the moving exhibitions and prison blocks of the concentration camp complex. On Day Two, marvel at the underground tunnels and salt formations inside the 700-year-old Wieliczka Salt Mine. Sharpen your knowledge on two important historical sites over the course of two days.
Highlights
Combine two best-selling Krakow tours at one discounted price!
Visit the UNESCO World Heritage-listed Auschwitz-Birkenau concentration camp complex
See prison barracks, watch a documentary film about the camps and learn about the millions of Jewish prisoners who were sent there
Explore the Wieliczka Salt Mine, another of Poland's UNESCO World Heritage Sites
Go hundreds of feet underground and see spectacular salt formations like the Chapel of St Kinga
Choose from several 2-day departures or do both tours on the 1-day tour
Recent Photos of This Tour
Krakow Super Saver: Auschwitz-Birkenau Half-Day Tour plus Wieliczka Salt Mine Half-Day Tour
What You Can Expect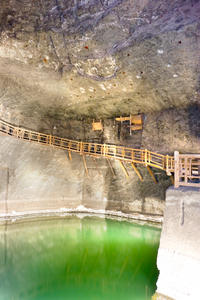 This Super Saver allows you to explore Krakow's top historical points of interest over the course of two days. See the Itinerary section for more details on each half-day trip.
Itinerary
Auschwitz-Birkenau Half-Day Trip from Krakow (Day 1; 7 hours)
After pickup from the central meeting point or your hotel, start the 1.5-hour drive by minivan to Auschwitz-Birkenau, located outside the town of Oswiecim. During the ride, watch a documentary film about the concentration camp. When you arrive, meet your tour guide at the visitor center, and then proceed into the barbed-wire encampment through the gate that still reads "Arbeit macht frei" (Work sets one free).

Established in 1940, the Auschwitz complex saw the deaths of nearly 1.5 million people, most of whom were European Jews. The complex, today a UNESCO World Heritage-listed museum, comprises the Auschwitz I camp and the Birkenau (or Auschwitz II) camp with a total of about 150 buildings and 300 ruins. Auschwitz was only partially destroyed by fleeing Nazis when the camp was liberated, so you are able to see many of the original brick buildings as you walk around. Explore the exhibitions, housed in some of the prison blocks, some of which are dedicated to victims from particular countries.

You'll also see Birkenau, once home to 300 prison barracks and four large gas chambers. Most of this camp was destroyed, but you will get an idea of the vast size of the area, fenced off with watchtowers, and you can enter some of the surviving barracks.

When your Auschwitz-Birkenau tour ends, you'll be driven back to the original meeting point.

Wieliczka Salt Mine Half-Day Trip (Day 2; 4 hours)
Your tour begins with meet-up at the central meeting point or your hotel followed by a 30-minute drive to the Wieliczka Salt Mine, southeast of the city. The 700-year-old mine and UNESCO World Heritage Site houses nearly 200 miles (300 km) of eerie tunnels, all carved by hand from salt blocks, and you'll see the section that's open to the public.

With your guide, visit the three upper levels of the mine, at depths of 209 to 443 feet (64 to 135 meters). Begin with a descent down the stairs to the first level, where you'll be led through chambers and shown underground lakes, shrines and salt monuments. Admire the showstopper – the Chapel of St Kinga – and marvel at how every one of its features, from chandeliers to the altar, is made of salt! Hear from your guide about the chapel's history and how it took more than 30 years for two men to complete the wonder, which required more than 200,000 tons of rock salt.

Then head to the Eram Baracz Chamber to see another mine highlight, the salt lake whose water contains 11 ounces (320 grams) of salt per liter. You'll also see a collection of mining equipment, some of which dates back to the Middle Ages. By the time your tour ends, you'll be 443 feet below ground!

Take an elevator back up, and then head back to Krakow by minivan.
May 2016
A must see for those visiting Krakow!
May 2016
A must see for those visiting Kraków!
April 2016
Wonderful friendly tour guides and drivers.Very extensive knowledge of both places.Your staff are very committed.
Lots of walking on both tours but so worth it.
April 2016
Excellent tour picked up on time at hotel very comfortable journey. Pleasant drivers highly recommend this company.
April 2016
Both tours were amazing.trip leaders were friendly and organized and tour guides informative .well impressed.would highly recommend
April 2016
Really great! Transport was taken care of very well and the tour was well-organised. Audio guides made it very easy to listen in on what the guide was saying. Money well spent!
April 2016
Exceptional value for money. Transport was excellent and well co-ordinated. Guided tours were superb as were the guides. Absolutely worth the money.....whilst the subject matter is mindblowing in all the ways you can imagine and more.
April 2016
Both guides were extremely knowledgeable and we really appreciated being picked up from our apartment. The use of their radio mic feeding to earphones was great as it meant we didn't have to listen carefully on top of other tour guides speaking. The entire experience was smooth and enjoyable, Auschwitz was a real eye-opener and it is still taking time for us to really comprehend the vast scale of the Birkenau camp. Great value for money we asked and looked around at other prices when we got to krakow and this was very competitive so would definitely recommend to others!
April 2016
Great tours with very experienced tour guides, would highly recommend the Salt Mines tour.....
April 2016
Good friendly staff, on time collections from pre arranged pick up points. Central drop off point in central Kracow on request. Do the 2 tours over 2 days as they are very different and quite a long day, too much for one day. Excellent knowledge from guides used at venues. Great value for money
Advertisement
Advertisement