Special Offer
Book and save over 10% compared to booking the two tours separately!
Visit two of the most popular places in Poland with this Krakow Super Saver that combines two best-selling tours over two days at a discounted price! On Day 1, explore one of the most infamous sites in Europe, the Auschwitz-Birkenau concentration camp complex, where you'll see some of the prison barracks and learn about the prisoners in special exhibitions. Then the next day, head underground at the Wieliczka Salt Mine and marvel at the salt formations, including the stunning Chapel of St Kinga. It's the perfect way to discover two of Poland's UNESCO World Heritage Sites.
Highlights
Combine two best-selling Krakow tours at one discounted price!
Visit the UNESCO World Heritage-listed Auschwitz-Birkenau concentration camp complex
See prison barracks, watch a documentary film about the camps and learn about the millions of Jewish prisoners who were sent there
Explore the Wieliczka Salt Mine, another of Poland's UNESCO World Heritage Sites
Go hundreds of feet underground and see spectacular salt formations like the Chapel of St Kinga
Choose from several 2-day departures or do both tours on the 1-day tour
Recent Photos of This Tour
Krakow Super Saver: Auschwitz-Birkenau Half-Day Tour plus Wieliczka Salt Mine Half-Day Tour
What You Can Expect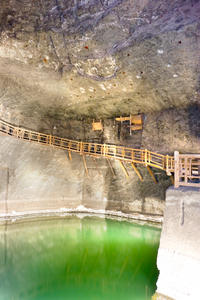 Auschwitz-Birkenau Half-Day Trip from Krakow (Day 1; 6.5 hours)
After pickup from the central meeting point or your hotel, start the 1.5-hour drive by minivan to Auschwitz-Birkenau, located outside the town of Oswiecim. During the ride, watch a documentary film about the concentration camp. When you arrive, meet your tour guide at the visitor center, and then proceed into the barbed-wire encampment through the gate that still reads "Arbeit macht frei" (Work sets one free).

Established in 1940, the Auschwitz complex saw the deaths of nearly 1.5 million people, most of whom were European Jews. The complex, today a UNESCO World Heritage-listed museum, comprises the Auschwitz I camp and the Birkenau (or Auschwitz II) camp with a total of about 150 buildings and 300 ruins. Auschwitz was only partially destroyed by fleeing Nazis when the camp was liberated, so you are able to see many of the original brick buildings as you walk around. Explore the exhibitions, housed in some of the prison blocks, some of which are dedicated to victims from particular countries.

You'll also see Birkenau, once home to 300 prison barracks and four large gas chambers. Most of this camp was destroyed, but you will get an idea of the vast size of the area, fenced off with watchtowers, and you can enter some of the surviving barracks.

When your Auschwitz-Birkenau tour ends, you'll be driven back to the original meeting point.

Wieliczka Salt Mine Half-Day Trip (Day 2; 4.5 hours)
Your tour begins with meet-up at the central meeting point or your hotel followed by a 30-minute drive to the Wieliczka Salt Mine, southeast of the city. The 700-year-old mine and UNESCO World Heritage Site houses nearly 200 miles (300 km) of eerie tunnels, all carved by hand from salt blocks, and you'll see the section that's open to the public.

With your guide, visit the three upper levels of the mine, at depths of 209 to 443 feet (64 to 135 meters). Begin with a descent down the stairs to the first level, where you'll be led through chambers and shown underground lakes, shrines and salt monuments. Admire the showstopper – the Chapel of St Kinga – and marvel at how every one of its features, from chandeliers to the altar, is made of salt! Hear from your guide about the chapel's history and how it took more than 30 years for two men to complete the wonder, which required more than 200,000 tons of rock salt.

Then head to the Eram Baracz Chamber to see another mine highlight, the salt lake whose water contains 11 ounces (320 grams) of salt per liter. You'll also see a collection of mining equipment, some of which dates back to the Middle Ages. By the time your tour ends, you'll be 443 feet below ground!

Take an elevator back up, and then head back to Krakow by minivan.
October 2015
This was an amazing tour. Auschwitz-Birkenau was deeply moving. At Auschwitz, we were given head sets and our English speaking guide took us on an educational and emotional journey through one of the most tragic graveyards in history. The tour was long enough to see a lot of the death camp. Auschwitz is difficult to describe. Anyone visiting Poland should visit this tragic memorial/museum.
The Salt Mine was an extremely unique experience. First, it was a great escape from the summer heat wave. The mine was a cool 20 degrees c. The carvings and church was spectacular. The only complaint with this tour was that we waited in the group line for over an hour, but to make up the time, we didn't have to walk down the 300 stairs instead we took the scary elevator. If you have a fear of heights, the elevator can be an uncomfortable minute.
I suggest taking the two half day trips because you still have your afternoons free. Both tours involve a lot of walking, so it was nice to take it easy in the afternoon and enjoy the Krakow square. Wear comfy shoes and pack some snacks for both trips because there was no lunch and the tours didn't end until about 1.
October 2015
Tour was great. Tour guides were knowledgeable and respectful on the first half of tour. The salt mine was definitely interesting.
October 2015
Great tour but we thought that the tour was half day when it is actually an all day adventure. Great tour guides, very informative, just wish the website gave actual times that the tour is so that we knew they would pick us up at 7am and drop off past 7pm.
October 2015
A truly harrowing experience - this is not entertainment! If you're looking for some fun and tidbits of interest, go somewhere else. This is a reminder of who we, humans, really can be. I had a really hard time stepping into Birkenau - it was an effort to bring myself to walk in there. This was an experience to humble the most proud. I could not help but feel alternating rage and despair, especially because I had recently read David Irving's disgusting manipulation of history. This is a must for every human on the planet.
October 2015
It was very sad .but every one should see this
October 2015
Picked up from hotel with excellent guide. Day went very smoothly. A lot of walking which was fine for us but some people struggled
October 2015
Great trip. Well organized. Lovely guide s all spoke very good English and were very helpful and insightful. Highly recommend!
October 2015
I think everyone should visit Auschwitz and Birkenau. What a humbling and moving experience. Our guide was incredibly knowledgeable and had even had a survivor of Birkenau on one of his tours who was able to give a first hand experience of what it had been like.
The salt mines were a bit boring and our guide wasn't great, she wasn't very informative and to be honest, 3 hours is a bit long. I'm glad I did the salt mines the next day as I think it would've taken the emotion of Auschwitz away a bit.
I LOVED Krakow as a whole and would definitely go back again.
October 2015
September 2015
Special Offer
$88.32 Save $11.95
Advertisement
Advertisement