Special Offer
Book and save over 10% compared to booking the two tours separately!
Visit two of the most popular places in Poland with this Krakow Super Saver that combines two best-selling tours over two days at a discounted price! On Day 1, explore one of the most infamous sites in Europe, the Auschwitz-Birkenau concentration camp complex, where you'll see some of the prison barracks and learn about the prisoners in special exhibitions. Then the next day, head underground at the Wieliczka Salt Mine and marvel at the salt formations, including the stunning Chapel of St Kinga. It's the perfect way to discover two of Poland's UNESCO World Heritage Sites.
Highlights
Combine two best-selling Krakow tours at one discounted price!
Visit the UNESCO World Heritage-listed Auschwitz-Birkenau concentration camp complex
See prison barracks, watch a documentary film about the camps and learn about the millions of Jewish prisoners who were sent there
Explore the Wieliczka Salt Mine, another of Poland's UNESCO World Heritage Sites
Go hundreds of feet underground and see spectacular salt formations like the Chapel of St Kinga
Choose from several 2-day departures or do both tours on the 1-day tour
Recent Photos of This Tour
Krakow Super Saver: Auschwitz-Birkenau Half-Day Tour plus Wieliczka Salt Mine Half-Day Tour
What You Can Expect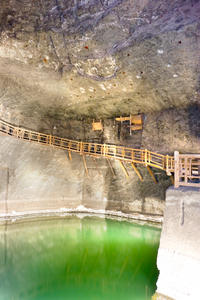 Auschwitz-Birkenau Half-Day Trip from Krakow (Day 1; 6.5 hours)
After pickup from the central meeting point or your hotel, start the 1.5-hour drive by minivan to Auschwitz-Birkenau, located outside the town of Oswiecim. During the ride, watch a documentary film about the concentration camp. When you arrive, meet your tour guide at the visitor center, and then proceed into the barbed-wire encampment through the gate that still reads "Arbeit macht frei" (Work sets one free).

Established in 1940, the Auschwitz complex saw the deaths of nearly 1.5 million people, most of whom were European Jews. The complex, today a UNESCO World Heritage-listed museum, comprises the Auschwitz I camp and the Birkenau (or Auschwitz II) camp with a total of about 150 buildings and 300 ruins. Auschwitz was only partially destroyed by fleeing Nazis when the camp was liberated, so you are able to see many of the original brick buildings as you walk around. Explore the exhibitions, housed in some of the prison blocks, some of which are dedicated to victims from particular countries.

You'll also see Birkenau, once home to 300 prison barracks and four large gas chambers. Most of this camp was destroyed, but you will get an idea of the vast size of the area, fenced off with watchtowers, and you can enter some of the surviving barracks.

When your Auschwitz-Birkenau tour ends, you'll be driven back to the original meeting point.

Wieliczka Salt Mine Half-Day Trip (Day 2; 4.5 hours)
Your tour begins with meet-up at the central meeting point or your hotel followed by a 30-minute drive to the Wieliczka Salt Mine, southeast of the city. The 700-year-old mine and UNESCO World Heritage Site houses nearly 200 miles (300 km) of eerie tunnels, all carved by hand from salt blocks, and you'll see the section that's open to the public.

With your guide, visit the three upper levels of the mine, at depths of 209 to 443 feet (64 to 135 meters). Begin with a descent down the stairs to the first level, where you'll be led through chambers and shown underground lakes, shrines and salt monuments. Admire the showstopper – the Chapel of St Kinga – and marvel at how every one of its features, from chandeliers to the altar, is made of salt! Hear from your guide about the chapel's history and how it took more than 30 years for two men to complete the wonder, which required more than 200,000 tons of rock salt.

Then head to the Eram Baracz Chamber to see another mine highlight, the salt lake whose water contains 11 ounces (320 grams) of salt per liter. You'll also see a collection of mining equipment, some of which dates back to the Middle Ages. By the time your tour ends, you'll be 443 feet below ground!

Take an elevator back up, and then head back to Krakow by minivan.
November 2015
Very good! Good value for money. Punctual and very informative.
November 2015
Excellent well organised tour of both places and very knowlegeable guides.
November 2015
Very well organised and the guides are very knowledgable. Long day doing two half day tours but well worth it and great value for money.
November 2015
Overwhelming, a place everyone should visit to understand the scale of the worst crime against humanity in history. No amount of reading and watching documentaries will ever truly reflect this heinous criminal activity of mankind. My heart goes out to those who have visited both camps to pay their respects to family members who suffered at the hands of the cruel, wicked regime of the Hitler organisation. Truly an unforgettable experience and one I will never forget. May those who suffered at the hands of the Nazis's rest in peace and know the world let them down and for that we should never allow the systematic slaughter of a group of people to happen ever again. There is a place on this earth for everyone, regardless of religion, ethinicity, colour, gender or sexual preference. What does it really matter, just live and be happy and be kind to your fellow neighbour, life is too short for war and such hatred.
The Salt Mine is a beautiful creation of an underground city which has been further developed from the skill and craft of miners of years gone by. A lot of walking through numerous tunnels at different depths opening into chambers with magnificent churches and religious statues. I loved every minute of this unique experience.
November 2015
November 2015
An absolute must. From start to finish perfectly organized. Very knowledgeable guides. Auschwitz itself is impressive, mind-blowing and will give you goosebumps. Got some new stories / information I can share with my students.
The only thing I missed was time to really visit the bookstore. Had less than ten minutes.
November 2015
Viator have done themselves proud yet again.
Fantsatic trip highly recommended and a big thank you to the tour guides-Monika, Mags, Maria and sorry if I got your name wrong Eliane our guide on the salt mine tour.
November 2015
Excellent trip - would highly recommend this to others who are short of time in Krakow. Managing to get to Auschwitz-Birkenau and the Wieliczka Salt Mine in the same day was amazing.
The tour of Aushchwitz-Birkenau was excellently run by my guide Dominic. She was very knowledgeable, did not hesitate to stop and answer questions and queries. Although it was quite a whistle stop tour, it didn't at any point feel rushed to her credit. Tour guide in the salt mine also did a very good job.
Tired at the end of the day but it was a great experience, thank you!
November 2015
Very informative guides. Both trips great value for money. Would have liked a bit more time at Birkenau to see more parts of the memorial.
November 2015
A very Good Service. Picked up at our Hotel A well run and friendly service to both sites
Special Offer
$82.34 Save $11.14
Advertisement
Advertisement