Journey along the Trail of the Eagles' Nest to see three stunning Polish castles on this day trip from Krakow. Led by a local guide, soak up the scenery of the Krakow-Czestochowa Upland. Learn about the legend of ghostly Black Dog at Ogrodzieniec Castle and hear the history behind Casimir III the Great at Ojcow Castle. Your excursion will conclude with transportation back to Krakow.
Highlights
Polish castle day trip to Trail of the Eagles' Nest from Krakow
Visit three Polish castles in the scenic Krakow- Czestochowa Upland
Learn about Casimir III the Great while looking around the ruins of Ojow Castle
Admire the Renaissance architecture of Pieskowa Skala Castle in Ojow National Park
Look out for the ghostly Black Dog of Ogrodzieniec at Ogrodzieniec Castle
Why Our Insiders Chose This Tour
This tour is a fantastic opportunity to visit some of the best-known and beautiful Polish castles! If you love a bit of local history, legends and stories about haunted places, this is the perfect tour for you!
What You Can Expect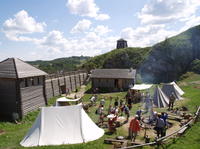 Your trip will begin with pickup from your Krakow hotel. Led by your guide, journey along the 102-mile (164-kilometer) path lined with Polish castles, known as the Trail of the Eagles' Nest, nestled in the countryside of the Krakow-Czestochowa Upland.

Stop first in Ocjow National Park to see the Gothic fortress of Ojcow Castle. Explore the ruins and wooden houses surrounding the castle, and hear the folklore surrounding the king's father, Ociec, the castle's namesake.

Next, head inside the jewel of the trail, the magnificent Pieskowa Skala Castle. Built in the 16th century, the Renaissance castle is one of the best preserved in the country. Wander the courtyard with your guide and check out an array of artifacts from the Wawel's Royal Collection.

Pause to purchase lunch before continuing to Ogrodzieniec Castle, said to be haunted. Hear tales of the mysterious Black Dog of Ogrodzieniec as you walk among the ruins of the medieval fortress, strewn along the highest hill.

After a full day of exploration, you will be dropped off back at your Krakow hotel.
Gary Thailand
June 2016
A quite fascinating tour of three very different Polish castles. Our driver and guide, Tom, a young university student who does tour work in his spare time to help make ends meet, was pleasant, polite and knowledgeable, despite stating this was the first time he had led this tour. None of us on it felt that detracted from our day, and we all thought he did very well. Well worth doing to get a different perspective on another aspect of Kraków and its hinterland - and if you do it you will be doubly lucky if you get Tom as your tour leader. One suggestion - take some lunch with you as there is no provision nor time for it on the trip. Mind you, if any of had wanted to stop for a bite I am sure Tom would have managed that, but none of us did.

HTravelerUK United Kingdom
June 2015
A great day trip. The castles were very impressive, and the setting of them was really beautiful. It was great to get out of the city for the day, and learn a bit about Poland's fascinating history. A well organised and fascinating tour!
October 2014
We had a really enjoyable day travelling with a knowledgeable guide to three historic sites. Each had its own story, and each is well worth the effort of walking around and exploring. Highly recommended.
September 2015
Great day trip of two beautiful castles. The third castle first on the row of visit did not worth the visit.. Not much to see except from a single Tower in which you cannot enter. The other two definitely worth visiting!
June 2014
Very nice experience, comfortable mini van and friendly tour leader. I highly recommend this trip to all those who like me, love history and especially visiting castles. We visited three castles, two of them in ruins but still its worth it. The Ogrodzieniec castle although its in ruins, its still a gem.
June 2014
Nice tour of protected ruins go castles
December 2013
The Castle day trip was a great one day trip. It was fun to be able to see and walk around the old castle ruins and think what they might have looked like so many years ago. It was also nice to see some of the country side on the drive. The guide was on time and very knowledgeable. For a Castle buff it is a must see.
December 2013
Very good guide and an interesting trip, however many of the castles are in ruins.

September 2015
If you have an extra day with nothing to do, it's a good tour.

June 2014
One of the castles was closed for renovations and the driver was quiet most of the time but still enjoyed myself.
Advertisement
Advertisement