Cook delicious Polish food, including pierogis, and feast on your creations with a Krakow family on this tour that gives you an authentic taste of Polish life! Pick up a few Polish phrases from your guide and haggle for produce at a Polish market. Learn how to cook traditional dishes from a local family while listening to Polish music. Then, enjoy the feast with the family, asking any questions about life in Poland you may have.

This small-group tour is limited to six people to ensure more personalized attention from your guide.


Highlights
Polish food cooking class in Krakow
Learn some Polish from your guide and shop for ingredients at a local market
Cook authentic Polish food such as pierogis and placki under the guidance of a local cook
Dine with a Polish family in their home and experience their meal-time traditions
Small-group tour limited to six people for a more intimate experience
Why Our Insiders Chose This Tour
This is such a great, fun way way to learn about Polish culture! Cooking in a family home and going to a local market will give you a chance to get an insider view of Krakow and its people.
Recent Photos of This Tour
What You Can Expect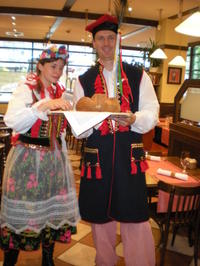 Meet your knowledgeable guide just outside the Krakow city center, and pick up some Polish phrases so you can haggle for ingredients at a bustling Saturday market. Your guide will show you the fresh local produce you need to make delicious Polish food and you'll get a feel for what daily life in Krakow is like.

Next, your guide will take you to his or her family home, where you will learn how to make traditional Polish specialties such as a pierogi, which is a kind of dumpling, and placki, a potato cake. As you cook with your small group, sip water, coffee or tea and listen to Polish classical, folk and rock music.

Then it's time for lunch! Sit down with the Polish family and feast on the authentic meal you cooked. Feel free to ask them any questions you have about Polish culture and traditions. Your authentic Polish culinary experience ends at 2pm at its starting point.
November 2015
Wow....this was the best experience of our trip so far. Magda, our beautiful host met us at the agreed location then took us to the local market. She gave us a list of food to buy in order to make the Pierogi and then let us use a little Polish and a lot of sign language to get the ingredients. Once we had achieved our first task, she took us to her flat where we met her gorgeous grandmother. We the learnt how to make Pierogi and learnt a lot more about Polish culture and food. It was an amazing experience and we came away feeling very happy and full. Highly recommend this tour and greatly appreciate the time that Magda and her grandmother gave us.

September 2015
A home cooking class is a sensational way to meet new people as well as locals, experience their culture, and of course learn about Polish cooking. With a fantastic guide Tomasz, he lead our small group through the markets where we had to flex our Polish language skills whilst learning about different foods. The day was a sensational experience, with our guide's mother playing host in her home - Anna. It was a brilliant combination and truly made the day a far richer experience. I definitely recommend this cooking tour/class - you won't be disappointed.
September 2015
I REALLY enjoyed this class! And would recommend it to anyone who would like a different sort of travel experience. There were a lot of side benefits to the class. For one thing, we went to a large and colorful market that I otherwise would have missed to buy our ingredients, we took public transportation to a community outside the normal tourist areas, we went to someone's home where we were greeted by her grandmother who helped a lot with the cooking,. The end product was delicious and I was sorry when it was time to leave.
June 2015
This Cooking Class was a highlight of our visit to Krakow.
Our very helpful, charming, perfect English speaking Guide Monica waited for us at the given time and place. We got money to go to the market, lovely and lively market! And we shopped for our lunch, which was fun.
At home Stefano greeted us kindly and learned us how to make the Russian Pierogi and we made them and we had a very nice lunch with more goodies from the market. Our hosts go out of their way to tell about Krakow history, family life and Monica brought us back to the Hotel.
Highly recommended!
May 2015
This was a fantastic way to experience true Poland. Our guide Monika was superb in every way - she welcomed us in her home as if we had been long time friends. I highly, highly recommend this tour!

March 2015
First, getting to the Dauna tram stop was very easy from the Market Square. Shopping in the market was a lot of fun. The hosts were exceedingly friendly and talking with them made me feel very welcome in Poland. The pierogies we made were simple and delicious - I've since used that recipe at home to make more. This is a great tour, especially if you are traveling solo.
December 2014
My wife and I had a really great time on this tour. The hosts, Monika and Stefano, were wonderful - very friendly, welcoming and interesting people. Conversation flowed very easily and Monika was extremely helpful in giving us information about Krakow and the surrounding area. We tried a number of Polish specialities that we shopped for which were all delicious and we all made pierogi together in their beautiful flat. Pierogi is a really delicious dumpling filled with savoury delights, and is essentially made in the same way as pasta so it was great to learn how to make it. Stefano originated from Italy so told us how we can apply similar techniques to Italian pasta-making. This was an especially great tour because Monika and Stefano had loads of information about Poland and Polish traditions but have also obviously travelled a lot and have very interesting stories to tell. And their 18 month old daughter joined us at the end and she's super cute! Highly recommended for those who would like to do something that shows how locals live, while learning something new and finding out a lot about the city of Krakow and Polish people and traditions.
April 2014
This was an amazing experience! We were able to experience a Saturday morning market and then traveled to a traditional Polish home. Thomas and his family welcomed us as if we were long-time friends. We had such fun making pierogis and enjoying the family. It truly was one of the highlights of our trip. Thank you Thomas for such a wonderful day!
Advertisement
Advertisement