Experience a poignant piece of World War II history on a half-day trip to Auschwitz-Birkenau from Krakow. Led by a private guide, explore the UNESCO-listed concentration camp and preserve the memory of those who perished there. Pass through the crematoriums, gas chambers and old prison blocks and hear the stories of this dark time in history. Your tour will conclude with transportation back to your Krakow hotel.
Highlights
Day trip to Auschwitz in Oswiecim from Krakow
Explore the UNESCO-listed Auschwitz-Birkenau concentration camp with a private guide
Learn about the Jews of Europe and other races deemed inferior, who died at the camp
See the main points of interest like the crematoriums and gas chambers
Visit the camp's memorial to pay your respects to those who perished in the camp
Why Our Insiders Chose This Tour
Ideal if you want to know more about this part of history but do not want to experience this sensitive, sad place in a big group of strangers.
What You Can Expect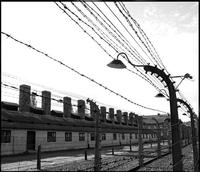 Established in the early 1940s by the Nazis, Auschwitz was originally intended for Polish political prisoners. Later, when it was extended to include the neighboring site of Birkenau, it became a larger 'death factory' for primarily European Jews, killing an estimated 1.6 million people.

Begin your half-day trip with pickup at your Krakow hotel. Accompanied by your private guide, travel out of the city to the town of Oswiecim, roughly an hour west. Here you'll find the Auschwitz-Birkenau complex, now a UNESCO World Heritage Site and the harrowing location of the world's largest genocide attempt during WWII.

Enter the gates bearing the inscription Arbeit Macht Frei (Work Sets You Free) and then head inside to learn about the atrocities that once took place there. Your guide will explain the camp's history in a sensitive manner as you visit the crematoriums and gas chambers, as well as the watchtowers and fences where the Nazi officers stood guard.

Examine the exhibitions inside the old prison blocks and pay your respects at the camp's somber memorial. There is no café at Auschwitz-Birkenau, but you will be given a break to eat your packed lunch (own expense). Your trip will conclude with drop-off back at your Krakow hotel.
December 2015
Picked us up on time, very polite and helpful, the guide at the camps was very respectful and informative.A sad but thought provoking day, would recommend this private tour.
December 2015
Excellent service. The transportation arrived exactly on time andvwas spotlessly clean and comfortable. Driver very friendly. Our guide at Auschwitz and Birkenhau was lovely. Extremely knowledgeable and treated the subject with sensitivity and thoughtfulness. Highly recommended. Five stars
November 2015
Exceptional experience, well worth the money booking the private tour for such a sensitive piece of history. The guide was friendly and knowledgable and even gave us some information on a fellow Scottish national who was a prisoner of war here. There is a small restaurant selling food and drinks on site, however I'd recommend taking your own snacks as it can be busy. Highly recommended tour for such an important site.
October 2015
Exceptional tour done with compassion and great knowledge, would highly recommend!
September 2015
Outstanding personable and friendly tour. Ana our tour guide was patient and had a wealth of information. We strolled at our own peace and she provided access not available to all visitors. Outstanding and worth the exclusive price for those who want to grieve in private.
September 2015
Startling, sobering, stark visions of what was. My great-aunt was exterminated here after she arrived! Visiting Birkenau was another eye-opener. The destroyed crematoria buildings were evidence of a failed Nazi regime. The Memorial Pool of Ashes was very touching and remains in my vision today.
The guide was professional courteous and friendly. Very well done.
A MUST SEE FOR ALL!
August 2015
Service was very good but not enough time
August 2015
Our driver was very pleasant and we enjoyed chatting to him on the journey. The guide who took us around the concentration camp was excellent and s he managed to fit so much in on a very hot day maximising on the shade that was available. She answered all our questions and was very knowledgable.
June 2015
Our guide was beyond satisfactory, she was truly outstanding and we would highly recommend her to potential clients of yours. Brian and Gloria Davies, Cape Cod, MA, USA
June 2015
Our tour guide was extremely knowledgeable and friendly, she knew alot of incredible information that prior to visiting we would have never known. I would highly recommend this tour.
Advertisement
Advertisement