Get to know Krakow's Jewish and World War II history on a walking tour of Kazimierz, the historically Jewish section of the city. With a guide, see sights like Old Synagogue and learn about the district's rich history, from Jewish settlement in the 14th century to the Holocaust. Plus, see the site of Oskar Schindler's factory and other locations from 'Schindler's List,' the Academy Award-winning movie partly filmed in Kazimierz.
Highlights
3-hour walking tour of Kazimierz in Krakow
Learn the history of the Jewish in Krakow and the events of World War II in the city
See synagogues like Old Synagogue, which survived the war, plus Christian sights like Skalka
Hear about Steven Spielberg's filming of Schindler's List in Kazimierz
See Oskar Schindler's enamelware factory, which saved many Jewish lives during WWII
What You Can Expect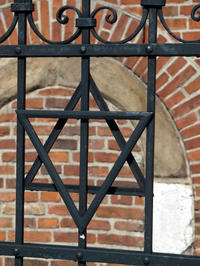 Make your way to Krakow Old Town and meet your guide at St Adalbert Church, where your walking tour starts. Take a moment to admire the 11th-century St Adalbert, one of the oldest stone churches in Poland, and then follow your guide south to Kazimierz.

As you walk along the lively streets filled with cafes and restaurants, hear from your guide about the district's long history, which was home to Krakow's mixed Jewish-Polish population from the 14th century until World War II, when most of Krakow's Jews were killed during the Holocaust. Learn about the mass deportation of Kazimierz residents to the Nazi concentration camps and how the district fell to ruin once all traces of Jewish life disappeared.

Kazimierz is full of life once again, but only the architecture tells you that this was once Jewish area, and you'll see some of the synagogues that surprisingly survived the war, including Old Synagogue and High Synagogue. When you enter the western part of the district, you'll notice a change – this part of Kazimierz was traditionally Catholic. Walk by Christian sites like Catholic churches and Skalka (the Church on the Rock).

Finally, arrive at Oskar Schindler's enamelware factory, which saved many Jews from death when Schindler employed them to work there – a story made famous by Steven Spielberg's movie Schindler's List. The factory today is a museum dedicated to the history and tragedies of Krakow's Nazi occupation.

Your tour ends here and does not include a visit inside the museum, but you may enter it at your own expense after the tour, if you wish.
April 2015
Top guide, the best!
Knew everything that was thrown at him, gave great tips!!
November 2014
Very thorough tour! About 6 miles of walking is required so be ready for that.
August 2014
Very good - guide was very informative and the tour was well organised.
May 2014
I'm sure the tour would be great. Unfortunately my 82 year old aunt was not able to do the tour so we had to cancel.
April 2013
Our guide Gregory was very knowledgeable and did a great job of showing a 30-people-group around snowed Krakow. We walked for 3 hours while snow fell incessantly and got the tram back! The group was big because it was Easter Sunday and many other attractions were closed. Since this tour was one of the few running, many people decided to join, I guess. We were taken to see the place were scenes of the Schindler's List were shot and the birth place of Helena Rubinstein. We could not visit Oscar Schindler's factory because it was closed on Easter Sunday 31/03/13, but will definitely go back sometime in the summer to learn more about the fascinating story behind it. Great tour.
December 2014
June 2015
Very rush. They need to add one more hour to this tour to make it relaxed and comfortable. Tour guide was very good and informative.
August 2013
Very much a waste of time. Nothing really to see mostly this is where something was. Guide did impart a lot of information. He was OK. The tour ended at the Schindler Museum. We went in alone. This was the highlite of the tour. You can do it yourself and save a lot of time.
February 2013
The tour was a lot shorter than advertised and didn't really show as much as it sounded like it would, but it was a good introductory tour of Krakow's Jewish past.
Advertisement
Advertisement