16 Reviews
Location:

Krakow, Poland

Duration:

4 hours

(approx.)
Explore Krakow's rich Jewish heritage and culture on a 4-hour minivan and walking tour with an expert guide. Jews comprised a quarter of Krakow's population before World War II, and its Kazimierz district was the center of Jewish life. Explore this now resurgent area as your guide charts its prewar and wartime days and how Steven Spielberg used it as a backdrop for his movie 'Schindler's List.' View the Old Synagogue, and Remuh Synagogue and Cemetery, and visit Oscar Schindler's Factory museum to learn about Krakow's and its Jews' darkest hours.
Highlights
4-hour Jewish history and heritage tour of Krakow
Trace the story of Krakow's Jewish community through the centuries and during WWII
Explore Kazimierz, the city's historical Jewish district, with its synagogues, monuments and kosher restaurants
Visit the Old Synagogue, Remuh Synagogue and Cemetery, and other sites
Hear about Kazimierz in WWII, and how its people were herded into the Jewish ghetto
Learn how Steven Spielberg filmed Schindler's List here and see some of the locations
Visit the Oscar Schindler's Factory museum to chart how Schindler saved many Jewish lives
What You Can Expect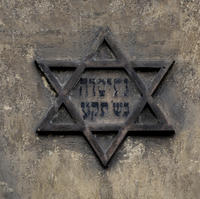 Meet your guide at your central Krakow hotel or another central location. Then, board your air-conditioned minivan and set out on your tour of some of Krakow's most resonant Jewish sites.
As a prelude, get a fascinating introduction to Krakow's rich Jewish history and heritage. Jews played a key role in the development and culture of 'Kroke', as Krakow is known in Yiddish, and before WWII, comprised around a quarter of its population.
Travel to Kazimierz, the former Jewish district and home to synagogues, monuments and kosher restaurants. Walk through the elegant, lively streets of this resurgent area and gain insight into Jewish culture and customs.
Hear how the revered 16th-century rabbi Moses Isseries, known as Remuh, taught here, and how Steven Spielberg used the area in his movie Schindler's List to depict the Jewish ghetto in nearby Podgorze. See sites recognizable from the movie and hear how the Nazis herded thousands of Kazimierz Jews into the ghetto prior to transporting them to death camps.
Enter the Old Synagogue, one of Europe's oldest Jewish places of worship and Poland's oldest surviving synagogue, and admire its splendid Gothic interior. Visit the active Remuh Synagogue and spend time in the Remuh cemetery, seeing the ornate headstones and of tomb of Moses Isseries.
View other sights and visit Oscar Schindler's Factory, the museum housed in the original enamelware factory where Schindler employed Jewish workers, so protecting them from the Nazis.
Explore the exhibits chronicling pre-war and wartime Krakow, and view the displays and documents that tell Schindler's and his workers' stories during Krakow's darkest hours.
Finish at the site of the inner city WWII Plaszow concentration camp. View the sombre granite memorial that honors the thousands of Jews and Poles imprisoned here and hear why the camp was situated here.
After around four hours, your tour concludes.
September 2015
Very small group with attentive guide Anna who really explained the history
And stories of the this piece of Jewish history.
July 2015
great guide
great program
June 2015
Very good tour. The gide was very good
July 2013
Tour took in even more than expected! Schindler's factory excellent, tour guide very informative!
September 2012
The whole trip was excellently managed from beginning to end-from pick-up point to drop off. On this trip there were only three of us in the party, and our guide on the tour, Karolina, was excellent. She spoke perfect English, was a very patient guide, and whats more, had an absolutely thorough command of her subject matter. My deepest thanks to Karolina for a completely absorbing material, and congratulations to whoever designed the tour for allowing it to be so interesting.
July 2012
Great trip throughout the Jewish area in Krakow. We stopped at all the important stops. Our guide was terrific. The museum at the end, Oscar Schindler's museum, was incredible.
April 2011
We sat to the side of the altar in this picture, on the 17th April. Our tour guide told us the meaning of the curtain, the inscriptions and all the details in this, one of the few remaining Jewish Synagogues in Krakow still in full use. Men in their little skullcaps came in, bowed to the Altar, and left quietly, whilst our Tour was in progress - leaving me at least feeling like we were intruding. The "cage" is where the Tora is read, a most sacred part of the building. Tora of course being the Jewish bible, from the first 5 parts of the Old Testament known to Christians, only. We found it fascinating to learn about putting stones on the graves in Jewish burials/cemetries and when we were taken to one, I put some small stones on a large grave stone, to mark my "Respect" - stones and rocks prevent animals and birds digging up the body, and in the desert where there are no flowers available anyway, a stone was used to signify "Respect". In Schindler's List at the end, the survivors and the actors are seen placing little stones around the name of Oskar Schindler. Now we understand.
July 2010
This tour was almost a private tour because there were only three guests. The guide was very knowledgeable and interesting, she also adapted the itinerary according to our wishes.
February 2010
I was the only person taking the tour that day - such a shame, because it was truly excellent. I saw Helena Rubenstein's birthplace, Schindler's factory, the former ghetto including the Kracow Ghetto Pharmacy, the Jewish cemetery and many important buildings and landmarks. The guide was extremely knowledgeable, and even gave me a "suggested reading" list of Polish authors available in English editions. This is highly recommended.
February 2010
Outstanding both as to content and the guide.
Advertisement
Advertisement