Descend into Wieliczka Salt Mine on this half-day tour from Krakow, with private round-trip transfers included. Choose a departure time that suits your schedule, meet a private driver at your hotel, and travel by private car to this UNESCO-listed mine. Then, on a guided group tour, explore the eerie saline galleries and chambers, home to salt-carved monuments, statues, lakes and the underground church of the Chapel of St Kinga. View the exhibitions of mining equipment dating from medieval times, before a private transfer whisks you straight back to your Krakow hotel.
Highlights
Half-day trip to Wieliczka Salt Mine from Krakow, with private round-trip transfers
Travel directly to and from the mine in a private car
Enjoy a group tour of the UNESCO-listed mine with an expert guide
Explore the salt-cut tunnels and galleries, all deep underground
Marvel at the Chapel of St Kinga, a stunning subterranean church carved from salt
See an underground lake and mining tools used in medieval times
Learn about the working of the mine through the ages
What You Can Expect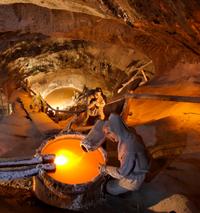 Begin your half-day tour with a pickup at your centrally located Krakow hotel at your desired time. Meet your driver, settle into your comfortable private car, and travel directly to the Wieliczka Salt Mine without any stops to pick up other passengers.
After a roughly 30-minute drive, arrive at the UNESCO-listed mine, leave your driver, and join a guided group tour of this 700-year-old complex of salt-cut tunnels and chambers that extends for nearly 200 miles (300 kilometers) underground.
Hear how the first shafts were dug in the 13th century and descend the steps to a depth of 210 feet (64 meters) to explore the three upper levels that make up the mine's tourist route.
Then, with a guide leading the way, delve into the subterranean corridors, halls and chambers. As you walk, learn about the reputedly health-giving microclimate of this underground complex, and admire the salt-carved monuments and figurines that line the galleries and depict the characters, legends and events associated with the mine's history.
Along the way, enter the magnificent Chapel of St Kinga – a subterranean church decorated with an altarpiece and chandeliers that are all hand-sculpted from salt. Listen fascinated as your guide recounts how it took two men more than 30 years to create this glittering underground sanctuary.
Walk past more salt shrines and view the eerie subterranean lake in the Eram Baracz chamber. Then, finish by viewing the displays of mining tools that were used to dig and work the shafts during the late Middle Ages.
Having explored to a depth of 443 feet (135 meters), ride the elevator back to the surface. Then, bid farewell to your group and meet back up with your private driver. Settle into your car and travel straight back to Krakow, where your tour finishes with a drop-off at your hotel.
August 2015
Exceeded our expectations. Our driver was exceptional, professional and handled everything with ease.
June 2015
an incredible trip, a must to see.
September 2015
Fascinating place but be prepared for lots of steps down into the mine.
October 2015
Convenient pick up and drop off in private van. Other than that not much difference because you join a huge tour group with other visitors
Advertisement
Advertisement