While you're in Kuala Lumpur, escape from the city and take a two-day trip to Cameron Highlands, a beautiful highland resort in Malaysia. Discover the unspoiled beauty of Cameron Hills as you visit a tea plantation and sip local tea. Meet farmers as they work in vegetables farms and get a taste of local life. Cameron Hills is one of Malaysia's most rewarding stopovers and this relaxing tour is the perfect way to enjoy it!
Highlights
Two-day trip to Cameron Highlands from Kuala Lumpur

Scenic drive through Tanah Rata where you'll pass by waterfalls and fern trees

Admire the stunning vistas of rolling hills

Visit a tea plantation and learn about the process of tea curing

Interact with local farmers as you walk through the vegetable plantations

Free hotel pickup and drop-off included

What You Can Expect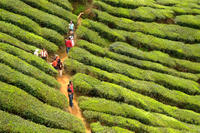 Day 1: Kuala Lumpur - Cameron Highlands
Depart Kuala Lumpur in the early morning for a 2.5-hour drive to Tanah Ratah, the main town of Cameron Highlands, one of Malaysia's most extensive hill stations. Cameron Highlands is known for its tea plantations, vegetable farms, wild animals and serene lakes.
On your way up, admire the relaxing Lata Iskandar waterfall, the verdant fern trees and the tranquil lakes. You'll drive pass Tanah Rata, the main town of the Highlands, and see the streets lined with restaurants and old-fashioned shops. At noon, you'll arrive in Cameron Highlands. Situated 5,000 feet (1,524 meters) above sea level, Cameron Highlands is the ideal place for vegetation to grow. In the afternoon, visit a tea plantation and learn about the region's unique tea. Sit inside the tea center and enjoy a beautiful view of the valley full of tea plants and sip a cup of smooth, mellow tea.
In the evening, you'll be free to explore the area on your own. Tonight, you'll stay at Strawberry Park Resort, an upscale hotel in the hills west of Brinchang.
Overnight: 4-star Strawberry Park Resort in Cameron Highlands or similar

Day 2: Cameron Highlands - Kuala Lumpur (B)
In the morning, visit an outdoor agriculture market selling various fruits and vegetables. Then we'll visit farmers working in a vegetable farm and learn more about the agricultural process. Explore the colorful flower gardens nearby and then walk around the Sam Poh Temple, a colorful Buddhist Temple. After our morning tour, we'll make our way back to Kuala Lumpur.

September 2015
Fantastic, couldn't ask for better attention to service. I had a car and driver all to myself. Great value for money
April 2014
We thoroughly enjoyed our trip to this region. As we were the only 2 people on this particular trip we were able to do and see what interested us. Our guide was very informative and went out of his way to show us all the area had to offer. The Tea Plantation visit with tasting was one of the highlights and we also found the museum, telling the history of the area , most interesting. The only downside for us was the part of the journey to and from the Cameron Highlands. After leaving the motorway, it is almost 40 miles of continuous bends and, if you are not a good traveller, this can be quite an ordeal. This should perhaps be mentioned in the description of the trip.
August 2013
The tourist guide was okay and was able to show us around. It should be a lot better if the driver and guide are two different persons so that he will not worry about parking his vehicle and be able to come with us in tour. Lunch and Dinner were included in my package but did not get one.
September 2014
The trip was ok. I live in KL and have been wanting to go to the Cameron Highlands, but don't want to drive, so this was an easy alternative; however, the trip was over priced for the quality of the resort and the trip organization/activity-level. Our guide was very friendly and funny. I can understand the feedback from the one visitor that did not enjoy the drive. It is not for the person who gets motion sickness, especially with the speed we came down. Also, had to chase the tour company to get a confirmation on my booking. Since I am local, not a problem, but I would have been annoyed if I was trying to connect from the USA.
Advertisement
Advertisement