Experience the highlights of Malaysia on a 3-night coach tour from Kuala Lumpur to Penang! Overnight stays include luxury accommodation at the Strawberry Park Resort in the Cameron Highlands and the Bayview Beach Resort along Batu Ferringhi in Penang. An informative guide will take you on a comprehensive tour of a tea plantation, the Sam Poh Tong cave temple, the Kuala Sepetang mangrove forest and UNESCO World Heritage-listed Georgetown, including Kek Lok Si Temple and a trishaw ride. Hotel pickup and airport drop-off is included.
Highlights
3-night tour of Cameron Highlands and Penang from Kuala Lumpur
Tour a tea plantation and butterfly farm with an informative guide
Visit the cave temple of Sam Poh Tong and the Pagoda of Ten Thousand Buddhas — Kek Lok Si
See Lata Iskandar Waterfall, Fort Cornwallis and the Clan Jetties of Weld Quay
Stop at Khoo Kongsi, a historical Chinese clan house in Penang's Chinatown
Ride a trishaw through Georgetown, a UNESCO World Heritage Site
Hotel pickup and airport drop-off included
What You Can Expect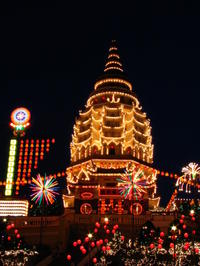 Your 3-night tour takes you by comfortable coach from Kuala Lumpur to the Cameron Highlands. Stay overnight at Strawberry Park Resort, situated on a 7-acre (2-hectare) hill and offering elegant sophistication amid a mountain-rustic atmosphere. Charming single, twin and triple-share suites include a large private balcony overlooking beautiful gardens. Classic contemporary-designed rooms are furnished with polished wood flooring and teak furniture, including modern bathrooms with black granite flooring.
Travel onward to Penang and enjoy two nights' accommodation at the Bayview Beach Resort. Located on the northwest coast of Penang Island, the hotel has a beachfront setting at the quieter end of lovely Batu Ferringhi. This resort overlooks the tranquil and scenic bay of Foreigner's Rock, and spacious rooms include a private balcony. Enjoy entertainment and recreational amenities, including an outdoor swimming pool, tennis court, spa and fitness center.
An American-style breakfast is included with each accommodation.
Itinerary
Day 1: Kuala Lumpur – Cameron Highlands
Departing around 8:30am with pickup from your hotel in Kuala Lumpur, board your comfortable coach for the 135-mile (220-km) drive to the Cameron Highlands, one of Malaysia's largest hill stations. Stop along the way to see a cottage industry of local basket weaving, followed by a visit to Lata Iskandar Waterfall and a native settlement — all accompanied by commentary from your knowledgeable guide.
The gentle slopes of the Cameron Highlands, nestled in the northeast side of the Pahang Mountains, boast wonderful scenery amid crisp air and cool temperatures. Situated 5,060 feet (1,542 meters) above sea level, the tableland or plateau is well noted for its tea estates, farmlands, rivers, lakes and orchards. Your day tour here includes a visit to a local tea plantation, tea factory, market and butterfly farm.
In the evening, settle in at the luxurious hill resort, enjoying views from the balcony as you sip your tea.
Overnight: Strawberry Park Resort in the Cameron Highlands
Day 2: Cameron Highlands – Penang (B)
In the early morning, set off after breakfast for Penang aboard the coach and enjoy the scenic 205-mile (330-km) drive. En route, visit Sam Poh Tong, an impressive cave temple in Gunung Rapat, said to be the largest in Malaysia. Once you've climbed the 246 steps to the top, your guide will point out beautifully carved statues of the Buddha interspersed among the stalactites and stalagmites. Hear the legend of the 19th-century Chinese monk who discovered the cave and learn how the temple was later constructed.

Make another coach stop at the royal town of Kuala Kangsar for the opportunity to photograph the stunning golden-domed exteriors of Ubudiah Mosque and Iskandariah Palace. View the former royal residence of Istana Kenangan, which today houses the Royal Museum of Perak.
Proceed further to the Kuala Sepetang mangrove forest, the best-managed mangrove forest in Malaysia, serving an important ecological role in protecting the coastline from erosion. Delight in the novelty of walking with your guide through the natural mangrove forest along a boardwalk. As Kuala Sepetang produces the bulk of the nation's top quality mangrove charcoal, you'll also visit a charcoal kiln where charcoals are produced.
In the late afternoon, you'll cross over into Penang via Penang Bridge. Spanning eight miles (13.5 km) across, it's one of the longest bridges in the world! After checking in to your hotel, feel free to relax or explore the nightlife along Batu Ferringhi.
Overnight: Bayview Beach Resort in Penang
Day 3: Georgetown, Penang (B)
After breakfast, depart by coach from your hotel and embark on a comprehensive sightseeing tour of historical Georgetown, located just 25 minutes away. Your guide will lead you to top cultural attractions in Georgetown, declared a UNESCO World Heritage Site.
View the third longest reclining Buddha figure in the world, followed by a visit to Kek Lok Si Temple, also known as Pagoda of Ten Thousand Buddhas. Built in 1904, it is the largest Buddhist temple complex in Southeast Asia. Climb the steps to the temple, which includes a magnificent bronze statue of Guanyin, the Goddess of Mercy, and a seven-story pagoda featuring 10,000 alabaster and bronze Buddha statues.
Continue by coach to Fort Cornwallis, the landing site of Captain Francis Light when he arrived in 1786 to start the first British colony in Penang. Inside the fort walls there are original structures like the chapel, prison cells, munitions storage, bronze canons and flagstaff belonging to the English East India Company.
Then head to the waterfront village of the Weld Quay Clan Jetties, one of the last remaining old Chinese settlements on the island, where you'll find houses built on stilts along the planks.
Driving along Pitt Street, also known as the 'Street of Harmony,' view the churches, Chinese temples, mosques and Hindu temples that have stood side by side for centuries in harmonious existence. Visit the intricate Khoo Kongsi clan house — part of a closely-knit network of Chinese clan associations established in Malaysia since the mid-19th century.
Finally, enjoy a breezy trishaw ride, still a popular mode of transport in Georgetown. Pass charming colonial buildings and modern skyscrapers before returning to your hotel to spend the rest of your day at your leisure.
Overnight: Bayview Beach Resort in Penang
Day 4: Penang (B)
After checking out of your accommodation, you'll be transferred to Penang International Airport, located approximately 50 minutes away.
September 2015
We enjoyed our tour. We especially liked the tea plantation, butterfly gardens and the Kek Lok Si Temple. Some of the other sites, though nice, weren't great and seemed to mostly just break up the long drive. Our tour guide, Morgan, was excellent. He is very knowledgeable and gave us an excellent understanding of Malaysian culture and people. We very much enjoyed getting to know him. I had read horror stories about unsafe tour drivers in the Cameron Highlands. Morgan was an excellent, courteous and very safe driver. Bayview hotel had a nice pool and superb breakfast buffet. The Strawberry Park Resort was fully booked, so we stayed at the Heritage Hotel. Our room was spacious and comfortable and an easy walk from restaurants in the town.
March 2015
The Cameron Highlands were the highlight! Our guide Arif was very knowledgable and always smiling! Lots to see on the way to Penang.
February 2015
I get travel sick so was not good for me. A lot of time on the bus bad roads going uphill. 2 day option should be provided as well.Penang was quite boring with lots of traffic and beaches weren't nice.I'm at Langkawi now and wish I had not gone on that tour. Felt like a waste. Hotels all smelt musty
Advertisement
Advertisement