Escape the urban landscapes and leave the streets of Malaysia's capital city behind on this Batu Caves and Malaysian Crafts Tour from Kuala Lumpur. Visit one of the nation's most beloved shrines, located in the Batu Caves, and see how two of the country's traditional crafts are made during stops at the Royal Selangod Pewter factory and a batik center. Choose from a morning or afternoon tour and enjoy round-trip transportation.
Highlights
Morning or afternoon tour to Batu Caves
Take a scenic drive through the countryside outside Kuala Lumpur
Tour the famous Royal Selangor Pewter factory
See how batik fabric is designed and printed
Visit the ancient Hindu shrine at Batu Caves
Choice of morning and afternoon tours
What You Can Expect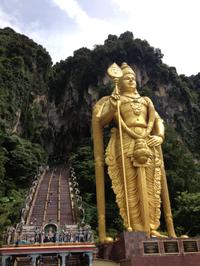 Meet your friendly and professional guide at your Kuala Lumpur hotel and leave the city streets behind as you embark on this Batu Caves and Malaysian Crafts Tour. You'll pass the famed 'Ambassador Row' as you depart the city and make your way to the picturesque countryside.
Pay a visit to the Royal Selangor Pewter Factory, where you'll see how local artisans fashion handmade pieces using age-old techniques. Learn about casting, filing, polishing and hammering techniques used to produce beautiful works as you tour the factory.
From there, make your way to a local batik factory, where expert artisans create stunning masterpieces using fabric, wax and colorful dyes. Learn how this age-old art is produced and watch locals at work using this traditional art form.
After learning about the arts and crafts of Malaysia, head to the limestone hills of Batu Caves. Climb the 272 steps that lead to one of the country's most incredible religious structures. Visit the temple museum, housed inside the cave, and listen in as your guide shares information and insight about the deities that are represented in the temple murals.
Your tour ends with hotel drop off in Kuala Lumpur, after a day filled with Malaysian history, culture and traditions.
March 2016
I was lucky enough to have the same guide as during my other KL tour half-day city tour Unfortunately I forgot his name, an older Indian man - the only guide who was dressed in shirt and wore ties. He knew everything about the city and the sights, and was willing to share it. He was also open for private conversation during the stops. The rating is mostly because of him.
The main event of this tour is the Batu Caves. 270 steps are not a few, it takes time to climb up. The cave is a marvel of nature, absolutely worths seeing it. The monkeys are fun to watch, but be careful: if your backpack has an outside net for bottles, don't leave your bottle of water there or the monkeys will steal it.
Other stops included a batiq workshop and a pewter factory. Although both were a shop-stop, the pewter factory is something you don't see everyday - so it was more interesting for me.
September 2015
Well worth a visit. Don't be put off by the large amount of steps it really only takes about 10 - 15 minutes to climb with spending time to take photos along the way. I don't recommend taking any food at all as this is what the monkeys are after. The view from the top is great. Where moderate clothing Ladies a long skirt to your knees and shoulders must be covered a t shirt is best. Otherwise enjoy your time
September 2015
Well organized and punctual
January 2015
The tour took us to see some local crafts ( Batik etc…) and the Royal Selangor factory on the way to the Batu Caves. The walk up to the Caves is hampered by the monkeys that jump around wanting food, flowers etc… The Caves themselves are superb and well worth the 272 steps up!
August 2014
marvellous experience.be prepared for the 272 steps and watch out for the monkeys as they will pinch any food you are carrying
March 2014
Everybody must go to the Batu Caves, a definite sight to see, walking the steps was abit of a challenge, but I did it and I enjoyed it. If your an older person or extremely unfit I recommend a longer more relaxed tour as this tour was rushed, the tour guide was very informative but beyond the cave and pewter factory info his English wasn't flash, no conversation at all. I was surprised to see the amount of rubbish laying around inside the caves, I would have thought all this rufugee lying around in a place like this would be disrespectful, it would be so simple to keep clean, not a good look. To walk the steps and see inside these caves cannot be missed, it's my 2nd time and im sure it won't be the last.
October 2013
Good! Enjoyed it very much. Well organized tour. Good guide and driver.
July 2013
Great way to see these attractions when you only have a little time. Well worth doing. Lovely guide.
October 2015
Great tour if you have short amount of time in KL and want to get out of town. Stop at Royal Selangor is very interesting, Batik factory stop is more of a shopping stop though as explanations / demonstrations are rather limited. Batu caves are an interesting sight too and you would not hang around too long anyway so the tour is a great way to see them. Beware of the monkeys they are the fun part though! and ladies need to cover up.
March 2015
We really enjoyed the Batu Caves. The guide was great, he provided us with good information.
Advertisement
Advertisement