This private full-day tour of historical Malacca from Kuala Lumpur was designed with history buffs in mind. The flexibility and personalization of a private guide means you can explore Malaysia's oldest trading port with convenience and ease. Gain a deeper understanding of how the Portuguese, Dutch and English influenced the state of Malacca as you explore the streets. Sample local cuisine and regional flavors with a traditional lunch before you return to Kuala Lumpur in your private, air-conditioned vehicle.
Highlights
Explore colorful and old trading port of Malacca on this private full-day tour from Kuala Lumpur
Your own English-speaking guide
Walk through the ruins of St. Paul's Church
Visit the oldest Chinese temple in Malaysia, Cheng Hoon Teng
Lunch at a local restaurant
Hotel pickup and drop off
What You Can Expect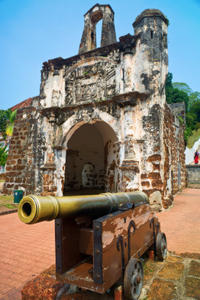 The colorful and historic port town of Malacca is located roughly two hours south of Kuala Lumpur. This private full-day tour of historical Malacca transports you from one of the nation's biggest cities to its third smallest state for a whirlwind cultural experience. Follow your expert local guide on a private tour through the trading ports that have existed through English, Dutch and Portuguese rule. Learn about the role this port played in commerce as your guide shares insight and history throughout the tour.
You'll visit St. Paul's Hill, where panoramic views of the historic state and the old town of Bandar Hilir prove th perfect photo op. Get an up-close look at the Portuguese Fort de Santiago and the ruins of St. Paul's Chuch, as well the Dutch tombstones that line the grounds.
Once you've taken in the sites, head to a local restaurant with your guide where you'll enjoy a savory lunch (included) of regional specialties that blend Chinese and Malay flavors. Wander along Jonker Street and comb through some of the unique shops before making your way back to Kuala Lumpur. En route to your hotel, you'll make a stop at the Cheng Hoon Teng temple—the oldest Chinese temple in the country. This unique destination offers incredible views of Kampong Kling, a nearby Malay village.

Patrick USA
February 2015
August 2014
well organised,good commentary,and plenty of time to view everything. with the lunch I was a bit disappointed because I Do not eat fish or chicken.
August 2014
Pickup was prompt with a very informative and friendly guide who was a font of information, with several stops on the way explaining about the conditions that villages lived under. He was also an excellent guide around malacca with a vast amount of information about the history of the area.
February 2014
very good, guide spoke excellent english and service was exceptional. Itinerary was flexible enough to acomódate our wish of buying fruits. lunch included was also of good quality.
January 2014
A one to one trip. The guide is very knowledgable about Malacca and gave a very good history lesson about Malaysia.
January 2014
Definitely ride in one of the Bicycle rickshaws - a surreal experience with THE most eclectic music accompanying: try Linkin Park, Britney Spears, Gregorian chant and local Malaysian tunes on from one boom box. The Nonya lunch is delicious and as I got to meet the chef, also a culinary education. So much to see and do in Malacca. My driver was knowledgeable, extremely helpful and considerate.
All in all, very worth the spend. Thank you for an awesome day.
April 2013
Don't just stay in KL - book a tour to Malacca. We had a private tour which meant we could see more of what we wanted to and we didn't have to wait on anyone else.
Great day out to see the historical town - the impacts of the Dutch and the Portgueuse. Definitely worth putting on your itinerary.
October 2011
Our tour guide was very friendly and had a lot of information about Malacca.
July 2011
Interesting trip with excellent guide in an air-conditioned Mercedes - as with everything else from this tour company it was a great experience at a very reasonable price
February 2011
Malacca was a wonderful trip. I learned a lot about Malaysian history and culture, in addition to visiting such great sites. Thank you very much!
Advertisement
Advertisement