Enjoy a private tour of the Malaysian Rainforest and learn about the flora and fauna that call this incredible ecosystem home. Wander through shaded trails and arboretums, like the Dipterocarp arboretum, and pay a visit to the Bambusetum, where your guide will offer insight and education about the 30 species of local bamboo that call the forest home. You'll experience the thrill of walking above the trees on a canopy tour and see the remains of an historic Orang Asli settlement.
Highlights
Private three-hour morning tour of Kuala Lumpur's lush rainforest
Your own private English-speaking guide
Rainforest canopy walk above the treetops
See the remains of an old Orang Asli settlement
Hotel pickup and drop off
Recent Photos of This Tour
What You Can Expect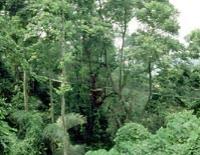 Your private tour of Kuala Lumpur Rainforest and Canopy Walkway Tour kicks off with hotel pick up. Enjoy the luxury of an expert guide and private vehicle as you make your way to the Forest Reserve Institute of Malaysia (FRIM). Spread across some 1,528 hectares of land, FRIM is home to a diverse range of wildlife, plants and ecosystems.

Your knowledgeable guide will highlight the flora and fauna of this stunning natural landscape and walk you through what remains of an old Orang Asli settlement. Revel in the calm tranquility of waterfall views and trickling rivers that wind through the forest.
More adventurous travelers can add on one of the four jungle treks, which wind through spectacular scenery and impressive forests. Choose from Keruing Trail, Engkabang Trail, Salleh Trail or Rover Track. Wander through shaded arboretums, where your guide will point out some of the 30 species of bamboo that live in the forests. Enjoy an incredible canopy walk, high above the treetops. Please note, the canopy walk is accessible to only 250 travelers per day and is closed for maintenance on Mondays and Fridays. Your rainforest walk ranges from 45 minutes to one hour depending on the trail.
August 2015
Amazing guide with fantastic knowledge
April 2015
Great guide. Extremely experienced yet humble.
March 2015
Our guide Charles was extremely knowledgeable and passionate about the environment. He knew every tree and plant we walked by and shared his knowledge with us along the way! Very enjoyable hike and the canopy was a great experience!

January 2015
Excellent Had a very Knowledgable tour guide makes all the difference in the world also great sense of humor be ready for some great excercise going up then down.
December 2014
The guide was exceptional. The trip was really worth it. You must do this trip.
December 2014
AMAZING. This is something that should not be missed. The tour guide was extremely informative (I think they all would be as they work for FRIM (Forest Reseach Institute Malaysia)). The canopy walk is lovely. Learning about the different trees was interesting too.
September 2014
Great tour and great guide!
September 2014
Our guide was amazing! He retired from the research facility in the forest so he was knowledgeable on the vegetation and knew all the beautiful spots in the rainforest. The canopy walkways was amazing, much better than zip lining :)

February 2014
Great tour must do!!!!

NOTE: BRING BUG REPELLANT AND WEAR LONG SLEEVES AND LONG PANTS
June 2013
Beautiful. Definitely need to have some fitness, and decent walking shoes with good tread. Watch out for the leeches but don't let them put you off doing this.
Advertisement
Advertisement