Discover the laid-back fishing village of Pulau Ketam (Crab Island) during this 8-hour excursion that also includes a short sightseeing tour in Kuala Lumpur. Experience the daily lifestyle of the the island's locals as you explore this unique community situated above the water line on stilts. Then enjoy a tasty Malaysian lunch before catching the included ferry back to Kuala Lumpur, where you'll undertake a brief coach sightseeing trip to two of the country's largest mosque and Chinese temple. Your excursion also includes round-trip hotel transport, a guide and entrance fees.
Highlights
Discover the simple lifestyle in the quaint fishing village of Pulau Ketam on this tour from Kuala Lumpur
See how houses and roads of this rustic community are built on stilts!
Witness daily activities of fisherman and residents

Savor authentic Malaysian flavors with lunch at a local restaurant (own expense)

Visit two of Malaysia's most famous religious landmarks: Sultan Salahuddin Abdul Aziz Mosque and Thean Hou Temple
What You Can Expect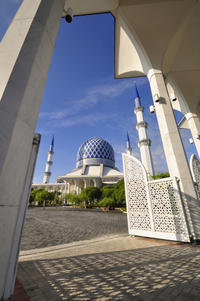 Experience both the rural and urban sides of Malaysia during this morning visit to the fishing village of Pulau Ketam, followed by a ferry ride back to Kuala Lumpur to visit the country's largest mosque and Chinese temple. It's a great way to get a sense for the unique contrasts of tradition, religion and modern urban areas that make Malaysia such an interesting melting pot.
Begin your trip with a pickup from your central Kuala Lumpur hotel. Pickups will begin prior to 8:45am, so expect details from your tour operator during reconfirmation of the exact schedule. You'll then proceed on a 1-hour drive to the ferry terminal at Port Klang to catch your boat to the small fishing hamlet of Crab Island (Pulau Ketam).
After arriving on the island, set off on foot to begin your exploration of this one-of-a-kind community built on stilts above the waters of the area's mangrove swamps. As you walk you'll witness some of the key differences in daily lifestyle between the city dwellers and the island's residents. Observe locals as they take a break on their front porches, walk past brightly-colored Chinese temples adorned with statues of marine creatures and spot fishermen as they peel shrimp for consumption in the local restaurants. As you might expect of this coastal city, Pulau Ketam is famous for its seafood, particularly crab.
Stop by a local restaurant to have some lunch (at your own expense) savoring the strong, vibrant flavors of Malaysian cuisine, a culinary style that blends a variety of cultural influences. After your meal, catch your included ferry back to Port Klang, where you'll begin a short coach sightseeing tour of Kuala Lumpur.
Drive first to the ornate Palace of the Sultan of Selangor before heading to the Sultan Salahuddin Abdul Aziz Mosque. At almost 36 acres (15 hectares) the second largest such mosque in Southeast Asia and the biggest in Malaysia.
Make your final stop of the day at Thean Hou Temple, also among the largest in Southeast Asia. Check out the temple's complex murals and many decorative details, providing a great example of Chinese artistic techniques. From here you'll receive a drop-off back at your central Kuala Lumpur hotel.
April 2015
Excellen! The guide Ben Soo was magnific. Thanks
October 2014
We thoroughly enjoyed our day out - our guide was informative, tour was interesting and seafood lunch was great.
July 2014
Very interesting and impacting life experience to become aware of how people live in the so-called "Crab Island". Good tour guide for me
July 2013
We had a very informative guide, that was great. The temple is beautiful. Enjoyed the island dine and tour. A very different living compared to KL.
July 2013
The Pulau Ketam village tour gave us a perspective on Malaysian way of life outside the major cities, and it is definitely worth taking; 5/5 stars. Thean Hou is a typical Buddhist temple, which does not offer much compared to others of the same kind; 4/5 stars. Overall, it is worth taking the tour, as an alternative to Kuala Lumpur city life.
February 2013
Excellent tour and very knowledgeable and helpful guide. Would definitely recommend to anyone although prepare to have your vision and sense of smell assaulted when visiting Pulau Ketam fishing village. Litter and filth everywhere.
March 2016
It was an interesting trip with stops at the Temple and the Blue Mosque, which was a nice surprise since it wasn't listed in the posting. The lunch at Pulau Ketam was delicious but we had to pay extra for the crab. Considering it's a Crab Island tour one would think that would naturally be on the menu. It's a neat day trip from KL.
December 2014
August 2014
This tour was very informative and the visit to the blue mosque was quite interesting. The village tour itself was good and guide was well informed. The walk around the village was a bit too long and could have done with being able to return to the main land earlier.
January 2014
Great trip to something different. Seafood was great. Surrounding town was interesting.
Advertisement
Advertisement