Experience the tastes and flavors of Malaysia on this culinary walking tour through the streets of Kuala Lumpur. Eat like a local and sample delicious savory and sweet treats as you explore the back streets, alleys and suburbs of this city on foot. Your friendly and knowledgeable guide will explain the Chinese influences on regional cuisine and insure that a wide range of foods is enjoyed. This tour is limited to 12 people, so personalized experience is guaranteed!
Highlights
3- to 4- hour culinary walking tour in Kuala Lumpur
Sample Malaysian delicacies, Chinese noodles and Indian treats -- enough for a complete lunch!
Feast on Malay street food at a hawker center in Brickfields
Explore hidden neighborhoods like Chinatown and Bangsar with an expert local guide
Discover Kuala Lumpur's lively food culture and learn about its culinary heritage
Stroll on foot and take the Light Rail Transit between food stops
Small-group tour limited to 12 people ensures personal attention from your guide
Recent Photos of This Tour
Small-Group Food Trail Walking Tour in Kuala Lumpur
What You Can Expect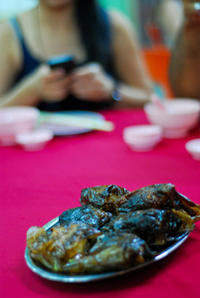 This whirlwind walking tour of flavors kicks off at the entrance of Bangsar Station, where you'll meet your friendly local guide for a one-of-a-kind culinary experience. Follow your guide through the backstreets and alleyways of Malaysia's capital city on this Small-Group food trail walking tour in Kuala Lumpur.
Your small group will make its way through Brickfields, where colorful Indian-influenced architecture and décor hints at the powerful flavors you'll experience in the cuisine. You'll enjoy Indian breads, curries and other favorites at the hawker center South Indian food stalls. Whether it's fiery meats or sugary sweet treats, your guide will assist you in interacting with local sellers to insure you're able to sample whatever you fancy.
After your time in Brickfields, make your way to Chinatown, where you'll enjoy traditional dim sum, stir-friend noodles and lime juise in a neighborhood as filled with energy as it is with flavors.
Your tour ends at a traditional coffee house where you'll sit with your guide and fellow travelers and debrief on the day. Learn more about food and cultures and get recommendations for dinner as you relax with your group before you walk to Petaling Street to say goodbye.
June 2016
Although I was not hungry this tour was enjoyable due to tour guide, Charles Steven. He made the whole situation enjoyable informative and knowledgeable. We learnt about the history of people of Kuala Lumpur the importance of food to cultural and journeyed thru the different types of neighborhoods. Walking around the neighborhoods and sampling of the local cuisines was adventure itself because it forces you to live the culture. Sampling Chendul cold dessert , drinking cold white coffee, eating Indian food with your hands different types of desert and sampling Elk meat in the chow mein made this one of the most enjoyable activities on my trip.
April 2016
Our guide Charlie was awesome, very informative and great knowledge of KL. He was friendly, great fun had a wicked sense of humour. The food was great and the walk fascinating. All in all great value and good fun.
April 2016
Our tour was fantastic. Our tour guide Charlie was a true treasure who had soo much knowledge to offer and yet made the day fun and very informative and treated us like we were his best friends. Everything he did and showed us was done with true love and passion and as a result we all had a sensational day and loved every moment of it. Don't miss this tour and THANKYOU Charlie for a terrific day.
April 2016
We went on this tour in February this year and it was the highlight of our trip in KL. Gabby was an exceptional guide/host with a hive of local knowledge and very entertaining. This is a fabulous tour taking in the Indian and Chinese quarter of KL. The day was brilliant which overran by a few hours due to the wonderful banter and information from the very special Gabby, but no one cared as we were all having such a fantastic time. This tour I cant highly recommend enough, the food is plentiful and delicious with the aromas of the restaurants divine. Don't have a large breakfast before embarking on this tour but do enjoy a brilliant day out in KL.
March 2016
Fabulous tour with great food and lots of local information.Charlie was fantastic. I would definitely encourage anyone visiting KL to do this tour to get an insight into the culture and food.
February 2016
Charlie was fantastic, very knowledgeable and interesting character. We had a great group and thoroughly enjoyed the experience
February 2016
Wow! What a fun tour--our guides were incredibly passionate, knowledgeable and communicated easily with me and our tour group. We had a great time and were very well fed. I really felt like I experienced the culture, and wasn't a passive tourist. Highly recommended.
November 2015
Charles was a great guide !! As we walked around he gave us a little history of the area. The food places he had set up for us to go to where GREAT !! Very easy walk, a lot of fun. Wonderful food choices
November 2015
Excellent guides and lots of fun and laughs. We were only sorry we had to duck off the last part through China Town to check out of our hotel and make it to the airport. We have told lots of our friends about the great tour.

October 2015
A great tour with a very friendly, funny and warm tour guide Charles. Slightly off the beaten track with some great choices of food and drink. Don't eat a meal too close to the tour as you are given more than enough to eat along the way!!!
Highly recommend the tour even if you normally eat at small stalls and like to eat like a local. You will not be disappointed.
Colin
Advertisement
Advertisement