Enjoy a full-day tour of picturesque Bako National Park on this memorable tour that showcases some of the best of Malaysia's natural landscapes. Learn about the plants, wildlife, ecosystems and diverse habitats that cover this national gem and get an up close look at rare flora and fauna—like Proboscis monkeys, monitor lizards and wild boar—on this journey into Bako National Park.
Highlights
Nature lovers full-day Bako National Park tour from Kuching
20-minute longboat ride to Bako National Park
Search for Proboscis monkeys and other wildlife
Packed lunch
English-speaking guide
Hotel pickup and drop off
What You Can Expect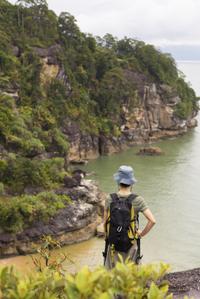 Depart your hotel by car and take off on this Bako National Park Full-Day Tour from Kuching. Relax on a 20-minute longboat ride from Kampung Bako to the rural and picturesque Bako National Park. Enjoy the sight of calm, crystal blue waters, rocky cliffs and thick green forests as you make your way to one of Malaysia's most prized protected landscapes.
Follow your friendly guide through the natural habitats of the island, where you'll possibly see Proboscis monkeys, silvered langurs, wild boar, flying squirrels and macaque monkeys. Learn to identify rare plants, like strangling figs and symbiotic ant plants, as well as various bird species as you wander through thick mangroves, dense forest and other natural landscapes. Your guide will point out unique geological features like the famous Sea Stack as you venture through well-marked trails to jungles and beaches. A packed lunch and round trip hotel transport is included in this full day excursion.

February 2016
It was nice tour good trek and could see monkeys.
February 2014
Bako was a wonderful experience altogether not least because of the knowledge, sense of humour and sensitivity to our needs of the guide Sali ( Salahin). Thank you to all concerned for a wonderful day full of wildlife and boats, Including the fight to the death between a tarantula and a bee which Sali had never seen before either . The poor tarantula lost and must have made a large meal.
September 2013
Amazing tour! We saw wild pigs, probiscus monkeys,... We took a short trail that direct us to a nice beach, although we couldn't swing because I had an accident just at the end of the walk. Anyway the tour is highly recommended.
July 2013
Got to see Proboscis monkeys in the wild as soon as we got off boat and again around park headquarters. Also saw Silver Leaf monkey up close.
April 2013
This was a great trip and we were lucky enough to see the Probiscus monkies really close up. The guide was excellent and we had him to ourselves which was great as we went at our pace, some of the trails are quite tough, but then I am 67 years old. Lots of walks on duckboards so easy and a real chance to see tropical forests close up. The boat trip was exhilarating and overall an excellent trip.
January 2013
It was an amazing tour. The guide was really friendly and if we want to spend more time on the beach, that was no problem. We were only two persons that was more then less a private tour and I enjoyed it. Defently we will come back in future again.
November 2011
THIS WAS AN AWESEOM HIKE! I thought I was joining a group tour but it ended up being just me and the guide and I was happy with that! He was great. Very nice and catered to what I wanted to see- animals! I highly recommend a visit to this park. Very cool.
Lorraine S United Kingdom
August 2010
This is the beginners guide to the rainforest. Highly recommended and going with a guide is a must otherwise you would miss out on so much wildlife that the untrained eye does not see. Guide was so informative, engaging, knowledgeable and enthusiatic about his home that it was an experience I will never forget.
Duncan Edward G Australia
May 2010
Viator lived up to its reputation completely on this trip. It was a very good day out, made even better by the guide we had: he was fantastic and knew the area and his job very very well. We would give it a five-star rating.
January 2016
Nice tour! A lot of wild animal and vegetation to see! Really unique!
Advertisement
Advertisement