A perfect introduction to Sarawak's historical capital, Kuching. This informative three-hour tour covers many of Kuching's sights including the Cat Statue, Tua Pek Kong Chinese Temple and the world famous Sarawak Museum. Take a walk through Old Kuching along the narrow alleyways visiting the Central Markets and heritage building of the White Rajah era.
What You Can Expect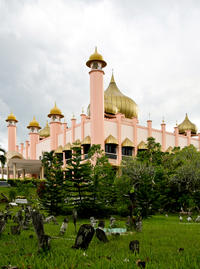 You'll be picked up from your selected Kuching hotel, and taken across the river to visit the unique Cat Museum, passing the magnificent State Mosque and the Astana, the former residence of the White Rajahs.

Tour returns via the golden-domed City Mosque where you'll proceed on foot through Old Kuching, visiting the colorful Central Markets and squeezing through narrow alleyways crammed with spice dealers and textile shops. Pass by the heritage buildings of the White Rajah era, the Pavilion, the Square Tower, the Court House, the Charles Brooke Monument and the Post Office.
November 2014
A great way to orientate yourself in Kuching - it takes you to quite a few points of interest. The guide, whose name was Richard (I think), was very informative. We have done this tour before and found it to be a good introduction to the wonderful city of Kuching. We didn't do it this time but the add on river cruise is also good
July 2010
The tour it self is a good one yet again the tour guide was just aweful. He left us at both museums and did not intend to walk us through and explain anything. He did not stop at anything once we were in the town centre. Along the drive he never explained anything to us. I asked if he could leave us in town at the end of the tour and we would make our own way back. Well the information came flying at us what things were and how we could get back and, he let us out. The tour should have been about 3 hours well if it was 1.5 hours it was alot. Again the tour is worth doing but, not with this company.
Advertisement
Advertisement