Satang Island consists of Pulau Satang Besar and Pulau Satang Kecil. Journey through its pristine waters and visit a turtle hatchery, where you'll learn about conservation efforts, and have the chance to journey into an underwater world on this Satang Island Turtle Conservation and snorkeling day trip. Enjoy the calm relaxation of traveling across the South China Sea, snorkel and swim in clear blue waters amid colorful fish and gain a deeper understanding of conservation efforts being made to preserve and protect sea turtles on this popular day trip from Kuching.
Highlights
Guided tour of Sarawak's first marine national park, Satang National Park
Cruise pass fishing villages and mangrove swamps on your way to Talang-Satang National Park
Snorkel and swim amidst colorful coral reefs and marine life of Satang
Visit the turtle conservation and learn about this special programe
Snorkeling equipment is provided for the day
Enjoy lunch on the beach
Hotel pickup and drop off
What You Can Expect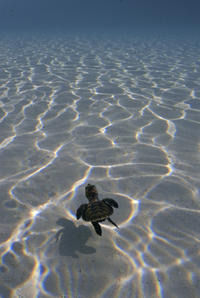 Your Satang Island Turtle Conservation and Snorkeling Day Trip from Kuching begins with a 30-minute boat ride through mangroves and swamps, past fishing villages and marine parks.
Upon arrival at Satang Island, you'll visit a turtle conservation and hatchery area, where your expert guide will share information about the conservation program that puts park rangers at the forefront of protecting these tiny turtles. Learn how professionals collect, count, and rebury turtle eggs and gain a deeper understanding of the hatching process, which can take 40 to 60 days.
After touring the conservation center, head to Satang Island's sandy beaches, where you'll enjoy sun, sand and ultimate relaxation. Opt to snorkel in the clear blue waters amid colorful fish, coral and marine life. Or, choose to trek through jungle trails before enjoying a packed lunch that's included on this tour that's ideal for outdoor lovers.
July 2013
Guides were attentive although water bit merky due to recent rain. Water was warm.
July 2015
no turtles when we were there but there were nests of eggs
April 2013
Although not the high season so turtle side was good and the trip was excellent overall as we had a trip to ourselves, so really attentive and very informative. My wife saw a turtle and snorkling was very good.
Andrew W Australia
June 2012
Snorkeling not that good. Water was a bit murky and there were sea lice in the water. But i did see quite a few fish and some big ones too. The island was quiet was really nice to sit in the shade (it was hot !) on the beach, except for the sand flies. Lunch was ok. Dont expect to see any turtles, just their tracks on the sand and where the eggs have been relocated. I did enjoy just sitting in the warm water on the beach (no sea lice or sand flies in the shallow water).
Advertisement
Advertisement