Venture south of Kuching to Semonggok Wildlife Rehabilitation Centre and get an up close look at how dedicated locals and naturalists help to preserve, protect and rehabilitate orangutans that have been injured, orphaned or captured. Watch as these giant primates roam freely and witness rainforest feedings as part of this unique trip, which includes a short trek into the jungle and hotel pick up and drop off.
Highlights
Tour the Semonggok Wildlife Rehabilitation Center and see the Orang Utans roam free on this magical experience from Kuching
Walk 20-min into lush jungle to reach the Orang Utan rehabilitation center
See the unique ethno-botanical gardens
Hotel pickup and drop off
Recent Photos of This Tour
Semenggok Orangutan Rehabilitation Centre Tour from Kuching
What You Can Expect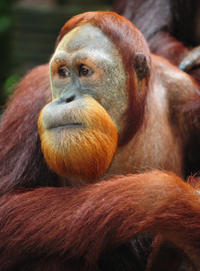 Travelers who want to see semi-wild orangutans in their natural habitat will love this Semenggok Orangutan Rehabilitation Centre Tour from Kuching. This popular tour offers an up close look at these playful primates who have been rescued from captivity and are learning skills to return to the wild.
Your tour includes an expert guide who will share information about the Centre's successful breeding program and timed feedings. Lucky travelers will have the chance to see orangutans emerge from the wild during mealtime, and maybe even spot mothers with their babies.
This incredible tour includes a 30-minute scenic drive from Kuching and a 20-minute jungle trek, where your guide will point out the flora and fauna unique to the region. Optional forest walks can also be incorporated into the tour for travelers who prefer a more active adventure.
July 2015
lots of orangutans around. nice park and well kept up.
September 2014
Was wonderful. It was fruiting season in the Forest. But we were so very lucky to see two. A mother and daughter. They were fed along the track and they are such wonderful creatures. The ranger who spoke to us when we went back to the shop was so very informative.
May 2014
This day we saw a lot og Orangutans. We have been really lucky!
December 2013
The tour was great our guide was very informative. We got to see only a few Orangutans on this trip as fruit was in season and most of the Orangutans were out and about. This is good to see that they do not rely on the Centre to feed them. All in all it was a good tour and seeing the Orangutans was magical.
December 2013
Excellent tour with a good guide.
October 2013
Fantastic trip - really worth doing. Got to see the huge big orang-utan. Got to see a few wild orangutan's up quite close.
September 2013
Very nice to see orangutans in the wild
July 2013
Saw 1 orangutan after 20 minutes then 3 more came, one a mother with baby attached.
Had good time.
April 2013
An excellent chance to see Orang Utans in their natural habitat and also close up. I certainly would not argue with Ritchie (the male alpha) he smashed a bill board up with no effort at all, obviously in a bad mood! To see mum's and babies swinging effortlessly through the forest was excellent. An excellent trip.
March 2013
My driver arrived bang on time no waiting around wondering if there was some communication problem. he was friendly and informative about the rehabilitation centre, how it functions, history, success rates etc etc. Also made it very clear that these are wild animals and do not just show up for tourists, which shows the program is working. I have to say though, I was overcome with joy and emotion that we did indeed see a mother and child Orangutan interacting out in the open and for some time. Giving everyone a wonderful chance to take photos,video and just watch the chance of a lifetime experience. What an amazing first day in Borneo for me.
Advertisement
Advertisement