Travel back in time and discover the glory of Ancient Ionia on this private full-day tour of Priene, Miletus and Didyma from Kusadasi. Marvel over Pytheos' Temple of Athena and walk in the footsteps of Alexander the Great in Priene; learn about the classical philosophers that once inhabited ancient Miletos; then visit the sacred Temple of Apollo in Didyma.
Highlights
Private Tour to Priene, Miletus and Didyma

Visit the Temple of Athena and the Temple of Apollo

Explore the home of Alexander the Great

English-speaking local guide

Transport by private vehicle
What You Can Expect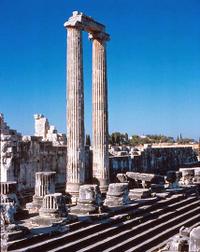 While you are here, see the Temple of Athena, which was built by Architect Pytheos, responsible for the construction of the Mausoleum at the Halicarnassus, considered to be one of the Seven Wonders of the Ancient World.
Visit the Stoa, the Agora, the Market Place, the Temenos of Zeus Olympic, which dates from the 3rd Century BC., the Bouleuterion, the Prytaneion where municipal or state council representatives met, the Theatre which still retains most of its Hellenistic features, the Sanctuary of Demeter which was dedicated to the deities of Plenty, Demeter and Kore.
Also see the Archbishop's Church, the Upper Gymnasium and the Stadium, North-East Gateway, the Temenos of Kybele and the House of Alexander the Great where he stayed during his siege of Miletus in 334 BC.
Miletos which has provided its alphabet to the rest of the classical world, was a great port and the hometown of several philosophers and sages.
Continue to Didyma's Temple of Apollo with its very well-known oracles and one of the sacred places of antiquity. Walk in the footsteps of priests who visited this great temple to consult the oracle. Although looted and burnt many times, it keeps the original impression. Not too far from the site you see the beautiful beach of Altinkum.
October 2012
Neon told us to deal directly with Grand Wonders, a local Efes tour company, to confirm our private tour to Priene, Miletus, Didyma. This was not acceptable since Neon was responsible for our private tour and yet we have to negotiate on our own.
Overall, the tour guide was knowledgeable, the car was clean. Lunch was provided at a local restaurant where food was not good and the restaurant did not appear to take cleanliness as their priority.
Advertisement
Advertisement