Explore the stunning archaeology of Pamukkale on this small-group guided full day tour from Kusadasi. During your visit to this UNESCO World Heritage Site, stroll along the white travertine rock plateaus and hear about the site's geology. Gaze over Pamukkale to towards the ancient city of Hierapolis and learn about its history as you discover its fascinating ruins. Also, enjoy a cleansing soak in Hierapolis' natural springs and pools.
This small-group tour in Pamukkale is limited to 14 people, creating a more personalized experience with your guide.
Highlights
Full-day trip from Kusadasi to the UNESCO World Heritage Site of Pamukkale in Denizli Province
See Pamukkale's bright white travertine terraces with your guide
Take a dip in the naturally formed spa pools in the ancient city of Hierapolis
Stroll around the ruins of Hierapolis and see its intriguing necropolis and vast Roman theater
Hotel pickup and drop-off by luxury air-conditioned coach
Small-group tour with a maximum of 14 people ensures a more personalized experience
Recent Photos of This Tour
What You Can Expect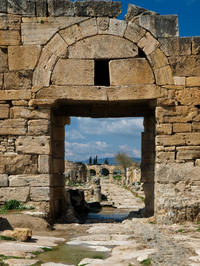 Meet your guide at your Kusadasi hotel and drive east towards Pamukkale located in the province of Denizli. Arrive at this UNESCO World Heritage Site and see why this natural site's name means cotton castle. Learn about the geology here, which consists of white travertine rocks that have created a natural wonder of plateaus. Gaze over Pamukkale's mineral deposits and hear how the hot bath's water travels 656 feet (200 meter) down the cliffside to create the appearance of snowy terraces.
Next, stroll alongside your expert guide and observe the geology up close as you learn how these natural baths were formed. Stop to snap photos of this amazing site, and then continue to the ancient city of Hierapolis to observe its diminishing ruins and dip into hot springs.
Spend free time soaking and relaxing into the pools and don't forget to pack your swimsuit (entrance fee at your own expense). As you enjoy a nice bath stare up at the Greco-Roman columns which surround the pools. Stop for lunch after bathing at a café and then rendezvous with your guide for a walking tour through Hierapolis. Marvel at the ancient ruins such as the necropolis (Roman graveyard) and the immense Roman theater which once had a capacity to seat 12,000 people. Finally, stop at St Philippe Martyrion (Basilica of St Philippe) and hear about this historical Christian house of worship. Afterwards, hop back on your coach and return to Kusadasi where your tour ends.
May 2016
It was a lovely day and the site was worth anyone seeing. True wonder of the world.
September 2015
This tour was great from start to finish! Our guide Mehmet was friendly, professional and knowledgeable. Our tour included a buffet lunch which has really nice. Visiting Pamukkale, the white travertine rock terraces and Hierapolis is something I would recommend to travelers visiting the area. I would recommend paying the little bit extra to go into the thermal pools, we had a good time all round.
July 2015
The guıde was really ınformatıve and helpful. It was a small tour and very accomodatıng to everyones needs. It was fun to swım ın the natural waters of pummakale.
September 2014
Pick up on time . Hard to fault the day. Knowledgeable guide and a spectacular place well worth seeing. Lunch was impressive all you could eat Buffett option and a stop at a onyx rock making factory for a short demo. Took you into the shop but no pressure to buy anything. Good value day out
August 2014
Amazing, picked us up and dropped us off plus best of all we had plenty of time to see the beautiful Pamukkale!!

July 2014
The bus trip there from Kusadasi was about 3 hours and quite pleasant with a food/drink/toilet stop.
We wasted some time at a linen/Manchester outlet store which we were not interested in.
So between the bus trip, the Linen shop and the lunch getting to the actual site took about 4.5 hours.
Everything else on the tour was fantastic, we had plenty of time at the site, we walked around the travertine's and did all the photos, visited the museum which is excellent and then had about 1 hour swimming in the pool before departing. If we had just a bit more time we could have also had a short walk to the roman amphitheatre but we some many more better ones later on our trip so no big issue.
The tour guide and driver were both fantastic, great English skills and informative.
Great tour just get a book to read for when they do the outlet store.
July 2014
I definitely recommend this tour as the most painless way of seeing Pamukkale. We were collected from our hotel at 8.45 am and returned at 6.45pm. The three hour drive was broken up by a stop half-way at a cafe/shop at a petrol station, with good toilet facilities. There were five travellers in total in a very comfortable vehicle with driver and excellent guide, Gul. We enjoyed the buffet lunch at a large restaurant at the foot of Pamukkale, obviously used by all the various tour groups. There was a good selection of food. Drinks are payable in any currency and were not expensive. We had two hours free time at the top of Pamukkale to swim in the Antique Pool and paddle in the travertines. We really enjoyed the Antique Pool with its very warm water and decidedly unusual experience of swimming over ancient ruins. We were offered a stop at an onyx factory, but were able to decline easily.
May 2014
I had a great day with this tour company ,they run a very professional and informative tour ,thought it was terrific value for money ,even though we were offered a tour cheaper with another company ,I would use this company again ,I couldn't imagine the same quality tour for less money ,the guide was great .
March 2014
The trip was great. It was only four of us and the guide was very good.
June 2013
Pamukkale is indeed a must see! Our trip there had been really awesome. Our tour guide Rose from Fez Travel is not only very knowlegeable but really helpful as well. The price that I paid for my whole family to go on this trip is really affordable. I have been recommending Viator.com to all my friends since then and will regularly check their website for great deals on my future travels.
Advertisement
Advertisement