Visit mountaintop villages, soothing hot springs and Japanese temples along the UNESCO World Heritage-listed Kumano Kodo during this 3- or 4-day self-guided tour. Part of a series of old pilgrimage roads, the strenuous but well-maintained route originally connected the former imperial capital with three Grand Shrines of Kumano (Kumano Sanzan). Traveling round-trip by train to the Nakahechi portion of the route from either Kyoto or Osaka, you'll journey on foot and by bus along village paths and forested mountain trails in the remote Kii Peninsula. Stay at family-run inns and guesthouses where you'll enjoy traditional Japanese breakfasts and dinners.
Highlights
Self-guided walking tour along the Kumano Kodo Pilgrimage Trail
Hike forested mountain paths to the villages of Takahara, Chikatsuyu and Shingu
Eat traditional Japanese meals for breakfast and dinner at each family-run inn
Choose a 3- or 4-day independent walk (depending on your selection)
Detailed day-by-day itinerary with walking instructions, waterproof topographical map and local phone support included
Round-trip train tickets from Kyoto or Osaka

Why Our Insiders Chose This Tour
This rewarding Kumano Kodo hike through the mountains of the Kii Peninsula includes a 3,000-foot (914-meter) elevation gain. However, optional local buses are available to shorten your walks, giving you more time for independent sightseeing in each town.
Recent Photos of This Tour
3-Day or 4-Day Self-Guided Hike on Kumano Kodo Pilgrimage Route Including Lodging and Transport
What You Can Expect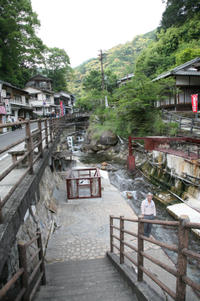 From the 11th century, successive emperors and their families made the long and difficult pilgrimage to Kumano from Kyoto. Follow in their footsteps along the remote and mystical Kii Peninsula. This journey takes you along the Nakahechi portion of the Kumano Kodo ('kodo' means old road), considered one of Japan's national historic roads.
After riding the train from Kyoto or Osaka, weave your way through the forested mountains and small villages. Finish with a bus ride to the Hayatama Grand Shrine (Kumano Hayatama Taisha) in Shingu before leaving the Kumano region by train back to Kyoto or Osaka.
Your 3- or 4-day walking route along the Kumano Kodo includes mostly paved village paths and well-maintained mountain trails, with considerable ascent and descent on certain days. Though not technical, the strenuous route requires adequate gear and clothing, and a reasonable level of fitness for 2–8 hours of walking per day.
You'll stay overnight in local minshuku, family-run guesthouses, or ryokan, Japanese inns with hot springs (onsen).

Baggage forwarding (own expense) can be easily arranged with instructions provided. Send your main luggage ahead from your accommodation before the Kumano Kodo hike to wherever you are staying after the trail, using one of the efficient and secure luggage-forwarding services. With a yukata (a casual kimono) supplied by each inn, you can manage with just a small pack containing your overnight essential items for your 2 or 3 nights on the trail.
Upon booking, you receive a detailed day-by-day itinerary, including walking instructions and a topographical map. Some meals are included, but be prepared to buy your lunch before you set off each day, or during breaks along the trail.

Please provide your pre-tour accommodation to the tour operator at the time of booking so the tour operator can send you your detailed tour information and rail tickets.

Itinerary
3-DAY TOUR
Day 1: Kyoto or Osaka – Kii-Tanabe – Takijiri – Takahara (D)

Starting from the Kyoto railway station, travel by train through Osaka to the mystical Kii Peninsula, located approximately 3 hours away. The train hugs the coast until reaching the small town of Kii-Tanabe, arriving just after midday.
In Kii-Tanabe you board a local bus (own expense) for the 40-minute journey inland to Takijiri where you start your walk on the Nakahechi portion of the Kumano Pilgrimage route.
Your first 2.8-mile (4.5-km) walk takes only about 2 hours, but includes a fairly long climb with a 1,200-foot (370-meter) ascent. From Takijiri, the path climbs steadily up to the small mountaintop village of Takahara, whose name means 'high field.'
Stay at a lovely ryokan with both Japanese and western-style rooms, all with spectacular views over the valley and mountains beyond. Enjoy a wonderful home-cooked dinner with local ingredients and soak in the bath filled with thermal water from nearby Wataze Onsen.
Overnight: ryokan in Takahara
Day 2: Takahara – Chikatsuyu (B, D)
After your Japanese breakfast, depart Takahara, climbing through the village and continuing on an undulating trail past several shrines before descending to the village of Chikatsuyu. The 6.5-mile (10-km) paths on this 4- to 5-hour walk are clearly defined, and flagstones have been laid in some places to make the climbs easier. Along the way, stop for lunch (own expense).

When you arrive in Chikatsuyu, there's time to relax before dinner at your guesthouse.
Overnight: minshuku in Chikatsuyu
Day 3: Chikatsuyu – Shingu – Kyoto or Osaka (B)
Leave Chikatsuyu after breakfast and ride the bus directly to Shingu. If there's time, you can visit the Hayatama Grand Shrine (Kumano Hayatama Taisha) — one of the three Grand Shrines of Kumano — just 15 minutes on foot from Shingu station. The tourist office, located directly in front of Shingu station, and where the bus arrives, can supply maps and advice.
See the giant 1,000-year-old Nagi tree within the shrine precinct and learn about the 'Nagi dolls' made from its seeds — believed to bring a happy married life to couples. The Kamikura Shrine on Mount Gongen, a little further on, is also well worth a visit (all entry fees at own expense).
After seeing the sights of Shingu, board the train for Kyoto or Osaka. The rail journey takes around 5 hours, arriving at your destination in the evening.
4-DAY TOUR

Day 1 and 2: See above

Day 3: Chikatsuyu – Hongu – Yunomine (B, D)
Fuel up with breakfast before leaving Chikatsuyu early in the morning to follow the 15-mile (24-km) path through the mountains to Hongu. The arduous trail passes through small villages and forests over the Kii Mountains to the Kumano shrine at Hongu, one of the three Grand Shrines of Kumano. At the heart of these sacred mountains, Kumano was said to be the entrance to the land of Yomi — the 'other world' to which spirits traveled in Japanese mythology.
The time required for the 2,700-foot (820-meter) elevation gain and 3,740-foot (1,140-foot) descent is approximately 8 to 9 hours. However, you can shorten the walk by choosing from two alternative hikes (2 or 7 hours). If you choose to do this, you'll hop on local buses (additional expense) to arrive at your destination.
From the Kumano shrine at Hongu, a short bus ride (own expense) brings you to Yunomine Onsen, one of the oldest natural hot spring villages in Japan.
Explore the atmospheric village and settle in to your accommodation, a ryokan with a wonderful outdoor bath where you can relax with a soak before or after your delicious, multi-course dinner.
If you sent luggage ahead to Yunomine Onsen, it will be waiting for you at your inn when you arrive. Your hosts will assist you to send it onward tomorrow morning to wherever you are staying after the Kumano Kodo.
Overnight: ryokan in Yunomine Onsen
Day 4: Yunomine – Shingu – Kyoto or Osaka (B)
Before or after breakfast, take time to explore Yunomine and then travel by bus to Shingu on a 1-hour ride.
After seeing the sights of Shingu (see prior descriptions), board the train for your return journey to Kyoto or Osaka. The trip takes around 5 hours, arriving at your destination in the evening.

Advertisement
Advertisement