Wander among peaceful bamboo groves and elegant mountain temples of rural Japan as you explore the fascinating areas of Arashiyama and Sagano near Kyoto during this 4-hour walking tour. Meander among the bamboo groves of Sagano before checking out the ancient 14th century Tenryu-Ji Temple and the secluded Jojakko-Ji Temple, hidden among the forest. Finish with a trip across the iconic Togetsukyō Bridge. Your morning walking tour also includes pickup from select hotels in Kyoto, a guide and all entrance fees.
Highlights
4-hour morning walking tour of the scenic Sagano and Arashiyama districts
Enjoy a stroll through the tranquil Sagano bamboo grove
Explore the Tenryu-ji Temple with your guide, widely considered Kyoto's best Zen temple
Discover the Jojakko-ji Temple and admire its statue and pagoda
Take a walk over the iconic Togetsukyō Bridge
Tour includes a pickup from selected Kyoto hotels
Recent Photos of This Tour
Arashiyama and Sagano Morning Walking Tour
What You Can Expect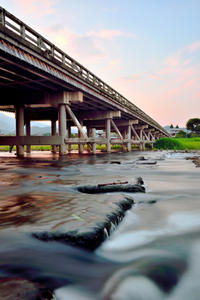 Get a taste for the serene environs of rural Japan as you enjoy a laid-back morning walking tour of the temples and forests of the Arashiyama and Sagano areas on the outskirts of Kyoto. Explore beautiful bamboo forests and historic temples set among the sublime natural environment.
Start your walking tour of Arashiyama and Sagano with a morning pickup from select Kyoto hotels or from the New Miyako Hotel. Following your pickup, proceed by coach to the tour starting point in Sagano, just northwest of central Kyoto, where you'll meet your guide and start your walk.
Begin your walking exploration with a 2-mile (3-km) stroll through the lush bamboo grove in Sagano, admiring the fantastic views of nearby mountain peaks and the striking valleys of the Arashiyama area. Proceed next to Tenryu-Ji Temple, which dates to 1339 when it was established by Takauji of the Ashikaga Shogunate as one of the principal temples of the Rinzai Zen School. Make sure to check out the temple's beautiful landscaped garden, which survives in its original design.
Head next to the Jojakko-Ji Temple, nestled in the wooded hills on a nearby mountainside. The temple is famous for its role in the Tale of the Heike, a work of Japanese literature that tells the story of Empress Dowager Kenrei-mon-in, who supposedly lived at the site. Originally constructed as a nunnery, this picturesque religious structure has a fascinating history dating to the 6th century. Keep your eyes peeled for the temple's Jizo statue and hidden pagoda secluded among the area maple trees.
Finish your walking excursion by crossing the famous Togetsukyo Bridge (Crossing Moon Bridge), admiring the incredible views of the Hozu River below and forest-covered hills beyond. The current bridge is a reproduction of the original, reconstructed in 1934.
Your walking trip ends with a return to Kyoto station.
Please note: Public transport will be used during your tour, and seating may not be available.
April 2016
Brilliant tour. Gorgeous scenery, wonderful temples and the Bamboo grove and preceding area are out of this world. A must do and see.
April 2016
I signed up for this tour as part of my free third day activities on the 3-day Mt. Fuji, Kyoto and Nara tour.
The tour was started at New Miyako at 8:45 and I was led to the Kyoto station across the street to board a local train to Arashiyama. It was cherry blossom week and it was very crowded. You would be amazed by some of the sceneries and temples in this region. The tour concluded at 1PM and you would have option to return to Kyoto with tour guide or to explore the city on your own thereafter. This tour is very efficient but you will have to walk through out. I highly recommend this tour especially during the cherry blossom season.
October 2015
We greatly enjoyed this tour- it was much better than we envisioned. Our tour guide was excellent in every way.

September 2015
Tour was great and guide was very knowledgeable.
June 2015
fantastic tour, best thing we did in Japan !
June 2015
First class. Great Trip. Arashiyama was lovely and our guide was excellent.
December 2014
Very quiet place, nice tour; interesting and kind guide
Anny Wang Canada
August 2014
I was initially skeptical of the tour as we began. It involved taking the local train and a lot of walking. I have no problem doing either, but coulldn't see the value of the tour. However, as the tour went on, it became clear that the value lay in the amazing tour guide and the intimacy of the small group. Our guide, Michiharu, was very knowledgeable about Kyoto and Osaka, but particularly about Arashiyama. He was able to give us full histories on all the sights we saw and answered any questions we posed to him. During the slower parts of the tour, such as on the train or walking from one sight to another, he was able to recommend us to various sights tailored to our interests. He pointed my boyfriend, an avid martial artist, to the Budo Centre, where we spent the rest of the day. However, Arashiyama is amazing, and we went back the next morning. If you are able, stay the whole day!
June 2014
Beautful area near Kyoto. Tour was great and guide was informative. Lots of walking so wear comfortable shoes.

May 2014
Enjoyable walk. Beautiful scenery
Advertisement
Advertisement