Discover the stunning Zen gardens, colorful temples and ancient shrines of Kyoto on this 3.5-hour, small-group walking tour that's limited to just 12 participants. Experience the elegant architecture and sublime religious monuments of this historic Japanese city, once the imperial capital, as you join a guide on visits to the Gion Geisha district, Tofukuji Temple and more. This small-group Kyoto experience also includes snacks and all entrance fees.
Highlights
3.5-hour cultural walking tour of Kyoto

Explore the Geisha district of Gion
Experience the peace of a Zen rock garden at the Tokufuji temple
Gain insight into Japan's history and culture

Small-group tour with a maximum of 12 people ensures a personalized experience
Walk through Kyoto's infamous tori gates and spot the fox statues at the Fushimi Inari Shrine
Recent Photos of This Tour
Half Day Small-Group Kyoto Cultural Tour
What You Can Expect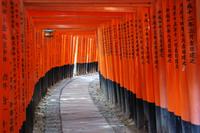 Journey back in time to ancient Japan as you admire the Geishas, Zen gardens and colorful temples of Kyoto, with this small-group walking tour, limited to just 12 people. This personalized exploration of Kyoto, a now-modern city that is also the historic heart of Japanese culture, is the perfect introduction to this famous Japanese city's many centuries of tradition.
Start your exploration by meeting your guide at 2pm at Kyoto station. Begin your visit to the city's many attractions with a stop at
Tofukuji Temple, a lovely 13th century Zen temple famous as one of five great religious buildings of Kyoto. Make sure to check out the wealth of idyllic gardens located on the temple grounds of this still-operational monastery.
Continue next to
Fushimi Inari Shrine, a sacred religious site situated on the outskirts of the city on a densely-forested hillside. Admire the shrine's brilliant-red sacred gates, or torii, which you may recognize from the film Memoirs of a Geisha, and make sure to check out the site's many smaller monuments and its fox statue.
Finish your day in Kyoto's Gion District, renowned for the many geishas that populate its streets. Wander among the area's traditional tea houses and eateries, and keep your eyes peeled for sightings of these elegantly-dressed women, clothed in the traditional Japanese kimono.
April 2016
The shrine was much more crowded than I expected but our guide, Mari, was wonderful and we enjoyed all of the activities.
March 2016
Great tour to get to know a bit of a Japanese culture. Unlike castles and museums this needs to be witness with real life commentary. Our guide was excellent. Worth the money spent. Definitely recommend - and it's walking - great way to soak in atmosphere of Nara, Gion and Kyoto.
Guide knew what he was talking about, his English was good and tour was well planned. All fees included but the return to Kyoto train station taxi - ca. JPY1,200
March 2016
Loved this tour, perfect way to find my feet in Kyoto!
Our guide Lulu was warm and engaging and very Smiley and happy to help in anyway.
The pace and size of the tour was great and finishing off in the Gion district at dusk works well for dinner after! We saw 9 Geishas! Only recommendation would be a 20-30 minute stop somewheere for a coffe or beer, all the others in the group felt the same pretty much about that!
March 2016
Our guide, Dustin was punctual and got us on the road a little bit later due to non shows. He did however extend the tour to take this into account. He was informative and chatty without over doing us with facts and figures to the extent, you couldn't take it in. He walked at a good pace through the tour and took on questions easily. The tour took us through some of the beautiful areas of Kyoto and we even managed to see a Geysha girl. I would definitely recommend this tour, and Dustin as a tour guide.
March 2016
It was great and the tour guide was exceptional. Thank you.
February 2016
Fantastic tour. Best tour we did in Japan. Thank you to our wonderful guide Pepijn who is very knowledgeable. We learnt and saw so much.
February 2016
Despite it being a bitterly cold day about 3 degrees Celsius our tour guide Alex did a great job. He led us to several diverse and interesting parts of Kyoto and provided a fascinating commentary. We learnt a lot about the history and culture both of Kyoto, and of Japan more generally. Dont forget your comfortable walking shoes youll get a lot of exercise in this tour! If I had one suggestion for how the tour might be improved, Id say it would be good to sit down somewhere with a drink and a snack halfway through. Maybe linger longer at the food stalls near the Inari Shrine, or build in a visit to a tea shop? Anyway, we enjoyed the tour and found it interesting. Thanks!
January 2016
Terrin was our guide and he was very knowledgeable! We went to Kyoto on one of the BUSIEST weekends and boy was it busy. It was crowded, everywhere. Terrin was great though, he didn't rush anything, he made sure we got the most out of our time there. I'm kind of sad we only got to see three major places but they were worth it. This is a great tour if you are new to Kyoto and need an introduction.
December 2015
Excellent tour. Guide was American so easy to understand. Very knowledgeable guide. Learned a lot.
December 2015
The tour with Pepijn was very enjoyable.
Very recommended, especially if you only have very limited time like we did.
We wouldn't have been able to see much at all if we had to wonder around by ourselves
Advertisement
Advertisement