30 Reviews
Location:

Kyoto, Japan

Duration:

Varies
Experience the traditions of Japan as you enjoy a 1-, 1.5- or 2.5-hour tea ceremony in Kyoto and learn the origins of this ancient practice. Choose from one of three different tea ceremony options, including a 1-hour session hosted in a machiya, (typical wooden house) a 1.5-hour ceremony complete with kimono dress-up or a 2.5-hour tea experience hosted in the home of a professional tea master. Your tea ceremony excursion includes a guide, who will provide translation, and if you select the 2.5 experience, round-trip transportation from your hotel.
Highlights
Private tea ceremony with option for kimono lesson or tea ceremony in a private Kyoto home
Understand the meaning behind the ritualized art of preparing and serving tea
Learn the correct way to wear a kimono and try one on yourself! (if option chosen)
Spend time at your tea instructor's traditional home (if option chosen)

Ask questions of the tea master with the guide there to translate for you
Try making a cup of tea after watching the master's preparations, with help as needed

Why Our Insiders Chose This Tour
The tea tastes amazing when served in an authentic tea cup. And sitting in a traditional Kyoto house makes you feel like you have entered another era!
Recent Photos of This Tour
What You Can Expect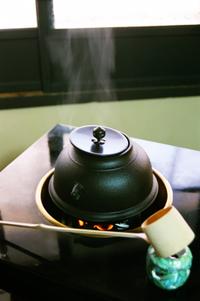 Explore the lineage of ancient Japan during this excursion offering 3 different tea ceremonies in the legendary city of Kyoto. Depending on the experience you select you'll have the chance to enjoy a typical ceremony, try on a Japanese kimono and in the case of the 2.5-hour experience, get an up-close-and-personal demonstration of the entire tea-making process from a Japanese master.
Your tea ceremony experience will vary depending on the option you select. For the 2.5-hour option, you'll be picked up from your Kyoto hotel, while in the other two tour choices you'll make your own way by public transport or taxi to meet your instructor at their home or machiya.
Over the course of your ceremony experience you'll witness the methodical steps behind Japanese tea preparation. Receive a lesson in proper sitting posture, and then observe your instructor as they prepare the tea from matcha, a powdered tea mixture used since the 12th century when the Japanese monk named Eisai introduced the mixture from China.
When your brew is ready, enjoy the delicate nuances of its earthy flavor, and sample a sweet snack that is typically consumed alongside the drink. You'll also have the chance to get an in-depth lesson on the correct preparation of this celebrated drink, a refreshment that is half meditation, half performance art.
For full details on the differences between the three ceremonies, review the itineraries below.
Itinerary
1-Hour Tea Ceremony
If you choose to participate in the tea ceremony at the machiya, you will be shown into a tearoom. The tea master will explain the tea ceremony to you and show you the proper way to sit, and then you will go through the ceremony together.

1.5-Hour Tea Ceremony with Kimono
Learn to dress in the kimono before you begin your tea ceremony at the machiya. Donning a kimono correctly can be a tricky business, but your teacher will be there to help you!

Tea Ceremony at the Home of a Tea Master
If you have chosen the option at the private home of a professional tea master, your guide meets you in the lobby of your hotel to take public transport with you to the private home of the tea master. Along the way, your guide shares Kyoto's history and the importance of the tea ceremony in Japanese culture.

When you arrive at the home of your instructor, the tea master, you'll be welcomed in and have time for introductions before you enter the room designated for the tea ceremony. As the instructor explains the history of tea and shows you the utensils used in the ceremony, your guide will translate any questions that you may have. Then your tea master will begin the ceremony—a choreographed art that requires years of study to master.

After the tea ceremony in the private home, you will have time to relax and chat with your instructor and guide, asking any further questions. When you have finished, your guide will return you to your Kyoto hotel via the subway or city bus.

Click on "View Additional Info" for machiya house location.
January 2016
Nice experience . Place is very near imperial palace . Easy to find.

November 2015
It was a totally awesome activity. My adult children was quite unimpressed when first hearing about doing this, but when they were immersed in the activity they really enjoyed every aspect of the program. I was impressed by the knowledge and ease in which the instructor was able to communicate with us and how welcoming and helpful the staff was with us. Great program and will plan to do the cooking class when visiting Kyoto again.

November 2015
We had a fantastic time during the Tea Ceremony with Kimono. I was feeling sick and our host made sure I was comfortable at all times. She spoke fantastic English which made the ceremony even better. It was a great authentic cultural experience which I would recommend to all.

JOSE MARIA M Andorra
November 2015
it was, simply, a spiritual and peaceful experience. The Tea master was very sympathetic with us and showed a great skill on the Tea Ceremony Art
October 2015
Amazing experience. Highly recommended
October 2015
A fantastic experience. It was great to get such an insight into Japanese culture. I would recommend wearing the Kimono too! Great for tea lovers and those interested in Japanese culture. Very friendly staff also.
Maria P Australia
September 2015
Beautiful hostess, loads of info. We highly recommend anyone travelling to Japan to do a Tea ceremony
September 2015
My daughters and I were the only attendees for the tea ceremony that day. We learned a lot!
August 2015
Awesome experience. We got to experience a real authentic ceremony and wear the kimonos. The staff was so helpful and kind. They explained any questions we had. It was a really great experience. i highly recommend this to anyone.
Gustavo B Canada
August 2015
This was the highlight of our trip. We had a lovely time and it was a very intimate setting. She was very knowledgeable and thorough during the ceremony.
Advertisement
Advertisement