Check out Kyoto's top sights during this 6 to 7-hour excursion covering the city's most famous landmarks plus a craft-making workshop. Over the course of this great Kyoto overview tour you'll see UNESCO World Heritage-listed Nijo Castle and Kinkaku-ji Temple (Golden Pavillion), and the Kyoto Imperial Palace. Finish your day at the Kyoto Handicraft Center, watching master craftsmen and fashioning a traditional handicraft of your own. This Kyoto excursion also includes pickup from select Kyoto hotels, transport by coach, admission fees, a buffet lunch, a guide and one handicraft center activity.
Highlights
7-hour tour to Ninjo Castle, Kinkaku-ji Temple, Kyoto Imperial Palace and Kyoto Handicraft Center
Explore one of Japan's most well-preserved cities by coach with a knowledgeable local guide

Visit two of Kyoto's World Heritage sites: Nijo Castle and Kinkaku-ji Temple
Watch Japanese artists demonstrate traditional craft techniques at the Kyoto Handicraft Center
Learn how to make your own Japanese craft during a hands-on workshop with a professional artist

Enjoy a Japanese-style buffet lunch

Includes pickup from selected Kyoto hotels
What You Can Expect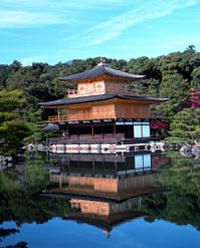 See the top landmarks of Kyoto as you stop by its most impressive castles, temples and its Imperial Palace, before finishing your day at a workshop learning to make a traditional Japanese woodblock print or cloisonné pendant. It's a great combination of sightseeing and a chance to test your skills while creating a traditional Japanese handicraft.
Start your excursion with a morning pickup from select Kyoto hotels. Travel by coach to your first stop of the day, the UNESCO World Heritage site Nijo Castle, listening to a history lesson on the city of Kyoto from your guide on the way.
Arrive at Nijo Castle, an imposing structure built for the Tokugawa Shogun in 1603. You'll perceive a stark difference between the castle's fortress-like exterior walls and moat and its brilliantly-designed interior spaces, which sparkle with gold-leaf details. You'll also hear about the castle's "nightingale" floors, squeaky surfaces that were used to detect unwanted invaders by the Castle dwellers.
Continue next to Kinkaku-ji Temple, another World Heritage site and arguably the most visited in Kyoto. Check out the Golden Pavilion and impressive gardens within the temple's grounds as you hear about the temple's construction and origin from your guide.
Proceed next to the Imperial Palace of Kyoto, the one-time home of the Imperial Family between 794 and 1869 when Tokyo took over as seat of the empire. Admire the Palace's Shishinden, perhaps the most beautiful structure within the complex, and the ceremonial go-to spot for events like royal coronations.
Stop your sightseeing for a short break, during which you'll enjoy a lunch of traditional Japanese cuisine. Then continue on to the final visit of the day at the Kyoto Handicraft Center.
This workshop offers an intimate look at the creation process behind some of Japan's traditional arts and handicrafts. Decide to make either a woodblock print or a cloisonné pendant, following the instructions of a staff artist who watches your progress and provides the materials. You'll leave your session with a wonderful personalized souvenir of your Kyoto excursion.
Take a few moments after your workshop lesson to browse the center's gift shop before making your own way back to your hotel or your next destination.

Temple Closures:
Nijo Castle is closed on Tuesdays in January, July, August and December. Check out Ryoan-ji Temple, famed for its Zen gardens and temple as a replacement.
Kyoto Imperial Palace is closed Saturdays, Sundays and for public holidays. Explore Kitano-tenmangu Shrine, a key Shinto site celebrating the god of scholarship and education, instead.
August 2015
Excellent tour and guide.
March 2014
Was a great introduction to a fantastic city. The tour guide and bus driver were very professional, curteous and knowledgeable. Really enjoyed everything we saw and visited and ate! I was travelling with my six year old son and he also had a memorable trip. Definitely will recommend this tour to family and friends.
October 2013
Excellent tour in every respect. Guide was very knowledgeable, locations excellent, bus and driver fault-less, even the group lunch was first rate. We were the only couple to undertake the Handicraft Centre activity after lunch and it was a unique experience - learning how to enamel and how to do woodblock printing. Highly recommend this tour and this company.
April 2016
This was an excellent morning tour to visit 3 of Kyoto's main attractions. Tammy was an entertaining guide with terrific local knowledge and experience. We were lucky to visit the Imperial Palace during one of there two 'open weeks' of the year and Tammy's expertise came to the fore. The Handicraft Centre was well worth the visit. I enjoyed creating my own woodblock prints with a one to one teacher. I even went back the following day to purchase two professionally made woodblock prints.
May 2015
The tour was nice but the tour company had several buses go to each site at once as well as other tour companies. Each place was swarming with the same tour groups. Other than that, I enjoyed the tour.
May 2015
Pros:
Excellent tour! The tour guide was knowledgeable, funny and easy to understand. The bus was clean and well presented. The sites visited were amazing.
Taking the tour made one day of our trip a little less stressful.
Cons:
Sometimes felt a little rushed, but understandable given that the tour had to be at the palace at a specific time.
Only the outside of the palace was visited - again, understandable, but not mentioned anywhere.
The food provided at lunchtime might not be to everyone's liking - certainly not a western style buffet!
March 2015
We were able to walk the tour at our own pace and had plenty of opportunities for photos. Mickey the tour guide was fantastic; his English was easy to understand; he kept the group to time and well formed. Highly recommend this tour.
April 2014
ANTHONY S USA
August 2010
The morning tour ending with lunch, and the opportunity to do some art work, was so fun. The tour guide seemed in a hurry but she probably was, due to the schedule. We loved separating the morning tour from the afternoon tour, it was great for us.
August 2010
It was fine as far as temples and castles go, but at this point in our vacation, we had already seen quite a few. The handicraft store was great; we bought most of our souvenirs there.
Advertisement
Advertisement