51 Reviews
Location:

Kyoto, Japan

Duration:

3 hours 30 minutes

(approx.)
Make a food-lover's journey through Kyoto, stopping at its best food shops, famous Nishiki Food Market and a sake brewery before finishing with a cooking class during this small-group, 3.5-hour excursion limited to 7 participants. Learn about Japanese ingredients at Kyoto's top market, check out the city's lesser known food shops and stop by a sake brewery for a tasting. End your food experience with a 1.5-hour cooking class making sushi, soup and salad. This small-group excursion also includes admission and tasting at the sake brewery.
Highlights
3.5-hour Kyoto culinary experience
Take a 2-hour walking tour with a guide
Visit the Nishiki Food Market to learn about native produce and other foods used in Japanese cooking
Enjoy a sake tasting at a sake brewery museum
Make your own rolled sushi, miso soup and cooked salad at a 1.5-hour cooking class
Tour the back streets of Kyoto to admire shops and architecture you might otherwise miss
Small-group tour limited to seven people provides a more personalized experience

Recent Photos of This Tour
Kyoto Cooking Class, Sake Tasting and Nishiki Food Market Walking Tour
What You Can Expect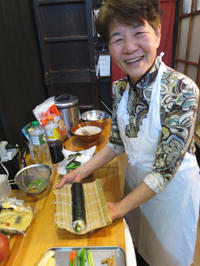 Take a hands-on journey into Japan's food culture during this exploration of Kyoto's top food markets and a sake brewery, finishing with a 1.5-hour cooking class where you get to bring your day's food experience to life. It's the perfect excursion for anyone looking to take a deeper dive into the culinary ingredients and traditions of Japanese cuisine.
Start your food experience with a meet-up at the city's Daimaru Kyoto Department Store in the afternoon, where you'll meet your guide. Follow your guide out into the city for a 2-hour walking exploration of some of Kyoto's food hotspots.
Visit the famous Nishiki Food Market, where you'll explore the wide variety of Japanese foodstuffs for use in your cooking class later that day. Explore the market's collection of spices and produce as you sit back and observe the blur of activity at the city's main food center.
Then head to a former sake brewery and museum, where you can taste a few of the country's wide variety of sakes. You'll also learn about how this celebrated beverage is created (Please note, if the museum is not open on the day of your trip, an admission ticket will be provided for later use).
Continue after your tasting to the machiya, a typical Kyoto-style wooden home, which will host your cooking lesson. Your 1.5-hour session teaches you to prepare a classic Japanese dinner, including items such as miso soup, cooked salad, sushi and seasonal fruit.
Enjoy your meal with the other guests before spending the rest of the evening exploring Kyoto at your own leisure. For those who wish to return to their hotel after the tour, your guide will help coordinate transportation.
Note: Click the 'View additional info' link below to see a map of the meeting location.
December 2015
Although there was a mistake at the start of the tour and we were left behind, when I phoned the tour operator they were very apologetic and searched through the busy Nishiki markets to find us only knowing what colour clothing we were wearing. We were reunited with the tour group and went to the Sake Museum and the Cooking Class. We were generously refunded for the part of the tour we missed.
I highly recommend this tour operator. Although there was a mistake with the booking they did all that they could to reunite us with the tour group. The Cooking Class was a great experience.
November 2015
We were looking for a tour that offered a cultural experience of Japan and felt this tour experience looked to meet what we were seeking. We began with a tour of the Nishiki Market. Our tour guide Yosie, was excellent and knowledgeable about the foods and products available at the market. She taught us how to ask in Japanese for items to be used in our cooking class. Thie tour enabled us to see products and vendors we wanted to spend more time visiting. We were able to return to the market for shopping the next day to visit some of the vendors we wanted to spend more time shopping.
We then walked to the sake tasting. Since Yosie had been educated on sake brewing, she was able to share interesting insights about the sake and brewing process.The highlight was to taste the sakes and beer .
Our next stop was the machiya, where the cooking class would take place. Mieko was our teaching chef, who walked us through preparing miso soup, spinach salad with roasted sesame seed dressing, and maki sushi. We watched demonstrations and took part in some of the cutting and assembly. The result was a delicious dinner.
A couple notes for the experience. The directions to meet our guide were not provided and required calling the listed number for questions. Second, there is a bit of walking through out the tour sidewalk walking that might be difficult for some.
The entire experience was excellent and we recommend it for anyone.
September 2015
This tour was amazing! The women were so sweet and knowledgeable and spoke English well. It was very interactive. I would 100% recommend this tour and the company.
August 2015
Very interesting tour, even for men. The guide takes you to the market to get the components for making sushi. Then, you go to this house where the teach you how to make a perfect sushi. After that you eat your own masterpiece. It was great!
July 2015
Our tour through the Nishiki market was great, discovering the various types of preserved vegetables and fish was interesting and fun to look at. The artistry and creativity of the candies and all the foods was amazing. Our sake tasting was very educational and well done. The cooking class was so much fun and Yayoi did a fantastic job teaching us how to make miso soup, a delicious sesame dressing for our spinach salad and the trick to making rolled sushi. A big highlight for our family of 4! Domo Arigato Gozaimashta!!

July 2015
I LOVED this tour! My husband and I ended up being the only ones on our particular tour, but that actually worked out great! Our tour guide was fantastic and I learned so much about the history of the market and the things we were buying. It was fun to pick out ingredients and ask for them in Japanese. The sake tasting was a lot of fun, too, and it was even cooler to see the historic area where it was made.
The cooking lesson really topped it off for me, though I had a great time! I already really love to cook, and I had tried a few things already with minimal success. Our teacher was really nice, and was able to show me how do things better or more neatly. I really can't wait to try cook everything at home. Dessert was new for me---vanilla ice cream with dark brown sugar syrup and soybean flour on top---but it might just be my new favorite.
All in all, I can't recommend this tour highly enough. I loved every minute, and hope that you will too! This tour company is amazing!
June 2015
My family went on this tour in June. We had a great time.
The first half is a tour of the market -- great explanations of the products on sale there.
A lot of stuff is different than what it appears. The second half was cooking and eating a meal using what we had bought in the market. Really well done and worth the time and money.
June 2015
Amazing tour ! Our guide was wonderful and the cooking class was fun and delicious ! Truly a highlight to get to know the city and its culture with a wonderful guide and two funny, kind cooking instructors whose lessons help support female entrepreneurs ! who helped me and my dad make a delicious meal :
June 2015
February 2015
Nobu, our guide was very nice. It was an amazing tour.
We enjoy the market tour, sake distillery without a feeling of being rushed.
The cooking class was a lot of fun.
Advertisement
Advertisement