Combine Kyoto cuisine with Imperial history during this 1.5-hour cooking class. Led by a food-loving local, the class is set in one of Kyoto's age-old wooden houses and includes the meal — after you've cooked it, of course. Choose to create an 'obanzai' vegetarian meal or a teriyaki chicken dish with soup and salad. This experience runs with just six people for an intimate and authentic experience.
Highlights
Kyoto cooking class
Prepare delectable dishes of teriyaki chicken or obanzai, depending on which option you select
Learn Japanese cooking methods from an experienced local chef
Enjoy your complete lunch with fellow food lovers
Small-group class with a maximum of six people ensures a personalized experience
Recent Photos of This Tour
What You Can Expect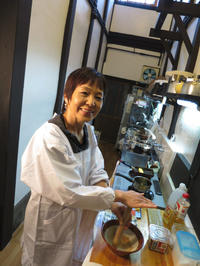 Meet your guide at the machiya, just a 5-minute walk from the Kyoto Imperial Palace. Your cooking class takes place in this traditional Kyoto townhouse, where your instructional chef teaches you to make a healthy meal of Kyoto-style teriyaki chicken or a vegetable-based dish called obanzai (depending on your selection).
In this relaxed and friendly atmosphere with your small group, learn Japanese culinary secrets and cooking techniques. You'll prepare several dishes — enough for lunch — that you can enjoy together at the end of your lesson. Afterward, explore Kyoto on your own or make your way back to your accommodation.
Option 1: Obanzai
Enjoy cooking this traditional home-style meal, made up of several small and healthy dishes that are simple to prepare. You'll use local Kyoto vegetables and plant-based foods, including fried tofu, bean curd and leafy greens such as spinach. Obanzai is typically prepared using fresh and seasonal ingredients, such as bright yellow rapeseed blossoms in spring and mushrooms during autumn. You will be amazed how Japanese vegetarian dishes can be so colorful and wholesome!
Please note: Obanzai is not 100 percent vegetarian cuisine. Your dish may use some eggs or fish (for soup stock), but meat and dairy products are not used.
Option 2: Teriyaki Chicken
Your cooking instructor teaches you step-by-step to successfully cook teriyaki chicken with a shiny finish (without burning the skin!). In addition to this Kyoto-style dish, which includes grilled chicken flavored with soy sauce, as your main course, you'll prepare misoshiru soup (soy bean paste soup) or osumashi (clear soup) along with a side salad and seasonal fruit.

Click on "View Additional Info" for the machiya location.

February 2016
My partner and I spent three days in Kyoto on our first trip to Japan, and booked in advance to attend a 90 minute 'obanzai' cooking class at WAK Japan. It was amazing. Obanzai refers to Japanese home cooking and we were gently guided through several recipes, ending up with a delicious and picturesque lunch. The recipes were surprisingly simple and we're already cooking them at home. Our teacher Akiko also recommended the local markets so we walked there afterwards to check out the ingredients and cooking implements for sale. Definitely recommended. It was an excellent experience.
January 2016
The teacher and her assistant were both very friendly. A friend and I along with a couple from the UK learned to make some tasty Japanese dishes. A good time was had by all.
September 2015
This class was a delight. My octogenarian instructor was surprised and thrilled that a student from the United States had heard of dashi, bonito, miso paste, and mirin. Her enthusiasm was infection. The lesson was short but it was a good foundation in Japanese cooking. I learned a lot and I enjoyed eating what I cooked I chose the vegetarian option, with fried tofu, salad and miso soup, since it was different than the food I was eating in restaurants. The WAC center is in a beautiful tradition home in Kyoto.
August 2015
Our vegetarian cooking class at WAK was great. Out tutor's English was excellent - she was interested and interesting. We also learned a lot about Japanese cooking in a short amount of time...and then got to eat the results! A fun and informative morning
May 2015
Great food, great instruction.
Top marks.

May 2015
If interested in really experiencing culture of Japan, this tour is not to be missed. Machiko, our instructor took us through step-by-step how to make chicken teriyaki, as well as other accompanying dishes, was terrific and both my husband and I thoroughly enjoyed making our own lunch in an authentic Japanese kitchen with all the correct ingredients. We not only enjoyed eating it all but also received a recipe booklet to take away so we can make it and other dishes ourselves at home. Yum!
April 2015
An excellent experience with a wonderful instructor at WAK Japan Women's Association of Kyoto in a 100 year old house. We made a great vegetarian meal of tofu teriyaki that I'm now adding to my at home repertoire and I learned a lot about Japanese cooking and customs.

October 2014
We arrived early, as we were unsure about the location. Our instructor accommodated us and began the class 30 minutes earlier than planned. She was warm, and helpful, and encouraged us to participate in all the cooking. It was not a formal class in a learning kitchen, but in a personal kitchen with everyday utensils and cooking containers.
Pauline G United Kingdom
September 2014
This was a lovely lesson which I enjoyed to such an extent that I have cooked the teriyaki chicken 3 times since returning home. My Asuka San was an excellent instructor and we talked extensively about life in Japan.
Advertisement
Advertisement