Immerse yourself in the captivating culture of Kyoto on a full-day sightseeing tour. See the tranquil Kiyomizu Temple amid its verdant surroundings; absorb the Imperial majesty of Kyoto Imperial Palace; and stroll amid the botanical beauty of Kinkaku-ji Temple. Behold the beguiling beauty of the Heian Shrine and enrich your knowledge of Kyoto's rich historical heritage with commentary from an informative guide. Moderate levels of fitness are advisable for this tour, on which a lot of walking occurs.
Highlights
9-hour tour of Kyoto's cultural and historic attractions
Discover top city highlights such as Nijo Castle, Kinkaku-ji Temple and the Heian Shrine
Explore the Kyoto Imperial Palace with your guide, once residence of Japan's Imperial family
Admire the Thousand Armed Kannon and the legion of 1,000 life-size statues at the Buddhist temple of Sanju-Sangendo Hall
Visit the Kiyomizu Temple and enjoy panoramic views over Kyoto from the temple's terrace
Tour includes a pickup from selected Kyoto hotels
Recent Photos of This Tour
Kyoto Full-Day Sightseeing Tour including Nijo Castle and Kiyomizu Temple
What You Can Expect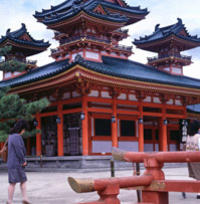 Emerge early and depart from your Kyoto hotel in a comfortable, climate-controlled minivan. Listen as your knowledgeable guide sets the historical scene for Kyoto; hailed the cradle of Japan's cultural heritage, the former capital is replete with significant monuments and legend-shrouded landmarks.
Venture first to Nijo Castle, a superficially deceptive structure that harbors a magnificent interior; stroll the lavishly decorated chambers and marvel at glittering gold leaf and opulent tones as your guide offers tales of the building's heritage.
Next, absorb the sacred ambience of Kinkaku-ji Temple, a elegant ecclesiastical structure declared Kyoto's most popular temple. Stroll the exquisitely beautiful Japanese garden and the celebrated Golden Pavilion before venturing to the next destination.
Satisfy cultural cravings at Kyoto Imperial Palace and marvel at the regal resplendence of the residence. Appreciate the simple and serene Japanese style as you explore opulent chambers and learn of ancient ceremonies that still occur within the walls.
Enjoy a moment of quiet reflection at the vibrant Heian Shrine then head to the Buddhist temple of Sanju-Sangendo Hall and gaze at the 1,000 life-size statues that inhabit the grand hall. Conclude your tour with a leisurely stroll down a charming lane lined with pottery shops and arrive at Kiyomizu Temple. Marvel at panoramic vistas of the city from the vertiginous vantage point of a lofty terrace then return to your comfortable vehicle for the relaxing journey back to your hotel.
May 2016
My daughter and I felt the tour was very informative and it gave us a great overview of the area.
April 2016
A great visit to the Kyoto highlights.
April 2016
Fabulous sightseeing tour and it was very busy but well organised. It was a long day and tiring for a mature couple but worth it.
April 2016
I had limited time in Kyoto so this was idea to be able to visit the major sites. it is essentially the morning tour and the afternoon tour with a lunch thrown in. Both tour leaders were fun and informative and gave us enough time to be able to have a quick look around despite it being a packed tour.
My only complaint would be on the lunch. We were on the second group to be called for lunch as our afternoon tour left later, but by the time we reached the lunch hall, there was hardly any food left, so didn't really get to eat much all day. It was a good thing I had some gummies on me to munch.
April 2016
Really great tour. It was face paced, but that way you got to the see the maximum of sights in just one day. The guides were knowledgeable and friendly. Lunch was poorly organized however.
April 2016
Kyoto is just a stunning city to visit. By far my favorite city we visited while in Japan. This tour gives a full day of seeing some of the top spots of Kyoto. It rained the entire day, but our guide still took us everywhere and went out with us and happily explained all the buildings we got to see.
April 2016
We had a wonderful time! We had 2 guides one in the morning and another one in the afternoon. Both guides very knowledgeable, helpful and funny. I wish we had 1/2 an hour more to visit each landmark, though.
March 2016
A must! We did this tour with our children ages 11 and 13 and it was a perfect way to see the highlights of Kyoto. The guide was super informative and our driver was wonderful. The bus is very comfortable, there are plenty of opportunities for photos, snacks, bathroom breaks - you won't feel rushed at all. A great way to see so much in one day! The lunch was very good and we appreciated the chance to look at souvenirs without any pressure to purchase although we did since the art centre has great items! I would highly recommend this tour!
February 2016
a really memorable experience - everyone who visits Kyoto should see these sights
February 2016
Tour guide was very interesting, friendly and informative, no matter what the question. The tour was well paced to provide sufficient time at each location and explored some very beautiful Kyoto sights.
Advertisement
Advertisement