Pedal through the historic streets of Kyoto as you visit its magnificent temples and shrines by bike during this 3- to 4-hour small-group tour limited to 12 participants. Your intimate bike ride will give you a taste of the charming architecture, narrow alleys and beautiful religious structures that give this ancient imperial city its unique atmosphere. Your Kyoto bike ride excursion also includes a guide, a snack and a helmet.
Highlights
Small-group bike tour of Kyoto

See Heian-Jingu Shrine and Nanzenji Temple
Ride down the Path of Philosophy
Maximum of 12 participants ensures a more personalized experience

Use of bike is included

Recent Photos of This Tour
Kyoto Small-Group Bike Tour
What You Can Expect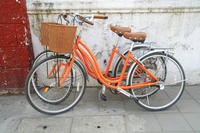 Wind your way through the charming side streets and elegant temples of ancient Kyoto by bicycle, allowing an unexpected way to explore this famous Japanese city. Your small-group bike tour is the perfect chance to experience the daily rhythms and important attractions of one of the world's most picturesque urban areas.
Start your bike excursion in the morning from Kyoto Station, where you'll meet your guide and proceed to get your bike, helmet and brief safety instructions. Pedal off into the city by heading for the Kamo River, a route that affords excellent views of downtown, along with a collection of traditional restaurants that line the river banks.
Head next to Heian-Jingu Shrine, an important religious center known for its visually-striking red torii (sacred gate), where you'll also have the chance to admire reconstructions of structures from Kyoto's old palace complex.
Continue your cycle trip by riding along a network of charming canals, eventually reaching Nanzenji Temple, which embodies many of the typical stylistic details of classic Zen Buddhist religious structure. Take a few moments to explore the site's collection of eye-catching small temples before proceeding on to the famous Path of Philosophy.
Arrive at the Path of Philosophy, a beautiful thoroughfare lined on both sides by hundreds of cherry trees. This iconic path was named by Japanese philosopher Nishida Kitaro, who used the walkway to practice meditation during his commute to nearby Kyoto University.
After visiting the Path pf Philosophy, return by bicycle to Kyoto Station where you ride concludes.
June 2016
Highly recommend this tour! Lulu was so friendly and knowledgable.
Duration of the tour and locations visited were great. Price was very reasonable.
Loved it! Do it!
gabriela.studhalter Switzerland
June 2016
It was a great Experience, especially our very friendly guide showed us the most beautyfull hided Corners of Kyoto.
Being on the Bike, you come closer to the People.
It is a must to do this Tour! Thanks to Viator and the Guide!
May 2016
Touring the City by bike was a great way to see it. The tour was not too long and the tour guide spoke great English. I would definitely do this again.
May 2016
Surprised to be the only one on this tour! A nice treat which allowed us to go off script a bit and see a unique temple that had a free art show. The guide was great, was happy to answer all my questions.

May 2016
I had a great time on this tour. My guide was very good. I enjoyed all of her insights and help with proper etiquette when entering a Shrine. Something which I would have never known! It was a great day and really enjoyed the ride!
May 2016
Great fun for someone of medium fitness. This tour took me to a part of Kyoto I had not seen in the 4 days I had been staying there. I would recommend this tour to all my friends.
May 2016
I really enjoyed this bike tour around Kyoto! Our Guide lulu was extremely friendly and very knowledgeable of the area's we visited!
Started off slowly due to a customer not being able to ride a bike who books a bike tour and can't even ride a bike?! but from there the morning was glorious! Definitely worth doing this during Cherry blossom season!
April 2016
Excellent, very informative.
April 2016
What a brilliant way to see Kyoto! Tatsuya met us 6 people at the train station and took us to the bike rental....although a pricey tour 96 pp, included was bike and helmet and a Japanese snack you could have the bike all day if you wished, it was well worth it. Tatsuya is a crazy cycling enthusiast who cycles the world. He was so informative, fun and interesting. Mainly did the Eastern side of Kyoto....Heian Jingu Shrine, Nanzenji Temple, Path of Philosophy , Chion-In temple in Maruyama Park, Yasaka Pagoda and all around the back streets of Gion and the Geisha area. Supposedly 3 and a half hours but was more like 4 and a half....brilliant tour and there is no way we would have found these places by ourselves. Tatsuya knew all the back streets which meant we didn't have to deal with too much traffic. Of course being the cherry blossom season it was a superb way to see them all by bike. Highly recommend this tour and was a highlight of our stay in Kyoto. Thank you Tatsuya.
December 2015
Loved this bike tour. We went with a family of 4 adults, this was the highlight of our trip! loved our tour guides that were more then happy to translate everything for us into english at the temples.
Advertisement
Advertisement