Try your hand at the Japanese arts with your choice of a calligraphy or origami class! Take a 1-hour lesson from an expert instructor inside a beautiful Kyoto-style townhouse, and experience traditional arts in the old capital of Japan. You'll practice calligraphy techniques with a brush and ink or learn to fold patterned paper into a variety of shapes. If you'd like, upgrade your origami lesson to include an additional hour getting dressed in a traditional kimono! Receive personal attention on this small-group tour, limited to 7 people.
Highlights
1- to 2-hour Japanese cultural experience in Kyoto
Learn to write Japanese calligraphy with brushstrokes and ink (if option selected)
Practice the art of origami and fold paper into small sculptures (if option selected)
Dress in a gorgeous kimono and wear it during your origami lesson (if option selected)
Small-group tour limited to 7 ensures a more personalized experience
What You Can Expect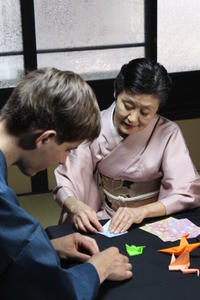 Meet your guide at a machiya – a traditional wooden townhouse that's typically found in the historical capital – providing an authentic atmosphere for your calligraphy or origami lesson. (The location is just a 5-minute walk from the south end of the Kyoto Imperial Palace.)
After a demonstration by an expert instructor, you'll have plenty of time to experiment with brush strokes or paper-folding techniques, depending on which class you've selected. Your English-speaking guide will translate your native Japanese teacher's instructions as well as offer assistance during your lesson. If you upgrade your experience to include the kimono-wearing session, you'll have the opportunity to keep it on while you fold origami. (See descriptions of each option below.)
Itinerary
Option 1: Calligraphy Lesson (1 hour)
Practice the art of Japanese calligraphy, called shodo. Learn the proper way to use the brushes and liquid ink to write kanji (Japanese pictographs) as your instructor demonstrates how to begin and end each stroke. You'll be introduced to a number of tools used, including brushes that come in a variety of shapes and sizes. Then, create your artistic composition, which requires concentration as you paint characters on the paper. After your lesson, you can take your work home with you!
Option 2: Origami Lesson (1 hour)
Experience the Japanese art of origami! This traditional Japanese craft of paper folding began in the 17th century but has been popular outside of Japan since the mid-1900s. Your instructor will demonstrate how to fold a flat, square sheet of paper into whimsical shapes and tiny sculptures such as hats, boats, animals or flowers. You'll even practice making paper cranes, a symbol of peace. A textbook featuring a variety of origami figures and techniques is made available for your reference. After your lesson, you are free to take your creations back home with you.
Option 3: Kimono-Wearing Session plus Origami Lesson (2 hours)
Before your origami lesson, you'll be properly fitted with a traditional kimono and obi (sash). As your beautiful kimono is draped gracefully around you and the obi is tied around your waist, your guide will explain the historical custom of wearing the traditional garment in Japan. The full-length robes with wide sleeves are still worn on special occasions, especially weddings, and can be seen in Kyoto's remaining geisha districts.
Once you're adorned in the lovely kimono, settle in for a lesson on the art of origami! (See description above.)

Click on "View Additional Info" for the machiya location.
May 2015
Meiko was our instructor and she was brilliant! She guided us through the steps needed to write Japanese characters, including signing our work with our own names in Japanese, and we got to take away our work as keepsakes. It was great fun, very interesting to see how to do it properly, and Meiko's encouragement along the way made it most enjoyable! Would do it all over again for sure.
April 2015
Was able to make four items. Very fun!
January 2015
Great experience! I chose calligraphy lesson. My sensei Tomoko was very encouraging and taught me a lot about shodo. Thank you so very much.
September 2014
Booked this class for my husband, teenage son and self. Very enjoyable time was had by all of us. We complete three origami shapes which got progressively more difficult. We had a lot of fun and would happily do this class again.
April 2014
This class was awesome! It was really fun to have our own personal origami instructor. A nice skill to learn that you can do at home.
April 2014
Brilliant. The WAK, Womens Association of Kyoto were outstanding. My girls and I loved being dressed in kimonos and learning origami. Great afternoon, brilliant. Highly recommend. They were so gracious, excellent English, beautiful women
April 2015
Instructor was very nice and patient. We enjoyed our calligraphy and would recommend taking the class. Great change of pace from all the walking- very relaxing and fun!
October 2014
Such a nice experience for my three kids under age 10. My son was hesitant but after a lollipop bribe, loved his samuri outfit. Origami session was 30 mins. Which was short. Could have spent a good hour. They displayed other examples but we only did one.
September 2014
Similar to Taiko, it was a little intimidating trying to find this place when you don't speak the language. We did find the building easier, though. And the class was fun. We brought several origami projects plus a booklet of instructions home.
Advertisement
Advertisement